The Year of the Pig – What to wear for the New Year
23/11/2018

Premiere Magazine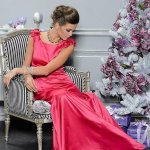 The Year of the Pig will come on February 5th and, in general, the Chinese call it the "spring festival", but, in our winter fairy tale, it would be boring without a pig. How does one meet the magic night? The rules are simple: compliment the hostess of the year, do not forget about fashion trends and respect the traditions of the east.The symbol for 2019 has a bright appearance. Piggy is not just yellow, but also earthen. Here, you have a festive palette. Fashion does not mind – the catwalks are full of gold and bronze, warm yellow-orange and pampered caramel, invigorated with shades of blue and green.

Pep, pin-up and rock and roll

The heroine of the year is energetic, playful and flirtatious and loves rhinestones, flounces and lace. It would be unthinkable without pink, no matter how much yellow there is. How do you like the idea of ​​having a pin-up ball or a 'Hell Pep' party? Dumplings look like charming pigs coming to the fore in an A-silhouette dress. You are so feminine! Let the men enjoy the lace neckline, smooth hips and waist so thin against the background of a skirt. Legs flashing in foam frills. What could be sexier? The best thing for a girl in an organza tutu is to spin in a waltz or dance rock-and-roll like the 60s dudes.

In the narrow and long

In a tight dress, it is recommended to have the pace and stride of Marilyn Monroe. In a long gown, you will look like a queen, but you will have to walk slowly and languidly. Be ready to squeeze in your shoulder blades until the morning, while keeping your back perfect. High cuts, neckline to the edge of the buttocks and open shoulders – it would be a crime to deprive yourself of such a gift. In response, you can safely count on a fur boa or a diamond necklace.

Red and not only red

For the path of association, we turn to the red dress of Julia Roberts (in 'Pretty Woman') and the crazy sidekick Louise Clark (in the movie 'See You'). In the Middle Kingdom, it was customary to celebrate the New Year in red clothes. With a promise of salvation from evil spirits and good luck, red is the colour of wealth and prosperity. Wishes can come true if you make them in a dress with golden dragons, not necessarily in red. You can also do so in lilac.

Mask, I recognised you

Oriental colours for everyday life may seem kitsch, but, in the New Year, stereotypes are cancelled. Ultraviolet rules the ball on fashion shows. The colour is active by itself because the style can be concise. But, what about a pig that loves it when it's expensive or rich?

A breathtaking mask will add vibrancy to the most modest canvas. Feathers, gold and Swarovski crystals drive several gentlemen crazy at once. Before they figure out what is what, you will have time to leave the shoe on the marble stairs and then let them decide what to do.

Cinderella shoes

Cinderella's shoe was a bit too big, but it was very comfortable, otherwise the girl would have turned into a fury after being such a nice little girl. Crystal and comfortable? – This only happens in fairy tales. Do not let the shoes spoil the holiday, no matter how beautiful they are.

A steady, wide heel is shown as one of the favourites of the year. Slender creatures will dance on thin heels until the morning if they pick up a comfortable shoe or rest on the platform. For a corporate celebration, lacquer, suede studs or shoes with sculpted heels for décor are ideal. For the party, choose open ankle boots, golden sandals or satin slippers with a strap through the rise. Choosing colour and texture, remember: Only one dominant theme is relevant in the image. An elegant dress and correct shoes – and vice versa.

What about the prince?

Men's holiday markings include cool shoes, crisp shirt, watches and moderately flashy accessories. Remember, 'he and she' in a pair should look harmonious. Why not give your loved one a tie, tie clip and pocket scarf before going out? Also, a decent pair of fashionable shoes is a must! Do not force him to wear a pair directly from the store shelf. At the home table, you can sit in a shirt and trousers, but, for the New Year's reception, it must be a suit and tie. Colours – grey, brown and beige, but not black. Jeans with a jacket are not forbidden. Treat a pig by leaving tweed for work, preferring fine wool and expensive blended fabrics for the outing.

Jewellery and linen

Pig – aesthetics include a love of stylish trinkets and a lot of gold and jewels. It is easy to distinguish designer jewellery from cheap fakes. The larger the decoration, the more impeccable it should be done. Layered necklaces, volume brooches, pearls and colourful rhinestones are at the height of fashion today. In the light of candles and garlands, chokers-necklaces (interlacing of chains and rhinestones) will look royal. Massive earrings emphasise the colour of the eyes, adjust the proportions and shape the face. Tiaras, tiaras, tiaras – The New Year offers the rare case when you can wear this hair ornament and not be afraid of looking theatrical.

Keep a sense of proportion – no more than three items per person. In the company of a necklace and bracelet, ring earrings will be superfluous. If the golden metallic dress is self-sufficient, then black without decorations in the New Year is nonsense.

The secret guardian of female confidence is beautiful lingerie. On New Year's Eve, the fact that, under the dress, you are well-decorated with lingerie will return you to a feeling of celebration.

Wherever you meet the coming year – at home, in a restaurant, on a plane or on night duty, there is always a way to create a festive mood. Raise toasts and make wishes. Look in the eyes of your loved ones or look in a mirror. You will like the reflection, no matter what dress you are in.