Vera Lyssiotis:"Fashion will not die as long as there are people who love beauty"
23/11/2018

Premiere Magazine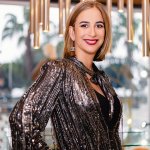 Tiffany is a big brand with the story of your family behind it. Please tell us how it all started.It all started with the perfect combination of Mr. Renos Lyssiotis and Mrs. Miriam Lyssiotis and their love for beauty, art and creation. It was in 1971, only a couple of years after they got married, when my father encouraged and supported my mother to start her own business. My father, at the time, was an importer of Nina Ricci perfumes and accessories. My mother, on the other hand, having just her confidence, intuition and vision, went to Paris, got in a taxi and started visiting designer houses, one after another. At the time, no one knew the island of Cyprus, so it was difficult to convince them and she found many doors closed. She became disappointed and cried in the taxi, but she insisted. She knew little French, but had a lot of passion and perseverance. With time, the most famous designers of the era entrusted her and gave her (and to Cyprus women) the first imported designer collections of Courrèges, Ted Lapidus, Nina Ricci and Chanel. The rest is, as they say, history!

You are a very successful woman. What is behind this success?

Thank you! I believe that, apart from my genes and the way I was raised, it's definitely a lot of hard work, trial and error and perseverance. I grew up in a house where our everyday talk was about business and fashion. My mother was constantly working and travelling at a time when no other mum of my friends did so. I knew she was different from a young age. She was so dynamic, so forward in her time! It's difficult, really, not to grow up being the same! Of course, having the support of my mum and her by my side all along my life gave me the education and the tools that I needed to succeed.

As a mother and business women at the same time, do you not find it difficult to combine the two roles without harming your personal life and how do you manage to do it?

Everything is a matter of finding the right balance. Of course, I miss my son when I travel abroad. Yet, work and travelling offer me, as a person, the independence and ways for personal growth. All of these benefits are not just for me. Being happy and independent benefits my family, as well. This lifestyle makes children more independent and also creates a very strong and special bond.

I remember my mother, who was away so often. Yet, that huge, warm hug that she gave when she was back home was enough to fill me with all the motherly love and comfort that I needed. Myself, I wish to go a step further from what my mum did. That's why whenever I'm in Cyprus, I spend all of my time with my family

.

You travel a lot and visit all the fashion shows in the world. What do you think about fashion today? Is fashion dying, as designers cannot create anything new?

Fashion will never die, as long as there are people who love beauty. Additionally, fashion, like every form of art, is a reflection of the times that we live in. Of course, fashion gets recycled and, of course, there are not many new charismatic designers like we had in the era of Versace or Romeo Gigli or Yves Saint Laurent. Yet, there is creativity and some designers are definitely leading the way. So, now, we see more of a tendency towards street style. Also, the inspiration of many designers, now, is the style of everyday people; normal girls, like bloggers and influencers. Designers experiment in new fabrics, new technologies and new techniques. Time will show which styles will remain and which new designers will make history. No, fashion will forever exist.

The new fashion trends are shifting to a transgender story, where designers are creating, for men, feminine styles with aromas of male style. Can you comment on this?

As I said before, fashion has always been reflective of societal and political changes throughout the years. Now, it's the first time that society is really shifting towards inclusion, diversity and equality. If this is what's happening now, that's what fashion will reflect, too. Designers always have in mind the people who will wear their clothes. So, if their clientele wants dresses for men and suits for women, that is what they will have. This doesn't reflect all the population, of course.

How do you see the future of fashion in 20 years?

I look forward to it and can't wait to be surprised! According to how society will evolve, so will fashion.

Do you visit all of the fashion weeks around the globe or only go to specific ones?

I go mainly to Milan and Paris.

What are the countries where you feel the most comfortable and at home?

I feel comfortable in Italy. It's my second home. I know the language. I love the people. I work there, have my friends there and enjoy a big part of my life in Milan.

Do you have any other passion in life except fashion?

I love dogs. They are my passion; my second babies. I'm also an art lover. I love contemporary art, as well as antique furniture…and, foremost, I love people. I'm passionate about meeting new people, new cultures and new philosophies. This is the essence of life, I believe.

Who would you be if you had not got involved in the fashion business?

I'm a practicing lawyer, but, if I had the chance again, I would be an art critic or an event organiser. I really love to organise parties and gather people together.

Can you name several top trends of the season?

The 'athleisure' trend is really hot this season. Prints and velvet are having their moment, as well. We, also, see a great influence from the seventies and eighties. Sequins, furs, asymmetries and glamorous dresses may be all the rage. This season is filled with so many amazing and impressive outfits, I am sure our clients will love the collections. Apart from that, it's all a matter of style rather than trends.

What would you like to wish to our readers in the New Year?

I wish, to each and every one of you, whatever is your heart desire. I hope that includes a lot of fashionable moments, too!