Ramona Filip: "Free to choose, free to love, free to be!"
24/01/2018

Premiere Magazine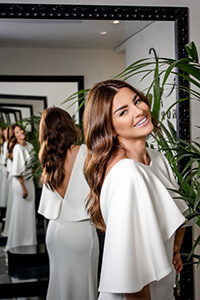 Ramona Filip is one of the most famous Fashion Designer's of clothes and accessories and renowned as a luxury stylist, also a wife and mother. Her fame was first recognised in 2002 after her first show "The Dream". Since then, Ramona has participated in numerous fashion events in London, Nicosia and Athens.
The characteristic features of the brand "Ramon Filip" is timeless elegance reflecting femininity, simplicity combined with a modern touch. Premiere interviewed Ramona, a beautiful and successful woman, on the inspiration of her work, her designs, the secrets of female beauty and what she feels the modern woman is seeking in today's fashion.
When did you first have the idea to become a designer?
It was quite early I would say, but it was after my student years that it became more prominent. I can remember that fascinating feeling I used to get every time I saw a beautiful woman wearing a fabulous gown. Cinema stars, old Hollywood glamour, fashion shows, top models, and even everyday women wearing something special that made them look so stunning. I still have that kind of feeling, like butterflies in my stomach, every time something beautiful catches my attention. Although I studied Business Administration, my need for creativity was stronger. I think that was my calling, which led me to become a fashion designer.
What prompted you to create the first collection?
I think above all, it was my mum. She was, and still is, a woman of unique elegance, unlimited kindness and enormous power. Her attention to detail, her charm, her love for life and all that's beautiful have been my driving force throughout the way. I remember some of her glamorous moments, when she would dress up in her new silk mousseline dress, matching sling backs and envelope clutch, with her hair freshly removed from the rollers, adding just a touch of lipstick. I was sitting and admiring her and wanted to grow up quicker, so I could put on those heels impossible to walk in at that age. Yes, I would certainly say these images of effortless elegance were ones in the back of my mind doing all the work and pushing me to become a designer and create my first ever collection.
How would you describe the style of your collections?
Elegant, timeless, and at the same time contemporary, feminine and versatile. Elegance is very important to me, and most of the times something elegant is also timeless. But it has to also be contemporary. We live for today, we get dressed for today. If we know ourselves well enough we may wear tomorrow the same dress we wore today and it will still look new. Femininity is also a big part of my inspiration. I believe the beauty of a woman lies in her femininity and it is an asset I always embrace in my designs.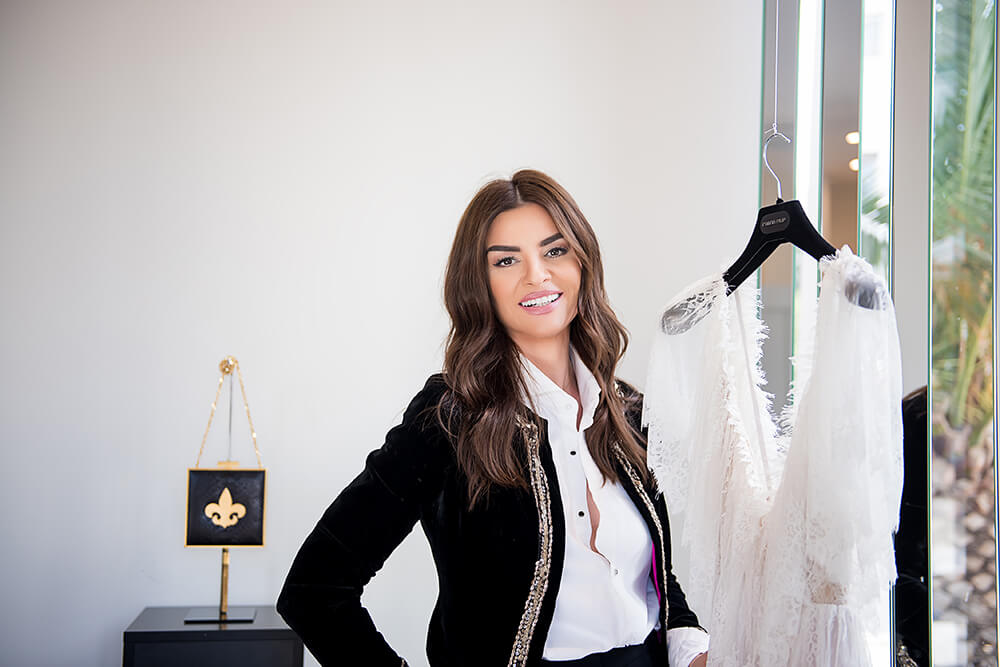 Where do you get inspiration for creating the new collection?
I love nature and I find tones of inspiration every time I turn to it The shapes, the colours, miraculous little details, there's so much to it. All you have to do is have an open mind and open eyes and everything that surrounds us can become a source of inspiration. One flower shape can inspire the volume of a dress; the running waters may inspire the fluidity of a design, a colour, the sky, and the transforming shapes of clouds. Apart from that, the Romanian tradition and cultural heritage is an endless source of inspiration to me. I have lived there and spent my childhood years surrounded by traditional costumes, music, architecture, motifs… So much beauty! Everything is still so vivid in my memory and it affects every design of mine in one way or another. Sometime the inspiration is obvious and other times it's not. It may be difficult to distinguish a single element from the final outcome, but you always know when something inspires you because it triggers an idea and everything falls in the right place.
How do you feel watching your collections at Fashion shows?
I feel fantastic, but there's an even more extraordinary feeling. It's the feeling of satisfaction when I see a women wearing one of my creations and looking fabulous! I think this is the moment when I realise I'm in the right place doing the right thing.
What do you enjoy apart from your work?
I enjoy a delicious meal, good company, a glass of exquisite wine, time with my family, long walks through nature and travelling. All these little pleasures are like fuel. Every now and then you need to re-fill your batteries in order to be able to return to work more creative, more relaxed and ready for the next step.
Your personal style is very glamorous and elegant combined. Under the influence of which fashion designers was it formed?
There's so many of them… I would definitely recall the influence of Valentino's glamour, Carolina Herrera's timeless elegance, Donna Karan's versatility. Of course, along the way, new designers emerged with fresh ideas and luckily so did my own designs, along with my style.
The latest collection presented in the newly opened boutique in Nicosia is chic and elegant, but many readers would like to try your personal well known casual chic style.
Do you have any plans to create a casual line?
Although I have built a reputation for making evening wear, I realise that we live and move in very fast paces. Therefore, my collections always include versatile pieces or pieces that can be worn in different occasions, sometimes from day to night. And this is a very important aspect of my design philosophy, versatility and timelessness. I want a woman to have many options when it comes to wearing a dress of mine. Apart from that, every collection is usually accompanied by a smaller collection, a casual one with few pieces that are more day-wear. Like my latest collection of voluminous cotton blouses and tops, along with some more around-the-clock cotton dresses. Totally fresh, these pieces can take you from the beach to a formal party in the evening with just the addition of the right accessories. I think this is the spirit, us women, like to live in.
What, in your opinion, should be a modern woman like?
In my opinion? I would like a modern woman to be whatever she wants to be, no matter my opinion, no matter anyone else's opinion. Free to choose; free to love, free to be!