19/03/2016

Premiere Magazine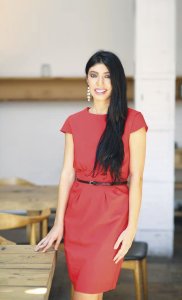 The Cypriot model Natalia Mavromoustaki has won the Face of the Globe Wales 2016 in August 2015 and will present her Crown in Paris amongst other women from all over the world in April 2016.
You are the winner of FACE OF THE GLOBE Wales 2016.
Was it difficult for you to win this competition ?
As my mother is from Wales, I have citizenship and to present a country in any beauty contest, you should have their citizenship, I decided to take a chance.
Actually, I tried to participate in the contest before last year, but I was just one out of five finalists, so I focused on education in the last year. In the summer, I tried once more and I finally won.
Yes, it was quite hard to win this competition.In April, I'm going to participate in the International beauty contest "Face of the Globe" in Paris.
You are also a volunteer in a refugee camp in Emdomeni, Greece.
How did you get involved in this job?
I grew up in Cyprus and, in the summer, I graduated from the University of Cyprus with a diploma in social work.
At this period of time, I saw a lot of information about refugees, so I asked my lecturers how I could go there and help. I applied to the Cypriot government for this social work job and was lucky to be chosen from several people in Cyprus.
As I have the crown, I could have done many things here in Cyprus, but I wanted to first do work with refugees, as it would be a significant experience for me.
What about your modelling career?
I started modelling in 2010, when I got a contract in Wales. Throughout these years, I have worked a lot in the modelling business, participating in many fashion shows in Greece and Cyprus. I did many shoots for Cosmopolitan, Esquire and some other local and British press. I am slowly stopping it, as I think it's time to make changes in my life and go forward to new things now.
Let's talk about the charity event in February.
Actually, I'm representing the event, which is going to be on the 20th of February and will be held in support of the Rainbow Child Foundation.
It's going to be a fashion show of Paphos fashion designer Nicoletta Demitriou, Loren Boutique, Crystal Boutique and some other boutiques. As well, there will be a dance show by a finalist of a famous television dance show, singer Simon and, possibly, a DJ from Antenna. The Rainbow Child Foundation is cooperating with Face of the Globe and building orphanages for children in countries where there is war, like Syria and Iraq. All of the funds from this event will be donated to The Rainbow Child Foundation.
Where would you like to live, if you have a choice?
As my contract is going to be finished soon, I will have to move back to Cyprus, but, to be honest, I would have lived anywhere in the world where I could get a similar job. I would be happy to stay in Cyprus, if I got a job for myself here.
What's your dream?
Well, in the past, all I was dreaming about is finishing studying, winning a competition and succeeding in modelling, so it took me seven years to make this dreams come true. Now, I wish to keep doing my job and to be successful at it because I love doing social work. For the distant future, I wish (like many others) to have a family and a stable life.
What do you like to do most of all?
A few things. First of all, I like dancing. When I go out with my friends, I 'm always the first one to dance. I like to go to the gym because, from a young age, I did a lot of sports and I'm used to it.
The third thing is my social job, which I am doing now.
What are you planning to do?
I'm going to focus on my work and try to get a stable job in this environment, where I can offer to people all of my knowledge. My title expires on the 10th of August, when there will be the new
Face of Globe Wales competition and I will participate as a judge. Until this time, I have to do a lot of things in my life.