Marina Banks: "A Woman's Talent to Combine the Incongruous and Still Look Perfect"
24/01/2018

Premiere Magazine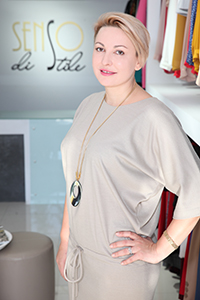 How did you come up with the idea to open a clothing store?
You know, originally, I had the idea to open a store for larger women; 14, 16 and 18 sizes. I, at the time, wore a size 16. This was my first thought. I hadn't seen, in Limassol, clothing stores where style, quality and price simultaneously attracted clients. In the end, I decided to open my own shop, but for women of all sizes, i.e. not to focus on completeness, but cover the whole range. As you can see, I have things for very thin women and for more lush ladies, from 8-gauge to 18 size.
And why Italy? You have presented only the Italian designers, as I see it.
Because I'm in love with Italy! Since childhood, I have loved everything Italian; their movies, their music and studying Italian. I just love Italian food! I have a lot of cookbooks and I even could compete with any Italian in cooking Italian food. So, the issue of choice of designers, there was not even any doubt.
You're done! Boutique Senso di Stile is one-year-old and has recently celebrated this joyous occasion when we met, as you remember. Tell me what you have already done during this time and that you want to implement in the near future?
I believe that, this year, we have done a lot. We learned in Cyprus, expanded our customer base, created new themes for cooperation with various magazines and radio stations and, of course, there are our regular customers and the number is growing all the time. I included, in 2016, the new designer, Luisa Spagnioli. As for future plans, I have a lot of them, but first I want to bring to perfection the work at the moment.
Marina, who is, for you, a woman with a sense of style? What do you see?
For me, this is a woman who knows what and where to wear, so she has an innate intuition of what goes best with what, how to dress and what place goes with what outfit. Not necessarily the classic version. In any case, it looks stylish and to the point. I would say that a woman is able to combine incongruous items and still look perfect.
By the way, how long have you been in Cyprus? Do you like the place?
In Cyprus, I have lived for fifteen years. I'm here to say and have taken root. I really like Cyprus. I am certainly not going to leave. I love the Greek language and want to learn it.
Marina, who are close to you in spirit? Women or men?
Well, my kind of men, of course, are closer (laughs). If we talk about personalities, it is the charismatic, loose people with good sense of humour. You know, sometimes, I begin with a person to communicate and understand that he/she is on the same wavelength. Fun, not fixated on their problems types of people are who I like.
Astrology?
Yes! Astrology! I love and trust it.
I know you're taking courses. I really love astrology and think it's underrated as a science.
I totally agree, Masha. Many perceive it as some kind of divination and this is a serious science. Psychology is also such a science. Everyone has their own opinion on this matter. For me, astrology is like mathematics; an exact science and very logical. You know, like the weather, if you don't want to get wet, take an umbrella.
Your husband, Michael, calls you a multi-task woman, i.e. a woman able to perform multiple tasks simultaneously. What else are you doing in life besides fashion?
I paint pictures. I went to become an artist and finished at the Faculty of Easel Painting and Graphics. I also love to cook and to sew. I like to sing and play the guitar. Recently, I started to go to courses on psychology.
About the painting, do you paint in a particular style? I really love artists.
This I know. As for styles, I love expressionism, with juicy, bright emotions and colours. It is close to me. I am sorry that I don't have the time.
Your husband refers to the fact that you are constantly learning and doing something. Does it work for you to combine personal life and work?
Of course…and I am very grateful to my husband Michael who supports me in everything.
Usually the opposite happens, right?
Yes. Michael always travels with me on all trips on business. He's got great taste and I trust him completely. He's my best friend, partner, husband and father of our child. If I am a multi-task woman, he is a multi-task man. We both are all in one bottle.
Describe yourself in three words; three qualities that you would highlight in yourself.
Purposeful, inquisitive and reliable. You know, I always want to learn because I love new information. I'm in the sign of Aries that governs Mars.
Now, I understand why you are closer in spirit to men, not women.
Well, Yes, Yes (laughs).
A picture? Are you now working on something?
Just your favourite subject. Now, unfortunately, I am not writing. No. It needs more attention, time and concentration, which I have not yet obtained. But, I have books laying everywhere and I read a lot. The Master and Margarita is my favourite piece.
You anticipated my question that I love to read Bulgakov. To read and re-read. And, often I read mysteries and detective stories.
You then need to read my book 'We are Sixteen'. They are mystery and detective, this collection of short stories.
Of course! Pleasure reading. I didn't know that you're a writer. Marina, are you in Italy often? And, tell me your favourite place for a dish of food.
In Italy, I travel four times a year.
Just quattro sessioni?
Yes, I think so. We often go to Milan. All of the meetings, I plan in advance and we have one day for rest. We pick a new city and go there. Also, we try, every time, a new dish at the restaurant. In this country, you can endlessly find something new to explore and to admire. A whole life is not enough to try all in Italy.
I totally agree with you. I was there only once, but also I immediately fell in love with this country and I would be happy to go there again. What is your favourite place?
It is Verona.
Oh, you're a romantic.
Yes, I'm a romantic, like any woman.
And the dish?
Tagliatelle pasta with truffles.
Designer?
With a designer, it is more complicated. One cannot easily identify it. Perhaps, Atos Lambardini and Luisa Spagnioli,whose collections I have presented.
Do you plan to present the collection of some other designers or is it still a secret?
Let's leave it a secret. Why I chose these designers is because I believe that their items are in that price range that many women can afford.
At Atos Lambardini, they have wonderful shoes that are very comfortable. The winter shoes are just wonderful. The bags are very beautiful and the leather is of the highest quality. And, the wool of Luisa Spagnioli is exceptional. She became famous thanks to the Angora rabbits and her wool coat is just right for the Cyprus winter. It is clear! All Senso di Stile coats are from Luisa Slagnioli!
And, last question. What will you wish our readers in the new 2017?
This will be the year of the red rooster. I want to wish all of the readers time to smile because a smile is the important thing. The rest you can find and buy, as I do. I'm all for people feeling themselves everywhere, naturally and comfortably, and remaining themselves always. Also, I wish for them great clothes and a place to the soul and not just a fad. Red rooster is enthusiasm, energy, passion and vitality. It will all work out. All we have to do is to look at everything, feel life in its full power and enjoy the beauty.
To sum up, all roads lead to Senso di Stile, where beauty and energy exists. Yes?
That's right! And, thank you for coming. I'm always happy to host old and new friends!