Маша Цигаль: "I'm not weak"
24/01/2018

Premiere Magazine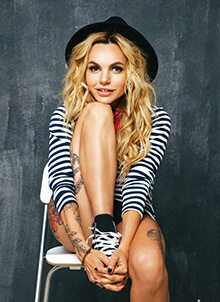 Today, we look at Masha Tsigal, a well-known fashion designer. The girl with the character held not because of, but rather in spite of, an eminent, intellectually creative family. Starting with bold, avant-garde experiments in Moscow and immediately awarded the highest ratings and accolades, she would not rest on her laurels and went, first, as an apprentice — to study design in London, in theory and in practice. Her own work has now made a name for the Masha international fashion brand. Now a designer, fortunately, she is more concerned with collections of ready-to-wear garments, giving us the joy of wearing unique items daily. Masha Tsigal, with Premiere, tells us about inspirations and recipes of success; about the balance between business and family and plans for the future.
What is in your latest collection?
The latest collection is called «Do not talk!» It's a creation inspired by the famous poster of the same name of my grandmother. We have specially created a new sound in print. There are mainly basic models, such as svitshoty shirts, denim dresses, shirts and asymmetrical cuts. That is, we can say, basic things, but referring to the very important 90s.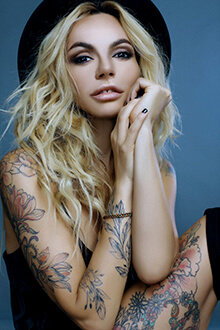 Where do you get inspiration for new collections?
Well, firstly, I am a professional designer and I can say that I do not only two collections per season, but also a variety of collaborations with various brands. For example, in November, we will release a collection created in collaboration with the Italian brand Motivi. In this season, we have done a joint project with Convers. Actually, I really like this story with collaborations. I think this is very interesting. For example, we have a similar collaboration with furniture brand Albert Stein. Returning to the question of how I get inspiration: certainly from life, travel and communicating with people. The rhythm of a metropolis is very inspiring to me as well.
Are there any designers that inspire you?
Of course! One of my favourite designers is Vivienne Westwood. I'm always interested to look at what a collection can create. Undoubtedly, the design house Chanel always gives me something to rejoice about. Generally, it's a lot of sport and independent brands. Always, I study with interest everything that happens in the world of fashion. At the same time, I do not look only at one designer and, if I'm not at London Fashion Week or in Paris, I just look through all of the shows online.
Who, for you, is a style icon?
I have no style icon and I never did.
How do you see women who wear the clothes of your brand?
A modern, self-assured girl-traveller with an active lifestyle.
You're quite a successful person, whose clothes have a fairly well-known personality in our country and abroad. Share your personal recipe for success?
I cannot say that I have any recipes. I think that we should earnestly do what we do and put our heart into it and do it with love. Then, everything turns out.
What is it that makes Masha Tsigal? Can you describe the main features of your character? Do you consider yourself a strong person?
Everyone has their own idea of what a strong personality is, but I think that I'm not weak. In a nutshell, I am purposeful, persistent and with a sense of humour (smiles).
Have you been practicing yoga? Does it somehow help in life?
Yes, definitely. A healthy lifestyle, sports and yoga — it is simply a necessity. I do not know how to cope without yoga. I have been practicing yoga for many years. It does very well to put everything in its place and calms me. In yoga, it is believed that physical beauty and forms that you acquire are a side effect of this practice. The main thing is that consciousness is stabilised. Yoga gives peace. I have been very serious about this. It is not just about breathing.
You have worked very hard, but still remain a very caring and loving mother. How do you reconcile this with your pace of life?
I think it is very important to find a balance and harmony. I probably would have been more successful in business if I only worked. For me, it is important to devote time to my child, whom I adore. Combining things takes time management. We need to prioritise everything. Spending time with my child is something I always do for myself. We used to travel together and rest together on the weekend. On weekdays, she goes to school. If you are someone very much like me, you always try to give as much time as possible to your child.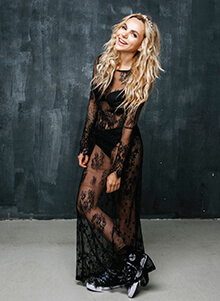 What do you think about the fact that love moves the world?
This is a very beautiful idea, of course, but it seems to me that the world of every individual is driven by something of his/her own. I would be happy if love moved all of the processes in the world. Then, everything would be quite different.
You once said: «I only care about today and tomorrow». How do you see your future in 10 years?
What a good question, but it is very difficult. We live at such an active pace in the modern world. It is extremely difficult to predict its future. I have a master plan and a common vision, but it's very private (smiles).
Thank you for this interview. It has been very nice to talk to you.
Thank you for your time and insight.