The most Expensive Alcoholic Drinks in the World
08/01/2018

Premiere Magazine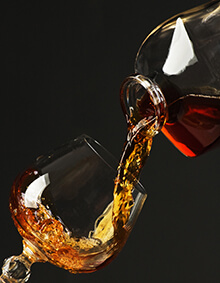 Good alcohol is perfect for both family and friendly feasts. It has the power to provide you with a very special taste, to reveal your character, to help you to feel free to open up your mind and relax and to unleash a casual conversation. In the world of wines and spirits, there are unique, rare and fabulously expensive items on offer. They adorn the collections of those judges that are willing to pay a fortune for one bottle. We want to explore with you some of these treasures and legends.
Let's start with the most 'democratic' item on the list, but the most expensive cocktail in the world — Winston. A creation of the Australian bartender Joel Heffernan, among other components, it consistently contains the liqueur Grand Marnier Quintessence, Chartreuse Vieillissement Exceptionnellement Prolonge and Cognac Cuvée Leonie 1858 brand Cognac Croizet. Enjoying mixing this drink can be expensive, with a price tag of $12,970 per glass.
In 2011, a sommelier and restaurateur, Christian Vannek, bought the bottle of white wine Château d'Yquem from the 1811 harvest. Because, in the world, there are only 10 of these bottles, Mr. Vannek had to pay an astonishing $130,000.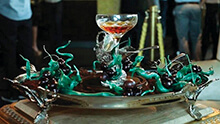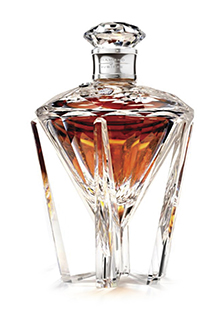 In 2012, for the 60th anniversary of the coronation of Queen Elizabeth II, producer John Walker & Sons produced a thematic series of Diamond Jubilee whiskey. The whiskey was matured for the entire length of the queen's rule, starting on February 6, 1952. The price of a decanter in the shape of a diamond on a stand, with a crown was $165,000.
Celebrating the 140th anniversary of its cognac Louis XIII, Remy Martin House released a limited Louis XIII Black Pearl Anniversary Edition. Baccarat Crystal decanters filled with a unique blend of cognac spirits aged 40 to 100 years numbered only 786 bottles and sold for $165,000 apiece. The oak barrels used for fermentation were the same oak barrels used during the reign of King Louis XIII, who gave his name to the brand.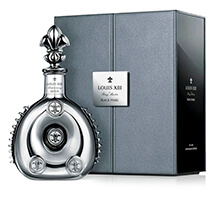 The wine Penfolds Ampoule (2004 Block 42 Cabernet Sauvignon) is estimated at $170,000. Each ampoule is a piece of art because it is an investment of the talent and strength of the designer, Hendrik Forster, as well as glass artist Nick Mount, glassblower Ray Leake and furniture master Andrew Bartlett.
Another super-elite comes from the Johnnie Walker scotch whiskey Royal Salute Tribute to Honour, worth between 200 and 215 thousand dollars. It is a blend of the best whiskey under 45 years of age, placed in a decanter adorned with black crystal, gold and 413 diamonds.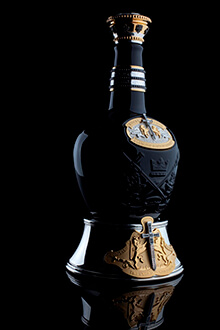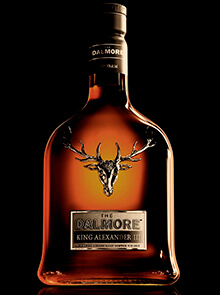 Third, but not last in this article, is the whiskey proud to be from Scotland, made by blending Dalmore 62 Single Hiland Malt Scotch and worth between $200,000 and $215,000. The single malt drink was created in 1942 and includes four alcohol harvests: 1868, 1876 and 1926 and 1939. Only 12 bottles were ever released.
Midas champagne series of Armand de Brignac pleases fans of luxury with a 30-litre bottle worth $215,000. Each is made by hand and the content is a delicious, sparkling drink made from fruits from the family vineyard in Chigny-les-Roses (France). The plantation has a history dating back to 1763.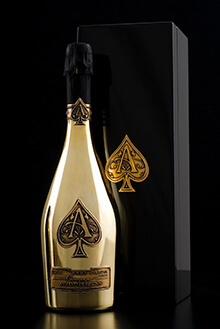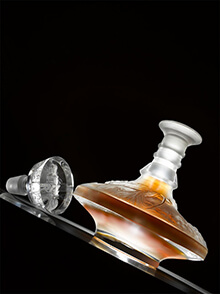 A block of exclusive 64-year-old Scotch whiskey named The Macallan, in 2010, left Sotheby's auction in New York for a price of $460,000. They were the world's only four bottles of this single malt beverage, or rather, four crystal decanters from Lalique. Each of the crystal decanters took 17 artists over 50 hours to create.
In an act of cooperation, Macallan and Lalique dedicated the work of art to the 150th anniversary of the birth of René Lalique, the founder of the dynasty. The artist of the glass and jewellery was a prominent representative of art nouveau. One of the four six-litre Imperiale decanters, in 2014, was sold at Sotheby's auction for $628,000. Funds were directed to the provision of clean drinking water in third world countries.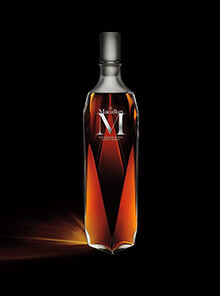 House Mendis produced the world's first coconut liqueur. Mendis Coconut Brandy has a value of $1 million and is made with only natural ingredients. The distillate coconut milk stands for two years in special barrels made of the tropical wood halmilla. Each bottle is elite and has a serial number, date of filling and the personal signature of the company's founder.
Diva Vodka has a feminine silhouette and design (using Swarovski crystals) and decorates the bars of only millionaires willing to spend $1 million a bottle. The strong drink is purified first with ice, then with birch charcoal and, finally, in the sand of crushed diamonds.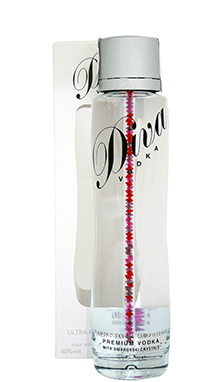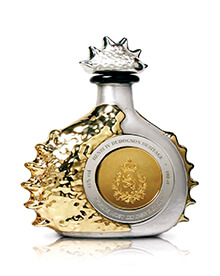 A cognac with 100 years of aging, the Henri IV Dudognon Heritage Cognac Grande Champagne goes for $2 million. It is housed in a picturesque bottle of platinum and gold, inlaid with several thousand diamonds.
Completing our gallery of super-expensive alcohol is the 4-year-old Tequila Pasión Azteca, Platinum Liquor Bottle of Tequila Ley (Mexico), with a price tag of $3.5 million per bottle. The designer is Fernando Altamirano, who made a luxury shell for the tequila that is decorated with gold, platinum and over 6,400 diamonds.