Recipes from Adrian Ketglas
03/12/2020

Premiere Magazine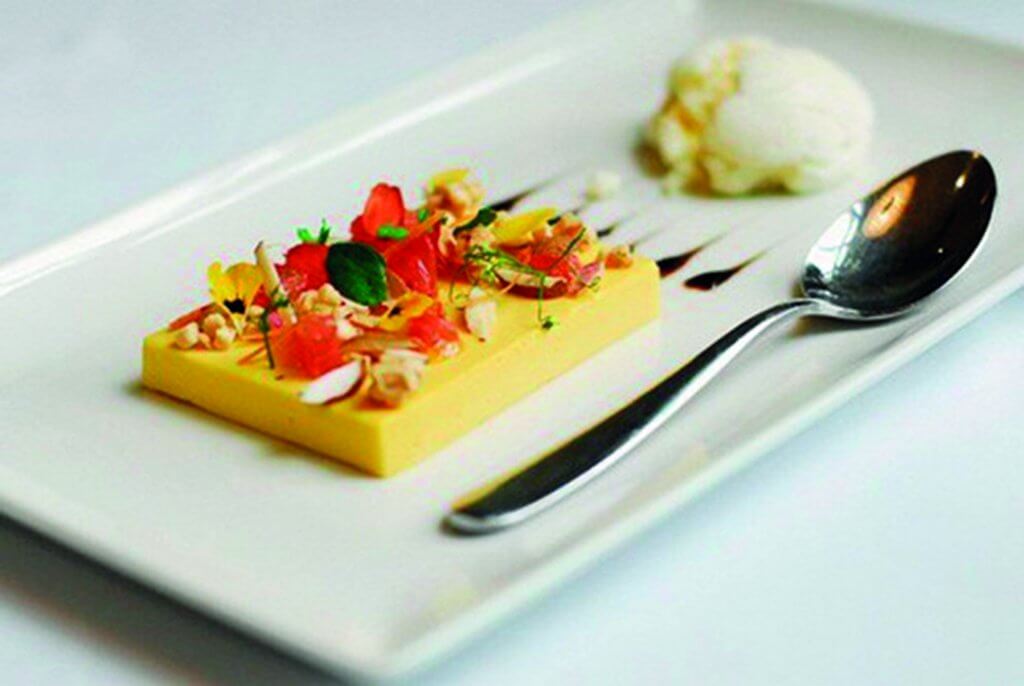 Panna cotta
Ingredients:
Milk – ½ litre
Cream 33% – 185 ml
Sour cream 42% – 75 g
Sugar – 65 g
Philadelphia cheese – 150 g
Passion fruit gel – 100 g
Almonds – 20 g
Dried apples – 20 g
Blood oranges – ½ pcs.
Flower petals – 10 g
Mint leaves – 10 g
Pea antennae – 5 g
Balsamic cream – 10 g
Saffron – 1 g
Vanilla pod – 1 pc.
Gelatin sheet – 8 pcs.
Cooking method:
Pour milk into a saucepan, add saffron, bring to a low heat to a temperature of 90 degrees and keep it there for two to three hours, so that the saffron is infused and coloured the milk.
Put the gelatin sheet in cold water for two to three minutes, squeeze lightly and transfer to hot milk, stirring with a whisk. Let the milk cool to room temperature.
Whisk in 110 ml of cream and mix with milk. Cover a baking dish – of a diameter that will fit the 1-1.5 cm thick panna cotta – with cling film and strain the mixture into it through a sieve. Refrigerate for six hours.
Prepare the mousse: put a saucepan over low heat, pour 75 ml of cream, add sour cream, Philadelphia cheese, sugar and a vanilla pod cut lengthwise. Stir the melting contents with a whisk, cook until smooth and then load into a siphon. If you don't feel like messing around with the mousse, you can replace it with vanilla ice cream.
Remove the frozen panna cotta from the refrigerator and cut into eight pieces. Place balsamic cream in the middle of the plate. Lay out the panna cotta and garnish with drops of passionfruit gel (puree the passionfruit pulp and add xanthan as a thickener). Place on the surface of the dessert the slices of blood orange (without the skin), chopped almonds, dried apple cubes, mint leaves, pea tendrils, orange zest, some saffron and flower petals. Tweezers will help with particularly delicate ingredients.
Pour 0.5 litre liquid nitrogen into a bowl (can be ordered online for home delivery). Rinse the ladle in nitrogen, squeeze a small amount of mousse out of the siphon, then passion fruit gel – and close it with a fresh portion of mousse. Dip the ladle in nitrogen: the mousse instantly turns into a meringue-like ball.
Place the mousse ball on the second half of the balsamic cream and panna cotta dish. Break the mousse with a light hit of a spoon, so that the passionfruit core appears from it, like yolk from an egg.
Duck with beet bulgur and tangerines
Ingredients:
Duck legs – 4 pcs.
Sea salt – 40 g
Thyme – 2 branches
Garlic – 2 cloves
Vegetable oil or duck fat – 1 litre
For bulgur:
Chicken broth – 1.2 litre
Bulgur – 250 g
Heavy cream – 60 ml
Beet juice – 200 ml
Russian cheese (or any similar one) – 40 g
Salt and freshly ground black pepper – to taste
For tangerine jelly:
Tangerine juice – 100 g
Sugar – 10 g
Lemon juice – 10 g
Agar-agar – 3 g
For beets:
Beets – 1 pc.
Olive oil
Salt
Cooking method:
Combine all jelly products and bring to a boil, stirring with a whisk. Pour into a mold so that the layer is 1.5 cm deep and leave until solidified. Chop as you wish.
Sprinkle the duck legs with salt, chopped thyme and garlic, leave for 30 minutes, then rinse from the marinade and dry. Heat vegetable oil or fat, add the duck legs and cook at 110 degrees for two hours. Carefully remove the bone from the finished legs.
Wash the beets, pour over with olive oil, salt, wrap in foil, bake in the oven at 180 degrees for 40 minutes. Cool, peel and cut into shapes.
Pour bulgur with broth and beetroot juice, add salt and pepper, cook until bulgur is ready. Finally add finely grated cheese and cream.
To serve, serve the bulgur onto a plate, then on top of it the duck, next to the jelly and beets.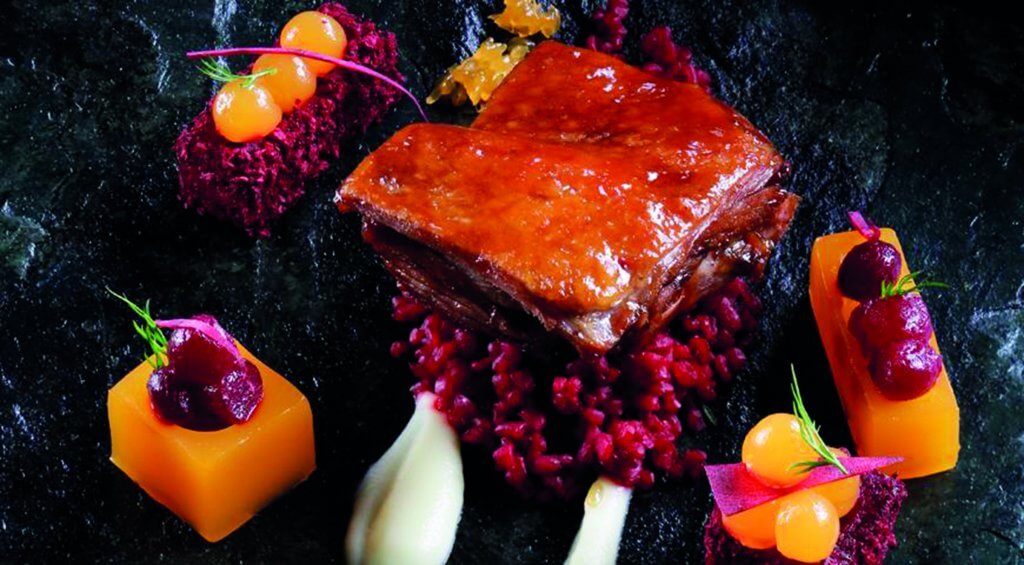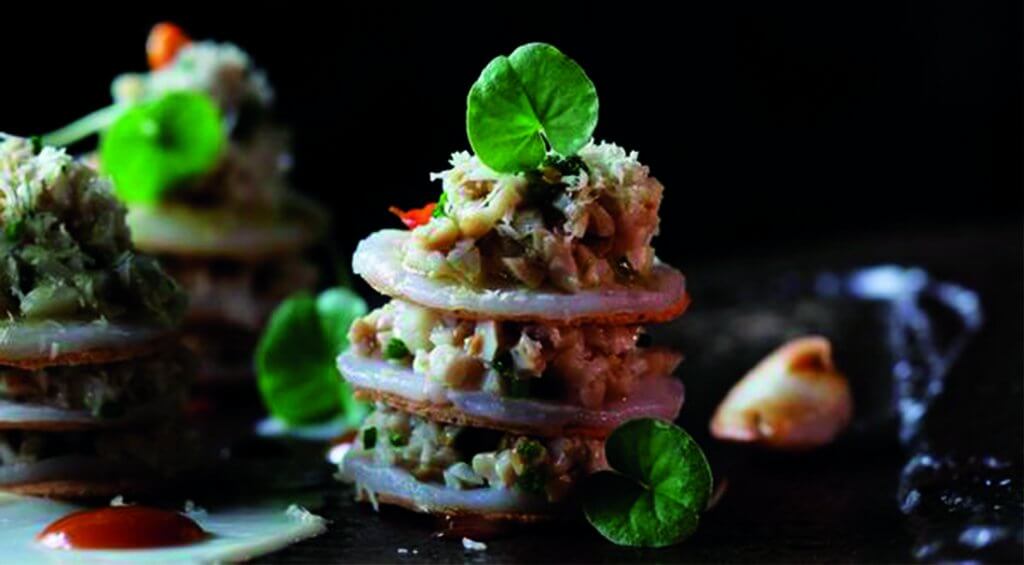 Scallop millefeuil with mushrooms and sea buckthorn sauce
Ingredients:
Fillet of large scallop – 10 pcs.
Mushrooms – 200 g
Garlic – 2 cloves
Thyme
Olive oil
Salt, freshly ground white pepper
Fatty sour cream
Sea buckthorn berries for serving
For a spiced biscuit:
Butter – 105 g
Protein – 40 g
Flour – 150 g
Freshly squeezed orange juice – 105 ml
Powdered sugar – 100 g
Glucose – 120 g
Orange zest – 5 g
Cloves – 4 g
Cinnamon – 4 g
For sea buckthorn sauce:
Thawed sea buckthorn – 200 g
Sugar – 40 g
A pinch of cinnamon and cloves
Cooking method:
Put the scallops on oiled parchment paper, season with salt and pepper. Cover with another sheet of parchment and press it into a thin layer. Place on a tray, put in the freezer for 6-10 hours, then cut into a mold with a diameter of four centimetres.
For sea buckthorn sauce, mix all ingredients with 100 ml of drinking water and beat with a blender. While stirring, evaporate over medium heat until it has the consistency of a thick sauce, strain through a fine sieve.
For the biscuit, mix all the products in a mixer until smooth, pour a thin layer onto a silicone mat and bake at 180 degrees for three minutes. Cool, cut into a mold with a diameter of four centimetres, dry in the oven for another minute and cool again.
Peel, chop and fry the mushrooms in olive oil, salt, pepper and thyme. Chop finely, cool.
When serving on a plate, spread sour cream, put circles of biscuit on top, and on top of them, add scallops, mushrooms, layered with a biscuit, repeat. Pour the sea buckthorn sauce nearby, garnish with berries.