24/02/2020

Premiere Magazine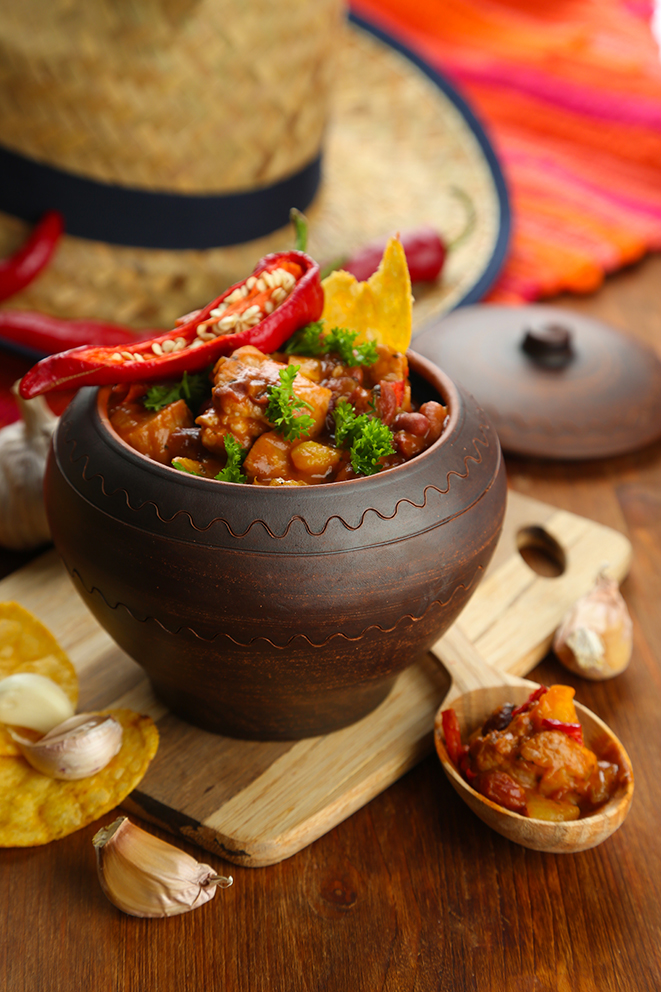 Chilli con carne
Ingredients:
Ground beef – 500 g
Canned red beans – 400 g (1 can)
Chopped tomatoes (with their own juice) – 2 cans
Carrots – 2 pcs.
Celery stalk – 2 pcs.
Bulgarian red pepper – 2 pcs.
Onion – 2 pcs.
Garlic – 3 cloves
Fresh parsley – 1 bunch
Balsamic vinegar – 2 tbsp.
Red chilli, cumin, cinnamon – 1 tsp.
Sea salt, black pepper – according to taste
Olive oil for frying
Cooking method:
Peel and finely chop the onions, celery, garlic and carrots. Remove the seeds from the peppers and cut the flesh into strips.
Heat the soup pan over medium heat with a tablespoon of olive oil, add vegetables, add spices and salt, fry for several minutes, stirring with a spatula.
Drain the liquid from the beans. Add legumes, tomatoes and ground beef to the pan. Knead the minced meat until smooth.
Tear off the parsley leaves and put them into the refrigerator, cut the stems and add them to the chilli. Add vinegar, salt and pepper, mix well and bring to a boil under a lid. Reduce the heat to a minimum and leave the pan to simmer for about an hour, stirring occasionally. Then remove the lid and cook for another 10 minutes. If the sauce is too thick, add half a glass of water.
Serve chilli con carne hot, seasoned with finely chopped parsley leaves. Recommended side dishes are basmati rice, boiled potatoes or couscous. Natural yogurt, guacamole and lime slices also go well with the chilli dish.
Enchiladas with chicken and avocado
Ingredients:
Minced chicken – 800 g
Canned chopped tomatoes (with their own juice) – around 400 g
Onions – 1 pc.
Chilli pepper – 2 pcs.
Garlic – 4 cloves
Dried coriander – 1 tsp.
Vegetable oil – 80 ml
Cumin – 1 tsp.
Salt – 1.5 tsp.
Pepper (black ground) – 1/2 tsp.
Sugar – 10 g
Chilli powder – 1/2 tsp.
Oregano – 1 tsp.
Fresh cilantro – 100 g
Cheddar (or any semi-hard cheese) – 300 g
Tortilla – as needed
Cooking method:
For the sauce, peel and finely chop the garlic, onion, chilli and fry in a heated pan with butter for five minutes. Add chopped canned tomatoes, season with salt, sugar and pepper and cook for another seven minutes.
In another pan, over a rather high heat, heat up the vegetable oil and fry the minced meat. When the liquid evaporates and the meat begins to brown, add spices: hot red pepper, coriander, oregano, cumin or any ready-made Mexican mixture. Add salt and cook for another five minutes. At this time, grate the cheese on a coarse grater and chop the cilantro.
Heat the oven to 180 degrees. Pour half the sauce into the mould.
Heat the tortillas in the microwave. Put a couple of tablespoons of minced meat on the tortillas, sprinkle cheese and herbs abundantly, roll them into tubes and place them in a mould with the seam down. Pour the remaining sauce, add the remaining cheese and cilantro, bake for 20 minutes – the cheese should melt and the sauce should boil.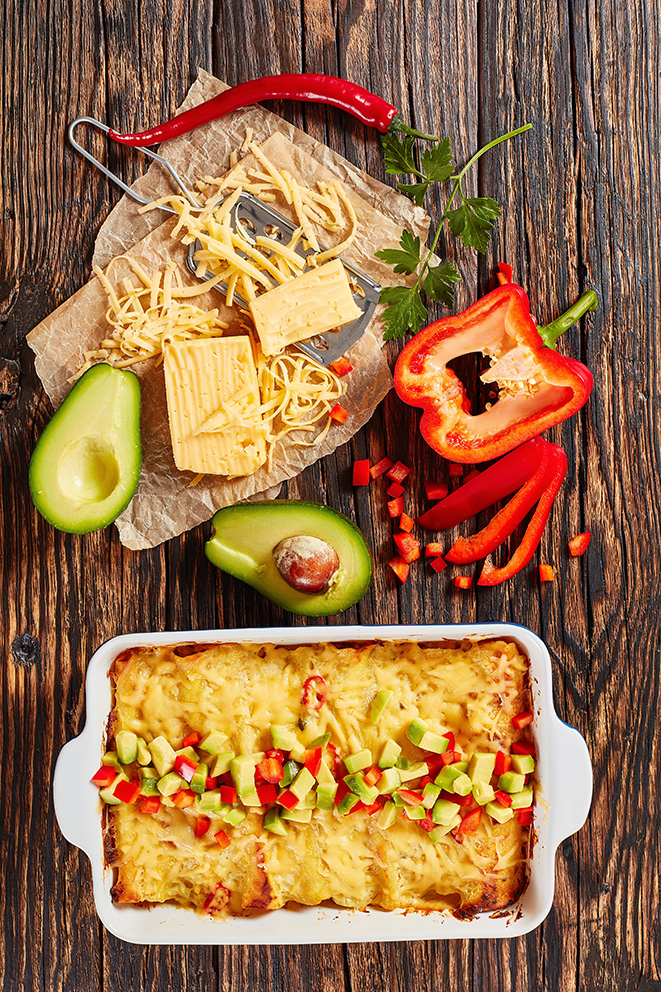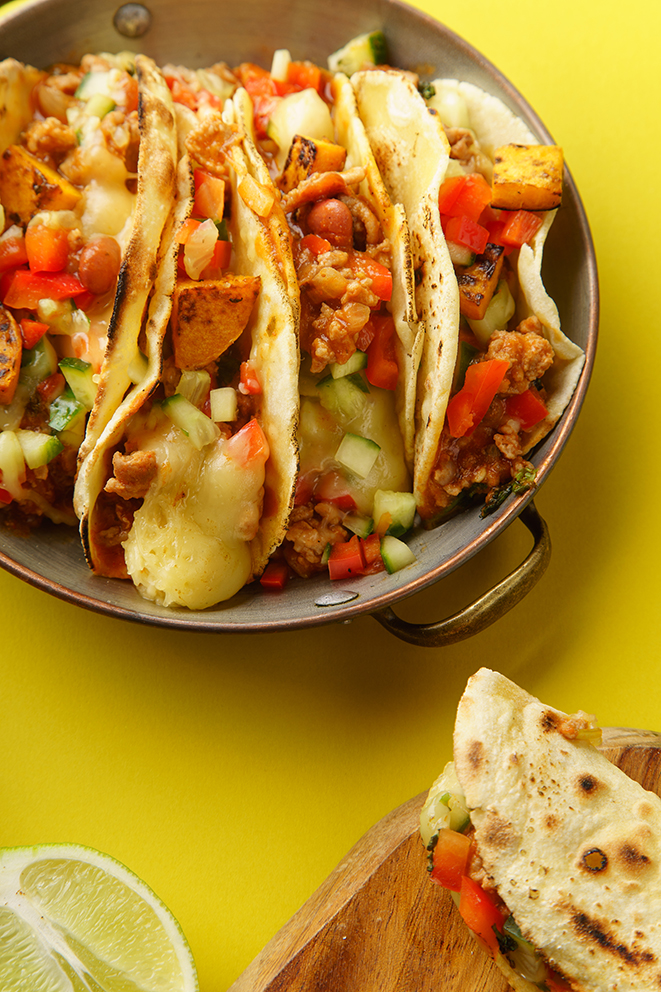 Turkey, Potato and Chilli Tacos
Ingredients:
Minced turkey meat – 450 g
Potato – 2 pcs.
Onion – 2 tbsp.
Chilli (ground), paprika – 1 tsp.
Cumin, oregano, salt – 1/2 tsp. of each
Garlic powder – 1/4 tsp.
Pepper – 1/8 tsp.
Tortilla – 10 pcs.
Semi-hard cheese – 200 g
For the sauce:
Tomatoes – 1-2 pcs.
Cheese (cheddar) – 2/3 cup
Green salad – 3 cups
Cooking method:
Heat a little vegetable oil in a pan and fry the minced meat with spices until tender – the meat should remain a soft pink colour. Separately cook the diced potatoes. Grate the cheese.
Put the filling in the centre of each tortilla, add a little mixture of finely chopped tomatoes, cheese and green salad on top. Fold the tortillas in half and the tacos are ready.