In the trend: How Russian cuisine conquers the world
28/11/2019

Premiere Magazine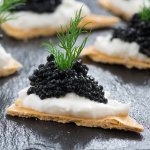 Russian cuisine conquers cities and countries! Especially for Premiere Magazine, gastronomic observer Zhanna Spiridonova tells us how things are with domestic gastronomy in Moscow, how one can talk about fashion for Russian cuisine in the world and why interest in it has risen recently.
Russian cuisine in Russia
Moscow is booming with Russian restaurants. Kulebyaka from the oven, Guryev porridge with mushrooms, smoked sterlet – after reading the names, it is not immediately clear from which era this menu comes. Are we in the 21st century, returning back to the roots?
Love for Russia and domestic dishes is displayed in the names. The recent places have opened in the last few years: 'Saratov', with menu of the Volga region, 'Beluga' restaurant of Russian delicacies and caviar brasserie, (in the caviar bar, there are 15 types of black caviar), 'Uhvat', where you can try dishes from the oven, 'Matryoshka' and 'Ruski'.
It is worth talking about the last in this list. This restaurant occupies the entire 85th floor of a skyscraper, offering breath-taking views of Moscow. A separate entertainment is the ice-bar (by the way, the highest in the world), where the bar counter is made of ice blocks. For a complete immersion in Russian culture, guests will be offered fur coats made of natural fur.
The restaurant's menu contains all the hits of national cuisine: dumplings with venison, herring with rye toast, baked roots with crab, jellied meat, julienne from crayfish and shrimp, dumplings with potatoes and porcini mushrooms, borscht with pampushki and bacon, and stewed cabbage soup with white mushrooms. The place is so popular that you need to book a table in advance. However, it is not completely clear what the guests value most – Russian cuisine or a postcard view. Rather, it is a mix of old and new; familiar and understandable cuisine and an ultra-hi-tech landscape outside the window (the building is located in the business district of Moscow City).
Russian chefs try to surprise not only compatriots, but also tourists. That's why they re-think recipes from Domostroy and re-master the Russian stove and forgotten technology. Behind the national experience, it is definitely worth going to Beluga (by Alexander Rappoport). With a view of the Kremlin, order the company 'breakfast of burlaka', which includes a whole kilogram of black caviar, boiled quail eggs, homemade 'canned' sturgeon, pancakes, sprats in a homemade marinade, lightly salted cucumbers – plain and white, baked potatoes, pies with a screech, cucumber terrine, pickled porcini mushrooms, 'eggs' from mayonnaise with green peas, potato noodles with creamy stracciatella, sliced ​​loaf and bread. Of course, breakfast in a Russian restaurant is unthinkable without alcohol – guests will be offered a litre of vodka. The cost of a sumptuous breakfast in the Russian style is 40,000 rubles per company (a little more than 500 euros).
For new Russian cuisine, we recommend heading to White Rabbit. This place has become a kind of attraction for food from around the world. It is not the first year that White Rabbit is among the twenty best restaurants in the world and, in 2019, it took 13th place on the list of The World's 50 Best Restaurants, the most respected gastronomic rating. This really testifies to the recognition of the merits of Russian cuisine among the world community. It is always crowded here, but you simply won't find other restaurants with a similar capacity (350 people) in the ranking.
Chef Vladimir Mukhin prepares local products, has a keen sense for trends and is one step ahead of other chefs. One cannot help but note his charisma. When you are in the restaurant, you can always ask Mukhin to provide feedback about his dishes, and if the chef is in the kitchen, he will be happy to come out to the room to talk. By the way, foreigners who come to White Rabbit for Russian cuisine often do this.
Vladimir Mukhin popularises Russian cuisine around the world, gives tasting dinners in different countries, while inviting world chefs to Russia (he is one of the organisers of the largest IKRA gastronomic festival in Sochi). Moreover, his Russian cuisine turns out to be fashionable, although you will never meet Mukhin with mayonnaise or "seledka pod shuboi" (herring under a fur coat).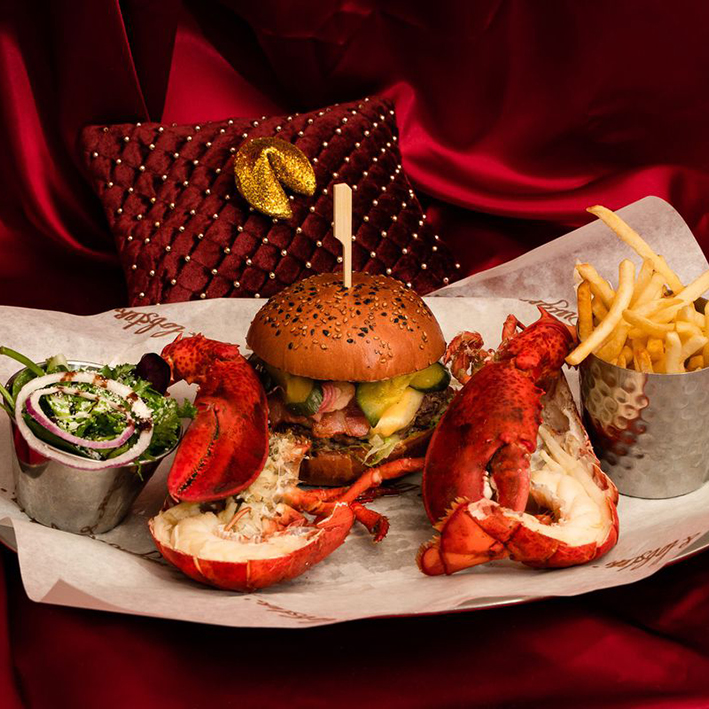 So, what is the secret of the popularity of Russian cuisine?
In the gastronomic world, authentic cuisines are now valued. We are already used to eating pasta and sushi or dim sums and spring rolls. We have mastered poke and bowls, ceviche and tartar or tom yam and fo-bo. It is quite natural that there is interest in Russian cuisine, which is rather unusual for foreign palates, but that is all the better for developing popularity. Russian chefs are happy to tour the world. A significant role here was played by successful PR.
It should be noted that an increase in tourist flow, both to Russia as a whole and to Moscow, in particular, has been especially noticeable after the World Cup, which took place in the country and its capital last year. Another reason is the price. Tourists, arriving in Moscow, can find a restaurant with any cuisine ( new restaurants open weekly here) and with high service for a fairly average check, especially if the amount in rubles is converted into euros. There are more than enough restaurants in the capital, where you will have to pay 1,500-2,000 rubles for a salad, and with a hot meal and a glass of wine, only 20-30 euros. In the Moscow gastronomic restaurant-theatre Chef's Table, a set meal in a chamber setting (maximum 20 people) will cost 10,000-15,000 rubles (140-200 euros). You can even get to Vladimir Mukhin, the most popular Russian chef, who, throughout the dinner, will tell the secrets of craftsmanship and personally cook something for you. You must admit that for six dishes with wine accompaniment and the personal presence of a chef, 200 euros is a reasonable price.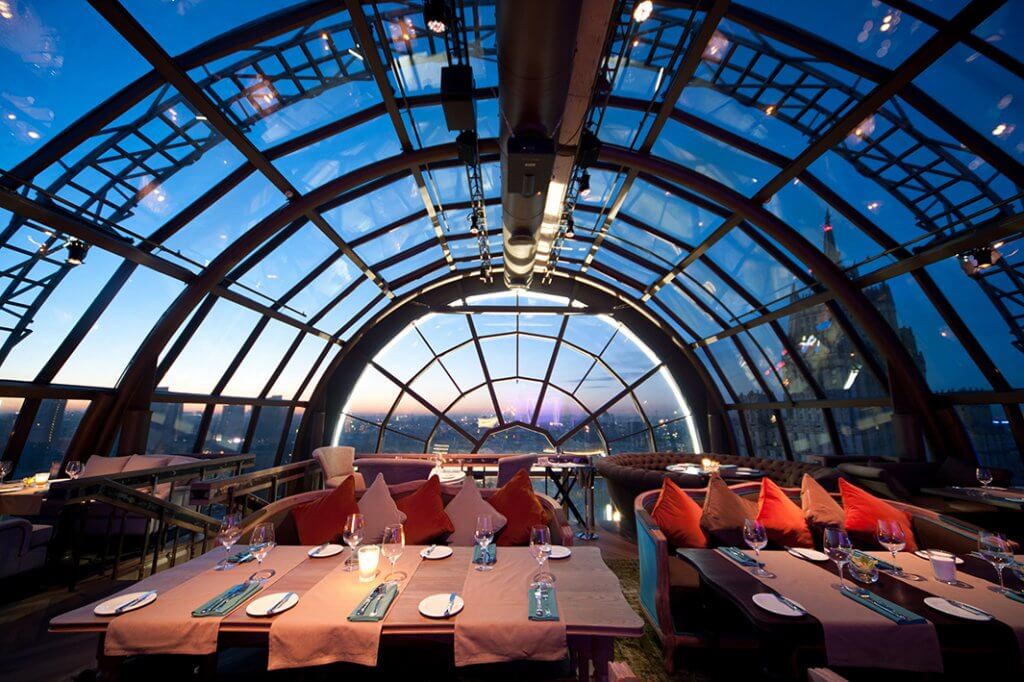 Russian restaurateurs
Often, if a restaurant is successful in Russia, its owner follows the path of least resistance and opens a similar project abroad.
So, the most famous Russian restaurateur, Arkady Novikov (more than 50 establishments in Moscow), opened the Novikov Restaurant & Bar in London, Doha, Miami and Porto Cervo, Avocado Queen in Ibiza, the Cheese Factory in Baku and Makhachkala. Boris Zarkov, from the White Rabbit Family (Moscow White Rabbit, Chicha, Bistro Technical School, Sakhalin), opened Selfie in Astana (by the way, the same project with the same chef – Anatoly Kazakov, but the flagship is in Moscow). Andrei Dellos launched the Cafe Pouchkine in Paris (his expensive Cafe Pushkin restaurant is, perhaps, the most famous gastronome in Moscow, where tourists and locals who want to try borscht, pancakes with caviar and other specialties have been fed Russian noble cuisine for 20 years). In France, in the Cafe Pouchkine, a classic Soviet dish, Mimosa, is popular with Parisians raised on oysters and snails. Dellos cemented this success in Doha by launching the Cafe Pouchkine there, too.
However, restaurateurs can open a completely different project abroad. Mikhail Zelman is actively engaged in expansion – his Burger & Lobster can be found in London, Bangkok, New York and Kuwait. Aram Mnatsakanov taught the Russians to eat Italian cuisine in St. Petersburg and Moscow (In his Probka projects, the most expensive pizza in the city is available to taste) and then opened Mine Wine in Berlin.
Even the chefs open their projects abroad. For example, Eugene Vikentiev, famous for the Hamlet + Jacks restaurant in St. Petersburg, launched his own Cell in Berlin, which locals love to go to.
Summing up, we can say that the trend on all Russian is observed in many areas – fashion, culture, music, literature and even politics. Interest in Russian gastronomy is logical and, we are sure, will only grow in the future.
We asked Jan Cherepanov, Forbes restaurant observer, founder of the Festival Gastronomique de Monaco and the best critic, according to the FoodShow Awards 2017, to comment on the situation with Russian cuisine in Russia and in the world.
The formation of the Russian restaurant market has just begun, but the speed with which quality restaurants and talented chefs appear in the country is amazing. Of course, if we are talking about this market, we mean large cities – in addition to Moscow and St. Petersburg, this is Sochi, Rostov and Novosibirsk. Still, they are far from the European level, although there are exceptions.
Both of our capitals, in terms of gastronomy, have already achieved impressive results. Just getting into the World's 50 Best Restaurants rating is worth something (this year, among 120 restaurants, five are Russian). A couple of years ago, the news about the arrival of chef with even one Michelin star caused a stir. Today, a guest with three stars will not surprise anyone. This may be wrong, but it is a fact to be reckoned with. Tours and dinner parties take place every week and, sometimes, they manage to arrange them on the same day, and even a journalist cannot always make the right choice in favour of one of them.
I am not a supporter of dividing gastronomy into national cuisines. For a long time, everyone has been opening up the notorious 'restaurants of author's cuisine', and so it is! The main thing today is the product and the chef's ability to work with it. Opening pelemennaya or khinkalnaya is no longer fashionable if we are talking about international prospects for the chef and restaurant. Doctor Zhivago and Voskhod are successfully operating in Moscow, but there is no mention of any 'high cuisine' there. Of course, it can also be tasty there, but tourists eat here mainly, and they need home cooking, which is also called traditional.
The world is not interested in our cuisine, but in our people and chefs with a fresh approach to their profession, who are able to absorb new information, learn quickly and do not hesitate to 'sell' themselves and their restaurant. Russian restaurateurs are increasingly opening establishments abroad. This is true, but if you look closely, you can see that these restaurants have nothing to do with Russian cuisine. Arkady Novikov scales his personal restaurant with fish and seafood in world capitals. Alexander Orlov opens a Greek restaurant in Monaco. White Rabbit Family launches a crab project in Dubai. Of the Russians, probably only Marie Vanna, in New York and London, remained outside this trend.
The cross-tour of the chefs has long become commonplace. Our guests get acquainted with world names in gastronomy and the chefs, in turn, get into the kitchens of world-famous maestros, and it is pleasing.
They say that the Michelin Guide is going to Russia. In almost a year, we will receive the first guide. I would like to believe in it, but now our chefs and restaurants are participants in world ratings. Sometimes, they say that this only has PR merit, but if the restaurant is bad, no PR will help.
In general, gastronomic affairs are going uphill in Moscow. What's great is that the restaurant environment attracts tourism. It is already easy to recommend for foreigners to come to Moscow, not only for a walk along Red Square, but also for delicious food in trendy conceptual institutions. The same is the case with bars (slightly worse than with restaurants), which show good dynamics in terms of quality.