Adrian Quetglas: "Forget about stereotypes and catch pleasure from the food"
03/01/2021

Premiere Magazine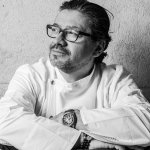 Adrian Ketglas – this name confidently takes place in the top three best chefs in Russia. Adrian Ketglas is like a wind of change that has burst into the life of Moscow gastronomy. His cuisine is classified as author's, while the chef himself calls it simple and honest.
Born in Buenos Aires Quetglas has worked in restaurants in Spain, France, Great Britain, and Russia. Now you can taste the dishes of the famous chef of haute cuisine in Moscow (the signature restaurant AQ Kitchen and the wine bar Grand Cru) and in Mallorca (Adrian Quetglas Restaurant), where the place received a Michelin star in 2016 and still wears it.
In an exclusive interview, Adrian Quetglas told Premiere Magazine about what a restaurant should be like to want to go back there, and about the perfect dinner and wine accompaniment – by the way, offering to abandon the usual wine and gastronomic stereotypes.
Adrian, you have restaurants in Moscow and Mallorca. Tell us how different is the work in these places; in the kitchen, the audience, and guests' behavior?
The most significant difference is the concept. There is only a tasting menu in Mallorca, and guests come to the Michelin-starred restaurant to taste the surprise menu and experience. In general, they are more open to experimentation. In Moscow, in AQ Kitchen and Grand Cru, the public prefers what they are already familiar with, time-tested hits.
You often say that you promote Moscow in Mallorca and Mallorca in Moscow. How is this expressed?
My name appears in my restaurant names, and it is a brand in itself. As its bearer, I moved from Moscow to Mallorca and back, communicating with a large number of people, "promote" my name.
What kind of cuisine do you prefer? Describe your perfect dinner.
It all depends on the mood and expectations. I am happy to go to a gastronomic set in an interesting restaurant, but I prefer simple, healthy, and light food at home. Steak and salad, for example, are excellent.
You live in two countries – by the way, like many in Cyprus. What are the benefits and challenges of such a lifestyle that you face?
They say the movement is life. It is movement and communication with different people who charge me with creative energy and give me a "look". Of the minuses, I'm afraid to fly. And dividing time between Moscow and Mallorca is not an easy task; there is always a lack of it.
Where do you like to be in Moscow when you come here?
I love walking in the center, especially in the Old Arbat area, where I lived with my family for many years after moving to Moscow. The same fond memories are associated with Izmailovsky Park, where my children and I spent the weekend.
What difference in doing business in Russia and Spain?
In Mallorca, seasonality is very pronounced: tourist flows in summer and calm in winter. All processes are adjusting to this. In Moscow, it is more stable in this respect. Plus, of course, there is a huge difference in rental prices.
What can you say about Russian and Greek cuisines?
Russian cuisine had declared itself in full voice only five years ago when they started talking about new Russian gastronomy. This trend is actively developing thanks to talented Russian chefs. As for Greek – this light cuisine with delicious products is always popular all over the world.
What should a restaurant look like to make you want to go back there?
The concept is essential. This implies that all elements of the puzzle must match: interior, dishes, service.
Which restaurant trends, in your opinion, will be relevant in the next few years, and which, on the contrary, will fade away?
The global trend for healthy eating and vegetarianism is now flourishing. I think it will only develop. Fusion comes to naught when one can find Japanese, Italian, and Georgian cuisine in one restaurant.
Gastronomy in Moscow is now at a very high level – an abundance of festivals, many restaurants with interesting concepts are opening, a lot of attention is paying to service. What do you associate the development of restaurant culture in general and Russian cuisine in particular?
The country's cuisine is represented by the chefs who prepare it. Russian chefs develop and actively declare themselves on the world gastronomic scene.
Now the profession of a chef is becoming a media one. How do you feel about this?
Developing a personal brand today is a correct, very working story. The most important thing is the chef's base on which it is building. The content is important to make it real: style, taste, business concept. And competent PR, of course.
What will you advise gourmets – what cities or countries to visit, what newfangled products they should try, what to order in your restaurants?
Now Mexico, Peru, Japan are very popular and interesting. I think that first of all we need to see Japan. And of course, France! This is the "mother" of gastronomy. If a person is a gourmet or wants to be one, he cannot be advised one thing. It is necessary to continually search, discover new tastes, develop "observation," and taste skills.
If we talk about my restaurants, then in Mallorca you need to try what I offer at a particular moment, depending on the season and the current set. And in Moscow, I would advise you to pay attention to hits, such as poultry pate in the shape of a duck, and, again, to the current gastronomic set. If you come for the first time and do not know what to order, you need to take precisely the set – it will give a complete picture of my style and the cuisine we make.
You have experience as both a chef and a restaurateur. What advice can you give to those looking to open their restaurant? Let's say, in one of the coastal cities of Cyprus.
It's not enough to be just a chef. If you want to do business, you will have to delve into mathematics and advertising because today, the boss is a real entrepreneur who must master all the nuances.
Should wine and food go together? What food and wine myths can you dispel as the brand chef of the popular Grand Cru wine bar?
Listen to yourself and catch pleasure, depending on your mood. If you still think that white is strictly for fish, red is for meat, forget this stereotype. For example, I can drink sparkling cava with fish and meat dishes.
The gastronomic set in the Moscow restaurant AQ Kitchen (Bolshaya Gruzinskaya St., 69) can be tasted daily from 18:00. The set consists of six dishes and is prepared with products that are relevant for the current season:
– marinated venison with beetroot hummus and dill ice cream;
– duck dim sum with mushroom consommé and truffle snow;
– seaweed rice with velute bouillabaisse and baked lemon aioli;
– sea bass with warm beetroot tartare, borscht veil, and horseradish mousse;
– Ox tenderloin with Jerusalem artichoke ragout, wheat germ and chocolate;
– banana tart with kumquat mousse and acorn ice cream.