28/11/2019

Premiere Magazine
Baked apples with cinnamon, raisins and nuts.
Ingredients:
4 large apples
60 g cane sugar
1 teaspoon of cinnamon
50 g of walnuts
120 g of raisins
40 g butter
200 ml of hot water
Cooking method:
Preheat the oven to 190℃.
Cut the core of the apples with a sharp knife. Combine sugar, cinnamon, chopped nuts and raisins in a bowl. Fill each apple with filling and put a piece of butter on top.
Pour hot water into a baking dish and lay out the apples. Bake for 30 to 45 minutes, until the apples are soft.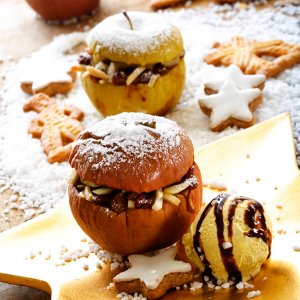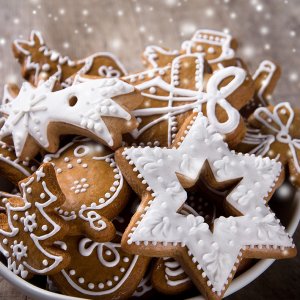 Christmas Gingerbread Cookies
Ingredients:
100 g butter
1 cup of sugar
1 cup flour
1 egg
powdered sugar for sprinkling
1 tsp baking powder
1 tsp lemon zest
ginger root
salt to taste
glaze
Cooking method:
Beat butter with sugar. Add the egg and continue to beat until the mass becomes homogeneous.
Sift the flour. Add baking powder, salt, lemon zest and ginger grate (fine grater).
Mix all of the ingredients, gradually adding in the flour. Roll out the dough and cut out the figures.
Preheat the oven to 180°C. Sprinkle cookies with sugar and put on a greased baking sheet. Bake in a preheated oven for 20-25 minutes.
Decorate the finished gingerbread cookie with icing.
Herring under a fur coat
Prepare your favourite salad according to a classic recipe, placing it in layers on a dish loosely or with the help of a cooking ring, which will help to get a perfectly round shape. Before serving, you just need to open the ring and remove it. Usually, in this way, small round portions of salad are prepared for each guest.
If you rub potatoes, beets and boiled carrots on a coarse grater, and do it based upon weight so that the vegetables sprinkle properly into the form, then the dish will turn out to be very light and airy, and the layers will smoothly pass one into another.
Ingredients:
salted herring – 1 pc.
carrots – 3 pcs.
potatoes – 3 pcs.
beets – 2-3 pcs., medium
eggs – 2-3 pcs.
homemade mayonnaise – 100 ml
For the mayonnaise:
egg – 1 pc.
Refined sunflower oil – 250 ml
lemon juice – 1 tsp.
mustard – 1 tsp.
salt & sugar – to taste
Cooking method:
Cook unpeeled vegetables (beets – separately from potatoes with carrots) and eggs in salted water. Allow the vegetables to cool slightly, but not completely, otherwise they will be difficult to peel.
Finely chop the onion and pour boiling water with a touch of vinegar onto it – let sit for 15 minutes. During this time, it will pickle, relieving all excess bitterness, while becoming more delicious and crispier.
Make the homemade mayonnaise. To do this, in a tall and narrow blender bowl, beat a fresh egg well and add oil in small portions, each time stirring the sauce until thickened. When the consistency is dense enough, add spices, mustard and lemon juice.
Peel vegetables and grate into separate bowls.
Cut herring into fillets, peel off the bones and cut into small pieces. Pour, on a plate in a mould, pickled onions on top, then potatoes and carrots (salted and greased on both layers, with mayonnaise), as well as beets and grated eggs.
The ready salad should be infused in a cold environment for two to three hours. After that, remove the round shape and serve the dish on the table.