Seared scallops, seaweed tartare, fried shallots and saffron vinaigrette
19/02/2019

Premiere Magazine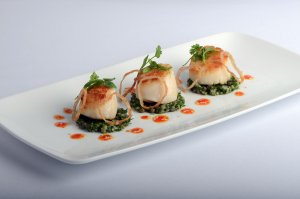 Le Cordon Bleu Master chefs are sharing this decadent starter, which offers a complex combination of flavours, with the sweetness of scallops, acidity of capers and cornichons and a background refreshing hint of the sea. This would make the perfect entrée to a Christmas or New Year's celebration dinner.
 Serves 4
Preparation time: 30 minutes
 Ingredients
12 medium scallops in the shell
20 g butter
 Seaweed tartare
100 g fresh sea lettuce, finely chopped
1 shallot, finely chopped
50 g cornichons, finely chopped
50 g mini capers
20 ml olive oil
Malden sea salt
Saffron vinaigrette
20 ml fish stock
pinch of saffron pistils
20 ml white balsamic vinegar
100 ml olive oil
salt and pepper
20 g sesame seeds, toasted
Fried shallots
2 shallots, sliced into rings
50 ml milk
50 g flour
Maldon sea salt
Decoration
micro coriander
Method
Scallops: Remove the scallops from their shells and discard the roe. Clean the scallops in cold water. Pat dry on paper and refrigerate.
Seaweed tartare: Combine the sea lettuce, shallots, cornichons, mini capers, olive oil and Malden sea salt. Set aside and refrigerate until required.
Saffron vinaigrette: Heat the fish stock, saffron and white balsamic vinegar in a saucepan over a medium heat. Bring to a simmer then remove from the heat and leave to infuse for about 10 minutes. Whisk in the olive oil, salt and pepper. Add the sesame seeds. Set aside.
Fried shallots: Soak the shallot rings in milk for a few minutes and then coat the rings with flour. Preheat a deep fat fryer to 160°C and fry until the rings are golden and crispy. Transfer to a paper-towel-lined plate to drain. Finish with a pinch of Malden sea salt.
Presentation: Place three small rings of seaweed tartare onto a plate. In a large pan, fry the scallops over a medium heat in the butter until they are golden brown, turning once (about 2 to 3 minutes depending on their size). Place a scallop on each ring of seaweed tartare. Arrange the fried shallots around the scallops, pour on the saffron vinaigrette and finish each scallop with a sprig of micro coriander.
Chef's Tip:
 If the roe is a bright orange colour, it can also be cooked and added to the dish.
Le Cordon Bleu's acclaimed range of cuisine courses offers the most comprehensive training in French culinary techniques available today. Taught by Le Cordon Bleu Master Chefs who have experience working in senior positions in the world's finest kitchens, the Diplôme de Cuisine offers a complete training in classic to modern techniques, and is comprised of three certificates at basic, intermediate and superior levels. The Diplôme de Cuisine can be studied in conjunction with the Diploma in Culinary Management.