A selection of quick recipes
08/09/2019

Premiere Magazine
PUMPKIN RAVIOLI WITH PARMESAN
Ingredients for 4 servings:
Dough
Eggs: 3 pcs.
Flour: 2 ½ cup
Salt: ½ tsp
Filling
Pumpkin: 250 g
Extra virgin olive oil: 1 tbsp.
Garlic: 2 pcs.
Sea ​​salt: to taste
Freshly ground black pepper: to taste
Parmesan: 3 tbsp.
Cooking method:
Remove the skin from the pumpkin, wash it, dry it with a paper towel and cut into cubes. Crush the garlic with a knife.
Heat the oven to 190 °C. Put the cubes of pumpkin and garlic in a baking dish, add oil, salt and pepper and mix well. Bake 15-25 minutes until the pumpkin becomes soft, then cool. Remove the garlic and put the pumpkin in a bowl. Puree with a blender, add the grated parmesan, and season with salt and pepper to taste again.
Dough: Sift 2 cups flour onto a work surface, make a hole in the flour, and then add room temperature eggs and salt. Mix everything well with your hands (in the process of mixing, you can add more flour) and knead the dough. Knead the dough for about 10 minutes, until it becomes tender and smooth, then wrap the dough in a film and let rest for 30 minutes.
After 30 minutes, sprinkle flour on the work surface, cut a small piece of dough and roll it out thinly. Then, cut out the small squares and put a small amount of filling on them.
Lightly brush the edges of each square with water, cover with another square and pinch the edges with a fork.
Boil ravioli in salted water for 3–6 minutes. Serve with butter and coarsely grated Parmesan.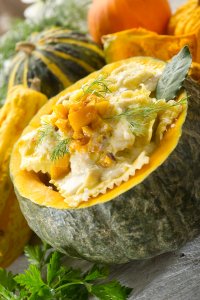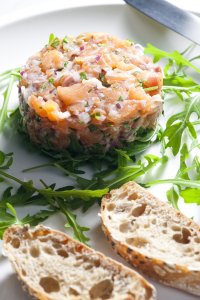 SALMON TARTAR
Ingredient for 4 servings:
Raw salmon: 500g
Capers: 1 tbsp
Shallots: 3 heads
Onion: 1 head
Chives: 1 bunch
Freshly ground pepper: to taste
Lemon juice: a few drops
Soy sauce: 1tbsp
Olive oil: 1 tbsp
Cooking method:
Finely chop the salmon into cubes, about half a centimetre each.
Cut the shallots very finely, and then chop an onion (a little, for decoration), with the capers.
Put everything in a bowl, add soy sauce and olive oil, and then lightly sprinkle with lemon juice and pepper and mix gently.
Arrange in tins and refrigerate for thirty minutes.
Serve garnished with some greens.
GRILLED DUCK BREAST WITH RASPBERRY SAUCE
Ingredients for 4 servings:
Duck breast: 800 g
Raspberries: 200 g
Dry red wine (table): 150 ml
Ground black pepper: ¼ tsp
Rosemary twigs: 1 pc.
Sugar (granulated): 60 g
Salt: ½ tsp
Cooking method:
Sort fresh raspberries, wash, chop and mash.
Put the mashed raspberries in a saucepan, add sugar to taste and wine and bring to a boil over medium heat.
Add a sprig of rosemary. Reduce heat and cook, stirring for about 10 minutes. During this time, the alcohol evaporates and the sauce thickens and decreases in volume.
Run the sauce through a sieve to remove seeds and then let cool.
Treat the duck breasts with salt, put on the grill and cook for 4-5 minutes, without turning, making sure that the heating is the same everywhere. To cook duck breasts, you need moderate heat because it should not only brown, but also cook inside. Duck breasts are usually cooked from rare to medium, so that they remain pink inside.
When the breasts turn golden brown on the outside, turn them over and fry on the other side for another 3-4 minutes.
After the breasts are fried on both sides, pepper them. You can hold them for several minutes in a warm place, for example on the edge of the barbecue, but not over the coals. You can also appreciate the degree of roasting by touch: the more roasted the meat is, the harder it will be.
Cut the prepared breast into slices a little diagonally, pour over the sauce and serve, garnishing with a sprig of greens.