Recipes from Jamie Oliver
01/04/2018

Premiere Magazine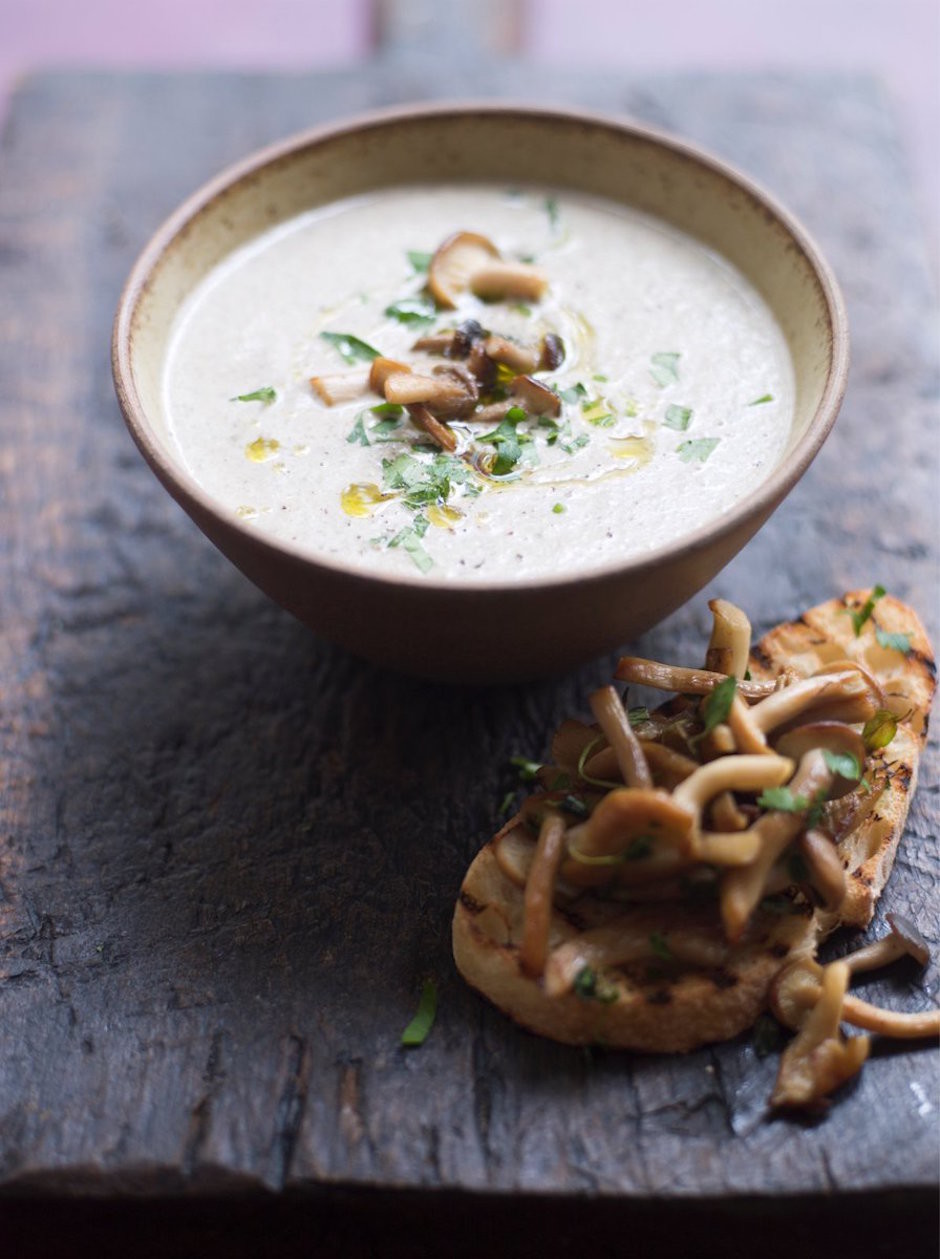 Mushroom Cream Soup
Ingredients:
600 g of mushroom mix
1 onion
2 stalks of celery
3 cloves of garlic
A few sprigs of fresh parsley and thyme
Olive oil
1.5 litres of chicken or vegetable broth
75 ml of cream
6 pieces of ciabatta
Preparation:
Wash and finely chop mushrooms, onions, celery, garlic and parsley. Tear off the leaves from the thyme stems.
Place a large saucepan on medium heat and heat butter in it. Add the prepared ingredients, pre-laying four tablespoons of mushrooms.
Pour in the broth. Bring to a boil over medium heat and then reduce heat to a minimum and cook for another 15 minutes.
Season the soup to taste, with sea salt and black pepper, and then grind in a blender until a homogeneous mass is obtained.
Add the cream, bring to a boil and turn off the heat.
Toast the ciabatta, frying them in a frying pan with olive oil and the remaining mushrooms. Serve the soup with the toasted ciabatta, decorating with greens.
Chicken Breast with Stewed Vegetables and Potato Casserole
Ingredients:
800 grams of potatoes
3 onions
Olive oil
1 organic chicken broth cube
A stalk of fresh sage
100 ml of cream
30 grams of Parmesan cheese
4 fillets of chicken breasts, weighing about 120 grams
Several branches of fresh rosemary
2 slices of bacon
200 grams of young leeks, spinach and frozen peas
Preparation:
Preheat the oven on grill mode and boil water.
Using a food processor, cut the potatoes into thin slices. Pour boiling water into a pot and leave to cook under the lid for 8-10 minutes.
Peel the onion and cut the same way as the potatoes. Take a baking dish and heat olive oil in it. Fry the onion, adding sea salt, black pepper and a bouillon cube, until golden. Add the sage. If the onion starts to burn, you can pour in a little water.
Chop the chicken fillet and add salt and pepper. Sprinkle with rosemary and beat well with a rolling pin.
Fry the breasts in a frying pan with a tablespoon of olive oil for 3-4 minutes on each side – until golden and ready.
Drain the water from the potatoes, add the onion, mix and put into the baking dish. Pour over the cream, sprinkle with grated cheese and put into the oven.
Cut the leeks lengthwise and put them in the olive oil, stirring constantly.
Cut the bacon and add to the chicken, lightly frying them all together.
Stew the spinach and peas with the leeks until the peas become tender.
Lay the chicken on a 'pillow' of vegetables. Serve with potatoes.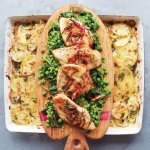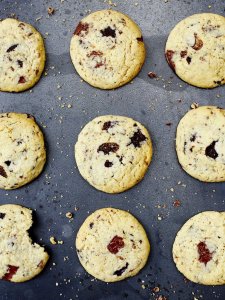 Cookies with Chocolate Chips
Ingredients:
100 grams of slightly softened butter
125 grams of powdered sugar
1 large egg
½ teaspoon of vanilla extract
200 grams of flour with baking powder
1 pinch of fine sea salt
100 grams of chocolate
Preparation:
Whisk butter and sugar in a large bowl until smooth. Add the egg and vanilla and mix well. Pour the sifted flour and salt, knead the dough and add it to the finely-chopped chocolate.
Using a tablespoon, form small balls from the dough. Place on a tray lined with parchment. Cover and refrigerate for 15 minutes.
Lightly press down the balls and place in a preheated oven at 170 °C for 10-12 minutes. Bake until golden brown. Allow to cool completely and then serve with a glass of cold milk.