04/06/2017

Premiere Magazine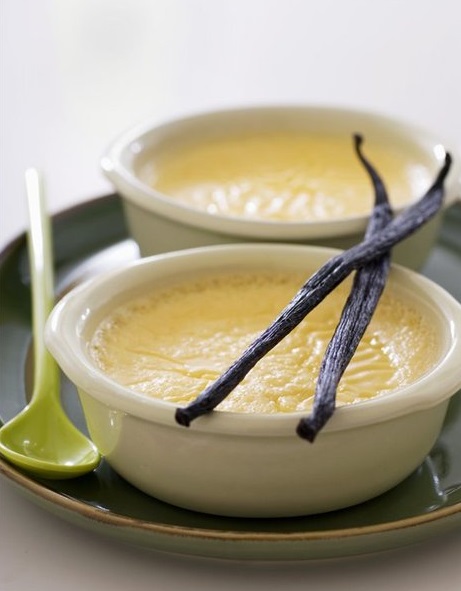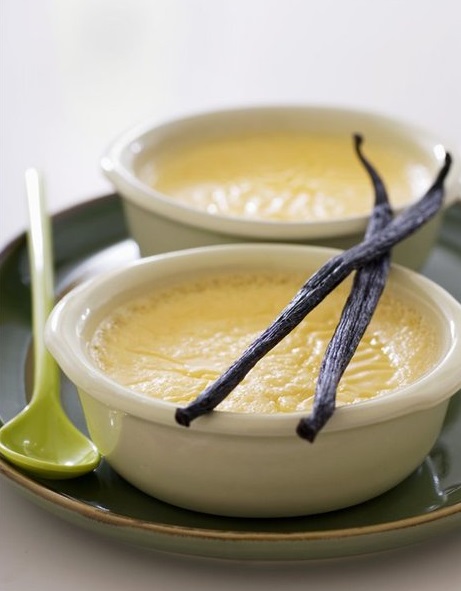 We continue to post recipes from the best chefs in the world and today we present a few recipes from the culinary author of numerous bestsellers, British chef Jamie Oliver.
Vanilla pudding
4 eggs
250 ml of milk
100 g flour
3 tbsp. sugar
100 g butter
2 vanilla pods
2 lemons
The vanilla pods are cut lengthwise. Remove the seeds and pour them into a bowl. The, grate the zest of two lemons and add to softened butter and sugar. Give it all a good whisk. Add the egg yolks and beat again. Pour in the total amount of the milk, not forgetting to mix it thoroughly. Squeeze the juice of the two lemons and add the flour. Grease the baking form and pour in the dough. Put the form in a water bath in the oven for 45 minutes. Bake at 280 degrees. Serve the pudding with fresh cream and jam.
Pumpkin soup with cheesy croutons
olive oil
16 fresh sage leaves
2 red onions, cleaned and chopped
2 stalks of celery, cleaned and chopped
2 carrots, cleaned and chopped
4 cloves garlic, peeled and chopped
2 sprigs fresh rosemary leaves cut
½-1 fresh red chilli, remove seeds and finely chop
sea salt and freshly ground black pepper
2 kg pumpkin or Butternut, any orange pumpkin, cut in half, remove seeds and cut into pieces
2 litres of chicken or vegetable broth
For croutons
olive oil
16 slices of ciabatta
a piece of Parmesan
Fry, in a pan of olive oil, the sage leaves for 30 seconds, until they become crispy. Quickly remove the sage with a slotted spoon and place on a paper towel. In the pan, you will have fragrant oil. Fry the onions in it, with celery, carrots, garlic, rosemary leaves and chilli. Season with salt and pepper.
After 10 minutes, place in the pumpkin and pour in the stock. Bring it to a boil and simmer for about half an hour. While the soup is cooking, make the croutons. Brush the ciabatta slices with olive oil and sprinkle with grated Parmesan cheese. Put in a non-stick pan and fry until golden brown. When the pumpkin is soft, blend it with a blender to a desired consistency. Add salt and pepper to taste! Ladle the soup into the plates, laying it on top of 2 croutons. Sprinkle with crispy sage and a drizzle of good olive oil.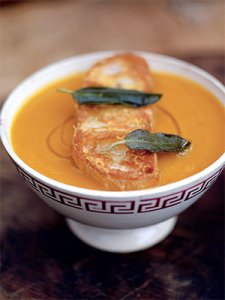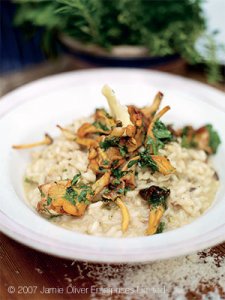 Risotto with grilled mushrooms
5 litres hot chicken stock
a handful of dried porcini mushrooms
olive oil
1 small onion, peeled and finely chopped
2 stalks of celery, cleaned and finely chopped
400 g of rice for risotto
150 ml dry vermouth or white wine
sea salt and freshly ground black pepper
4 large handfuls wild mushrooms (shiitake, brown button mushrooms or oyster mushrooms – not the usual white mushrooms!), to peel and slice
a few sprigs fresh chervil, tarragon or parsley, leaves only, chopped
juice of 1 lemon
25 g butter
2 handfuls of freshly grated Parmesan, plus extra, to serve
olive oil
Bring stock to a boil and keep on low heat. Put mushrooms in a bowl, pour broth and leave for a few minutes. Then, remove from broth and chop. Save the liquid.
In a large saucepan, heat a little olive oil and put in the onion and celery. Cook on a mild heat, not allowing it to burn, for a minimum of 10 minutes. Then, increase the heat and stir in the rice. Mix. Pour in the vermouth or wine. Continue to stir until the rice has absorbed the liquid. Strain into the rice broth, with the soaked mushrooms and a good pinch of salt and the first ladle of broth. Reduce the heat so that the liquid is only slightly boiling. Continue to add broth, one ladle at a time, constantly stirring the rice and, each time, waiting for the previous portion of liquid to completely absorb.
Continue to add broth until the rice is cooked, but remains slightly dense on the inside. It will take 20-30 minutes. Meanwhile, take the dry pan to grill and sauté the fresh mushrooms. Put the mushrooms in a bowl, add chopped herbs, a pinch of salt and lemon juice and mix it all by hand.
Remove risotto from heat, try it and, if necessary, season with salt and pepper. Add the butter and Parmesan, stir. Let stand, covered for a couple of minutes. Serve with the sautéed mushrooms, grated Parmesan and olive oil.