09/06/2019

Premiere Magazine
Chicken Breasts Stuffed with Spinach
          Ingredients:
skinless chicken breasts – 2 pcs.
fresh spinach – 200 g
Lemons – ½ pcs.
Parmesan – 25 g
parsley – 1 bunch
olive oil – 2 tbsp.
butter – 1 tsp.
freshly ground black pepper – ¼ tsp.
sea ​​salt – ½ tsp.
Cooking method:
Preheat the oven to 170 ° C.
Parmesan grate on a fine grater.
Melt the butter in a pan, put the spinach and parsley in, pour in lemon juice, mix everything and remove from the fire within a minute.
Add Parmesan, a little salt, pepper and mix again.
Cut the chicken breasts in such a way as to make a pocket, cover with cling film and slightly beat with a rolling pin.
Stuff the chicken with parsley and spinach, fasten the pocket with toothpicks, brush the breasts on all sides with olive oil, salt and pepper.
Preheat the grill pan and fry the chicken breasts for 5 minutes on each side, then place in a hot oven for 15–20 minutes.
Serve pre-sliced.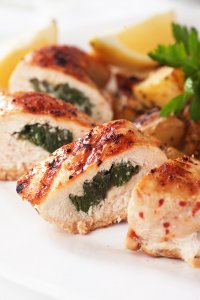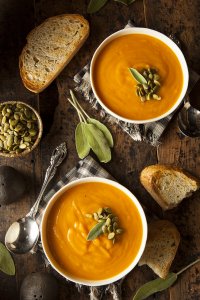 Pumpkin soup with vegetables
Ingredients:
pumpkin (without seeds and peel) – 500 g
potatoes (medium size) – 2
2-3 celery stalks
carrot – 1 pc
onion – 1 pc
garlic – 1-2 cloves
Tomato paste – 2 tbsp.
water or vegetable broth – 1-1.5 litres
vegetable oil – 2-3 tablespoons
black pepper, to taste
salt to taste
pumpkin seeds
pumpkin seed oil
Cooking method:
Peel onion and garlic and cut into small cubes. Peel and grate the carrots.
Cut celery and pumpkin into cubes.
Peel the potatoes and cut into cubes.
In a saucepan, combine pumpkin, potatoes and 1 litre of water or broth. Cook over medium heat until you have half-cooked potatoes.
Heat vegetable oil in a pan. Add onions and fry until transparent.
Add onion celery, carrots and garlic and fry for 2-3 minutes. Add tomato paste and fry, stirring for 2-3 minutes.
Add fried vegetables to pumpkin. Then, add salt and pepper.
Cook on medium heat for 10-15 minutes or until the vegetables start to boil slightly.
Flavour the soup and then blend it.
Add the remaining broth or boiling water to bring the soup to the desired thickness. Return the soup to the stove and bring to a slight boil and heat for 1 minute.
Remove ready soup from heat. Pour into bowls. Add 1 tsp pumpkin seed oil to each bowl and sprinkle with roasted pumpkin seeds.
If desired, you can add any spices you like, such as ginger, paprika, coriander, zira, garam masala, hops-suneli, blends of Italian or Provencal herbs, etc.; each time, giving the soup the desired flavour accent.
Blueberry Muffins
Ingredients:
80 ml of milk
100 ml of vegetable oil
1 egg
200 g sugar
a pinch of salt
250 g flour
2 tsp. baking powder
1 pack vanilla sugar
100 g blueberries (fresh or frozen)
200 curd cheese
Cooking method
In one bowl, mix the milk, vegetable oil and egg. In another bowl, mix the sugar, salt, flour, baking powder and vanilla sugar. Pour the liquid mixture into the flour and stir it quickly. The flour should still be slightly visible. Add blueberries and stir gently until the flour is no longer visible, but not longer.
Put paper moulds into recesses of a special shape for muffins. Spread the dough in moulds and bake in the oven, preheated to 200 degrees for 20-30 minutes. Check readiness with a toothpick.
Fill with the remaining berries and 40 g of sugar. Combine berry puree with curd cheese and mix thoroughly with a mixer. With the resulting curd cream, fill a pastry bag and squeeze the cream onto the cupcakes.