24/09/2018

Premiere Magazine

Le Cordon Bleu is the leading global network of culinary arts and hospitality management institutes steeped in a rich history and heritage spanning over 120 years. Offering a large range of programmes from short courses and professional certificates, Diplomas through to Bachelor and Master degrees in variety of different fields such as cuisine, pâtisserie, wine, nutrition and management. Le Cordon Bleu Master Chefs are sharing a delicious and full of flavours recipe, perfect to impress your guests, which is using the techniques taught in their Diplôme de Cuisine programme.
Prawn Ceviche
Serves 4
Ingredients:
8 fresh prawns
fine salt
Marinade
¼ red pepper
¼ green pepper
½ green chilli
¼ onion
coriander leaves
zest and juice of 2 limes
Crispy quinoa
50 g quinoa pearls
oil
Decoration
micro coriander
Spring onion, finely sliced
Cooking method
1.Marinade: Peel and discard the skin from the peppers and dice the flesh. Finely dice the chilli and the onion and finely slice the coriander. Combine all ingredients together with the zest and juice of 2 limes.
2.Remove shells from the prawns, discard heads but reserve the tail. Remove intestine vein and then thinly slice the tails. Season with salt then add to the marinade. Refrigerate for 20 minutes.
3.Crispy quinoa: Wash and boil the quinoa pearls for 10 minutes in salted water. Drain, refresh and dry on paper towel. Pan fry to create desired shape until golden and crispy. Reserve for plating.
4.To serve: Serve the prawn ceviche chilled and decorate with micro coriander, sliced spring onions and crispy quinoa.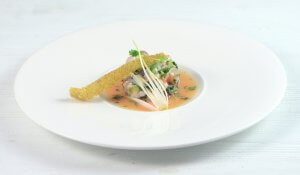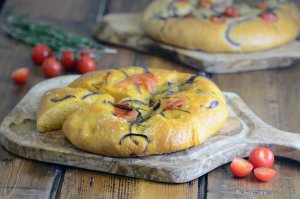 Tomato Flat Bread
Makes 2, to serve 4 each
Ingredients
Dough
12 g fresh yeast
135 g warm water
500 g strong flour
10 g salt
150 ml tomato juice
30 ml garlic oil
35 g roasted garlic
60 g caramelised red onion
Topping
½ bunch rosemary
100 g caramelised red onion
150 g cherry tomatoes (part dried)
rock salt
garlic oil
Cooking method
Dissolve the yeast in warm water.
Put the flour and salt into a large bowl. Add the tomato juice, garlic oil and yeast dissolved in water.
Mix for 1 to 2 minutes at a low speed (1 on kitchen aid), then mix for 7 to 9 minutes at medium speed (4 to 5 on kitchen aid).
When the dough is ready add the roasted garlic and caramelised red onion and mix until well combined.
Leave to rest for between 15 to 20 minutes.
Knock back and leave to rest for another 15 minutes.
Divide into 2 pieces and roughly shape into rounds.
Leave to rest for a further 10 minutes.
Roll into a flat round shape, around 14 cm in diameter.
Leave to prove until a third thicker.
Add the toppings by pushing slightly into the dough.
Prove again until it has doubled in size.
Bake in a fan oven with steam at 190ºC for 10 minutes. Remove from oven, brush garlic oil on top and finish baking until golden brown on top.
Fruit Tart
4 individual tarts
Ingredients
Sable
80 g salted butter, softened
80 g caster sugar
40 g egg yolk
125 g T55 flour
2.5 g baking powder
Passion fruit Cream
80 ml passion fruit juice/puree
30 g whole egg
50 g caster sugar
12 g milk powder
6 g cornflour
100 g soft butter
Decoration
raspberries
chopped nibbed pistachios
white chocolate shavings
cooked meringue sticks
Cooking method
Sable
Pre heat oven to 180°C
Beat the soften butter and sugar then incorporate the egg yolk mixture.
Sieve flour and baking powder and stir into the butter mixture.
Roll out to 6 mm thick and chill until firm.
Cut using a 9 cm round tartlet ring and bake with the tartlet ring in place on a paper lined tray.
Bake until golden brown, about 15 minutes.
Remove from the oven, and lift off the metal ring while still warm.
Allow to cool completely before filling.
Passion Fruit Cream
Bring the passion fruit juice/puree to a boil.
10.Mix the eggs and sugar lightly with a whisk, then add in the corn flour and milk powder and combine. Pour this mixture into the pan with the passion fruit and slowly return to a boil, stirring continuously. Once thickened pour into a cold bowl and cover with cling film.
11.Once cool to touch add in the butter and mix to combine using a hand blender.
12.Transfer into a piping bag and pipe directly onto the centre of the sable bases. Chill to set in the refrigerator.
Assembly
Arrange sliced raspberries around the edge of the sables. Decorate the top with chopped pistachios, white chocolate shavings and dried meringue sticks.