John Karl Politis. Executive Chef at Columbia Plaza. More Than Just Steak
31/12/2017

Premiere Magazine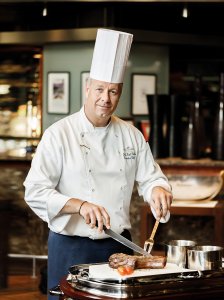 The Columbia Plaza Steak House is a feast for both the stomach and the eyes. Specialising in fresh, prime cuts of superior quality U.S.D.A Black Angus Premium beef, flown in chilled from overseas every week, the restaurant's experienced chefs use a unique method of cooking for the perfectlyaged steaks, which are now acknowledged as the best steaks in town. We spoke with the Executive Chef of all of the restaurants of Columbia Plaza, John Karl Politis, about the profession of a chef, the future of culinary arts and how to prepare the best steak.
How did it all begin, your story with the culinary arts?
It all started from my parents, especially my grandma. She used to cook all the time and I, watching her closely, started to be interested in the culinary arts. I watched some culinary programmes and, most of all, what I liked most was the uniform of a chef, so, then, my passion started, as I moved into the kitchen. I finished at the School of Cooking Pastry & Hotel Management, in Greece, and then, after almost two years of experience in a very good restaurant in Athens, I moved to Canada to study at Le Cordon Bleu Ottawa Culinary Arts Institute. When I finished all of my studies, I started working on the ''Silver Sea'', a huge 5-star cruise ship, where I stayed for two years before I moved to Cyprus. Here, in Cyprus, I worked at Le Meridian Hotel, Aphrodite Hills Resort and, then, for the last 10 year, I have been here at the Columbia Plaza as Executive Chef.
What are you in charge of here at Columbia?
First of all, I am in charge of the menus of all of the restaurants of our chain. I am training staff, supervising kitchens and creating, with our team, the new menus.
While studying the culinary arts, who were the most influential people in the culinary world for you?
It was Michel Roux from London, Gordon Ramsey, French chef Stephan de Mikeles and, of course, Jamie Oliver. They all gave me a lot of inspiration. From them, I developed a passion for Mediterranean cuisine, with its nice flavours and tastes.
Are you changing your menus according to contemporary trends?
Yes, of course. We do it 2-3 times a year. Of course, in the place where we are now, it is difficult to change something globally, as it is a steak house, but, even here, we always make small changes.
We are not simply focused just on steak. Beside U.S. Black Angus, Australian Ribay and other kinds of meat, we have, in our menu, some unique starters, like crab legs, prawn cocktails, salads, risotto and Parpadelle. Also, we have an Asian corner, with very nice sushi, and our specialty, which is ''Columbian Maki'', with beef inside, truffle mayonnaise, crispy onions and fresh asparagus.
When you create a new menu, what are the details that you consider?
First of all, I carefully study the feedback from my customers and then, with the kitchen team, we discuss all of the details and decide what to add or remove from the menu.
What are your favourite ingredients for cooking?
I like to cook meat, mushrooms, tomatoes, Cypriot potatoes, seafood and pasta. For example, in La Boca restaurant, with its hymn ''Fast food & fresh'', we do different kinds of our homemade pasta and fresh pizza from the open kitchen. I am trying to bring into our grill menu a touch of the modern way.
What is your signature dish?
Even though we are in a steak house now, I would say that it is sea bass, with the smoked eggplants, lemon olive oil and tomato powder.
What do you like to eat at home?
I have three kids so I have to cook, of course, at home. We, mostly, like sim­ple food, presented in a nice way, like fish, meat, etc…
What do you think about molecular cuisine?
As an experience, it is very nice, as you can try different tex­tures in your mouth. It was trendy several years ago, but, year by year, this trend is going down. What we do is use small things to add to our dishes. If we did only molecular cuisine, we would not have success. In Europe, they are also trying to reduce it as much as they can.
What is your favourite cuisine?
I like Mediterranean, Italian and French, so, I would say, I don't have some specific cuisine that I most like.
What do you think about food culture?
Cypriots are not easy customers, as they are used to their traditional food. We are trying to offer them their traditional dishes, but on a different platform. I think that food culture is coming from the restaurants, as we have to educate the customers; adding some new tastes and flavours into already known dishes.
What do you think about the future of the culinary experience?
As I see from my experience, you must always add some new trendy things, but, in the end, you always come back to the simple ingredients and to the main flavours.
Can you share with our readers how to cook the best steak?
First of all, remove the meat from the fridge, add salt, pepper and a little bit of olive oil. Leave it at room temperature for 20-25 min. Then, put it on a very hot grill or pan, without oil. For a medium rare steak, you need about 4-6 min, turning every 1.5 minutes, so that you can have a nice crust. Then, just leave it to rest for 5-6 min in order to keep all of the juices in and, then, it is ready to be served. Do not forget to put a piece of love into your dish for maximum enjoyment!
"Three sketches of Lucian Freud" by Francis Bacon
Francis Bacon was an English expressionist painter and a master of figurative painting. His triptych, in 2013, became the most expensive work of art in the world. "Three sketches of Lucian Freud" was sold at Christie's auction for a record sum of 142 million dollars.
The triptych, created by the artist in 1969, was auctioned for the first time at a pre-sale estimate of 85 million dollars. Bidding lasted only six minutes and the auction house did not disclose the identity of the buyer. Each part of the triptych has the same size of 198×147.5 cm. Each canvas depicts Lucien Freud in different poses, while seated on a chair is the artist Lucien Freud. The background is orange-brown, which is brighter than normal for the works of Bacon.
"Number 5" by Jackson Pollock
"Number 5" was completed in 1948 and utilised the technique of spraying, which is the corporate style of the artist. The picture size is 243.8×121.9 cm and is mounted on fibreboard (hardboard).
In 2006, at an auction organised by the auction house Sotheby's, it was sold for 140 million dollars. It is believed that the hype surrounding this painting was created artificially. All of the paintings of Jackson Pollock were presented in museums and sold freely. Yet, "Number 5" was hidden and shown only when all of the other artworks were sold.
Consequently, the price of the painting went up to the heavens and broke many records. The original painting was in a private collection and was then exhibited in the Museum of Modern Art in New York. It then became the property of producer David Geffen. Who sold it for $ 140 million? According to unconfirmed reports, it was a famous Mexican billionaire.