08/01/2018

Premiere Magazine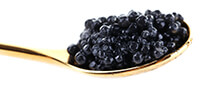 Black sturgeon caviar (Sturgeon, Beluga, Stellate Sturgeon), throughout history, has been con­sidered a rare and very expensive delicacy.

Caviar Lover's Alphabet
In terms of nutrients, the above all prized caviar is Sturgeon caviar, which contains a large number of mineral macronutrients, such as lysine, leucine, serine, magnesium, iron, minerals, phosphorus, potassium and an impressive set of amino acids. As well, it contains a considerable amount of various vitamins. In terms of value, the best is considered to be Beluga caviar, followed by Sturgeon. Beluga caviar has the highest cost and is famous for quite a large amount of eggs.
The colour of caviar is divided into light grey, dark grey and black, with light-coloured sturgeon caviar valued when it is darker. Labelling is required to make a note of the colour. Thus, in banks with Beluga caviar, there are signs indicating the colour: 000 — caviar is light grey, 00 — grey, 0 – dark grey, X — black caviar. For Sturgeon, they use the following letters: A — caviar is light grey, B — dark grey, AND — black. For the Stellate Sturgeon caviar, marks are not used. For many gourmets, the level of salt in caviar is very important. In a store called Caviar House in Cannes, they offer a small ball of silver on the thinnest string. When it falls on the eggs, it immediately absorbs the perfect ratio of fat and salt. If the ball sits on the surface too long, the salt ratio in the caviar is considered to be less exemplary.
Gourmet Guide
Interestingly, in Russia, caviar was once not considered a delicacy. The status in restaurant meals was earned in 1920 in France when Paris opened the Caviar House Petrossian Paris. Its owners, the brothers Petrosian, were Armenian immigrants originally from Baku and they made the right calculation, The French bohemians were experiencing the peak of enthusiasm for all things Russian: Merezhkovsky and Chaliapin, Rachmaninov and Stravinsky, Diaghilev and Nijinsky. Russian caviar, with its delicate taste, became to their liking.
Since then, caviar has been considered a great accompaniment to champagne. One has only to remember that it is suitable for only the real Brut of the Champagne region. The sweet Italian Prosecco only interrupts the taste of dishes. They say that the famous Russian singer, Chaliapin, ate eggs before drinking his vodka. If we were to try such a combination, it may be best to consume the vodka first and then eat the caviar so that the salts do not taint the taste of the fine vodka.
Caviar etiquette
Caviar consumption requires special consideration, so chefs advise to stick to the classic rituals. The traditional Russian and European ways of serving and consuming caviar differ in terms of equipment and beverages consumed with the delicacy. In the Russian tradition, the caviar is served on a table in metal, porcelain or glass dishes or vases without ice. From there, one takes a special silver or gold caviar spoon and a blade to access the caviar properly. In the European tradition, eggs are usually brought in on special surfaces and put on crushed ice in a vase or bowl. The cooling of the product allows one to fully reveal its taste. Black caviar is good by itself and it must, necessarily, have a silver spoon, as any other metal gives a specific taste other than caviar.
The basic rule of serving the black gold (from marine pearl shells) known as caviar is that after it is removed from the fridge, it should be left to sit for at least 15 minutes. This allows one to eventually taste the delicacy at its best. One of the most expensive and sophisticated methods of serving caviar is to spread it on chilled oysters and decorate it with greenery.
Caviar & Co.
Today, caviar is used not only as a separate dish, but also as a profitable addition. It becomes a rich taste and aesthetic component of a variety of dishes. White and black bread, fried slices of loaf and crackers are all ideal surfaces to serve with caviar. One may choose to use a special paste created from heavy cream, soft cheeses and classic butter, greens of various kinds or olives and lemons. They all work brilliantly with caviar. Alternatively, one may choose to mix caviar with seafood and vegetables or pancakes and rolls. The decision is up to you. Some gourmets say that caviar must be eaten off the back of the hand, in the space between the index finger and thumb. It must be consumed with good champagne as well. This guarantees the harmony of subtle flavours and taste sensations. In any case, you choose how to enjoy the exquisite taste of this noble product!
Bon Appétit!