Best grilled fish and seafood dishes
14/05/2018

Premiere Magazine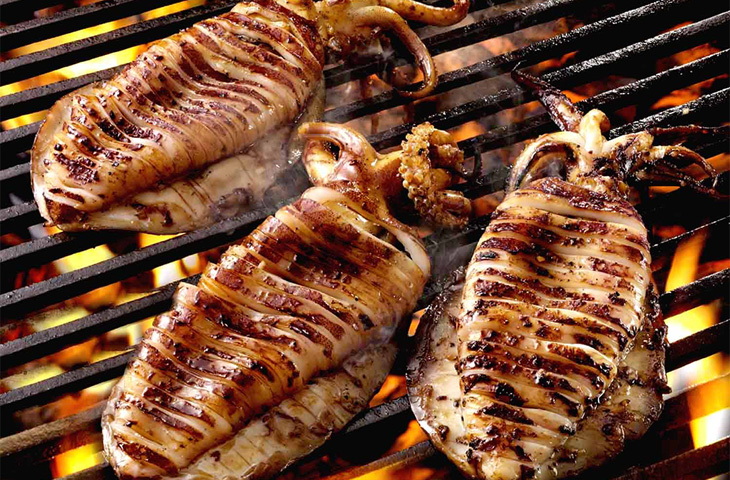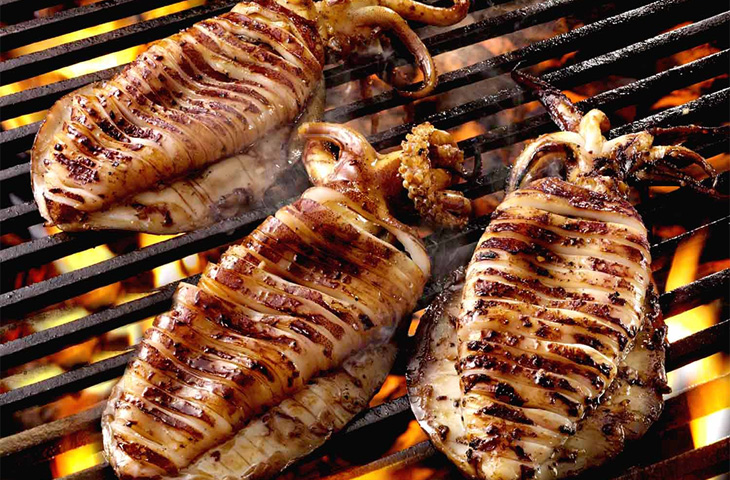 As summer is coming, it is about the time to start cooking delicious food on an open fire – and it does not have to be a traditional barbeque. Light and appetising fish and seafood dishes are incredibly simple and quick to prepare. With that said, we offer you a selection of three fabulous 'sea' dishes from some of the best chefs in the world. Buon appetito! Приятного аппетита!
Squid from Alessandro Vianello
Ingredients:
1 gutted and peeled squid
Ruccola
Sun dried tomatoes
Garlic
Olive oil
Balsamic vinegar
Chili sauce
Cooking method
Marinate squid in chilli sauce with garlic for 20-30 minutes. Cover the ruccola with olive oil and balsamic vinegar and top with sun-dried tomatoes. Put the squid on the grill, fry for 1 to 1 ½ minutes, then turn it over (it should curl up into a tube). Fry the same way on the other side. Finally, serve it on an appropriate plate with arugula.
Molluscs from Jamie Oliver
Ingredients:
2 kg of seafood mix (mussels, shrimps, other shellfish in shells)
2 garlic cloves inflorescence
Sea salt
Freshly ground black pepper
2 lemons
Extra virgin olive oil
A few twigs of greenery – parsley, mint, tarragon
Cooking method
First, prepare the grill. When the temperature reaches 180°C and the coals heat up, you can start cooking. Do not forget to maintain the temperature. Rinse the shellfish with plenty of water. Get rid of open shells. Grind the garlic, with a large pinch of salt, in a mortar to a creamy consistency and then squeeze out the lemon juice, adding a large pinch of pepper and olive oil until the mixture looks like a dressing.
Arrange the shellfish in a frying pan. Pour in the well-shaken dressing and mix, making sure to distribute the shellfish evenly. Put the pan on the grill, frying for 10 minutes (until all of the shells are opened or until the shrimps become golden). Be careful to turn the pan as needed. Serve the molluscs immediately, sprinkled with herbs and with a lot of napkins!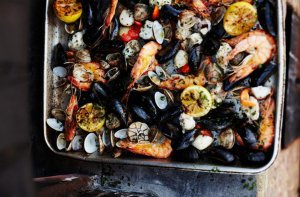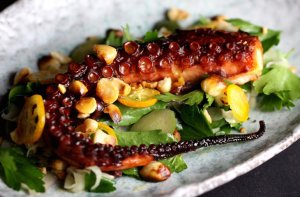 Grilled Octopus by Mario Batali
Ingredients:
Cleaned octopus weighing 1 ½ – 2 kg (remove eyes, bag and red skin)
0.5 cups of olive oil
1 tablespoon ground flakes of red pepper
1 bunch of fresh oregano
1 tablespoon freshly ground black pepper
1 bunch of escarole salad
½ cup fresh mint leaves
Juice and peel of one lemon
Cooking method
Prepare the grill. Set the octopus to boil in cold water. As soon as it boils, reduce heat and simmer for 35 to 40 minutes, until the octopus becomes tender. Afterwards, rinse it, cutting it into 4 pieces.
Mix the olive oil, lemon zest and juice, red pepper, oregano and black pepper in a bowl. Marinate the octopus for 10 minutes and then put it on the grill. Cook about 5 minutes on each side to make the octopus crunchy.
While the octopus is frying, rinse the escarole salad and peel it from the outer leaves. Cut in half before cooking it for 3 to 4 minutes on one side and then 2 minutes on the other side, until it is lightly charred. Place the octopus and escarole on a plate, sprinkling your creation with mint leaves before serving.