21/12/2017

Premiere Magazine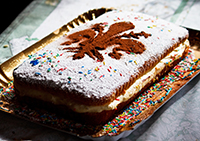 Tuscany is a paradise for gourmets. If you want to discover the most exquisite Italian cuisine, be sure to visit the local gastronomic restaurants.
Here, like everywhere in Italy, one can experience quality, tasty dishes. Many local types of dishes from wild animals, from stewed wild boar to pigeons on a spit, with various side dishes and condiments of wild mushrooms, unsurpassed Carpaccio of beef, lamb or wild animal meat, soaked in a variety of formulations, are just a few certainly worth trying, not to mention the famous Tuscan desserts!
Premiere has created a list of several best Tuscany restaurants to visit to create one of the best experiences in Italy.
Arnolfo **
Via XX Settembre,
50-52, 53034 Colle di Val d'Elsa SI, Sienna,
+39 0577 920549
www.arnolfo.com
La Tenda Rossa*
Piazza del Monumento, 9/14,
50020 San Casciano Val Di Pesa, FIorence,
+39 0558 26132
www.latendarossa.it
La Bottega del 30 *
Via di Santa Caterina, 2,
53019 Castelnuovo Berardenga SI,
+39 0577 359226
Trattoria Toscana*
Località Badiola,
58043 Castiglione della Pescaia GR,
+39 0564 944322
Butterfly*
Strada Statale del Brennero, 192,
Marlia LU, Италия
+39 0583 307573
Albergaccio di Castellina *
Via Fiorentina, 63,
53011 Castellina in Chianti SI,
+39 0577 741042
Ora d'Aria*
Via dei Georgofili 11R
50122 Florence
+39 0552 001699
Atman*
Via Borghetto, 1, 51017 Loc. Spicchio, Lamporecchio PT,
+39 0573 803432
Walter redaelli's *
Via XXI Aprile, 26,
53048 Bettolle Sinalunga SI,
+39 0577 623447