New limited editions Autumn Make-Up Collection Joli Rouge et Noir!
07/09/2018

Premiere Magazine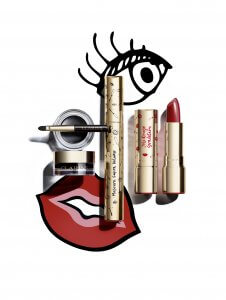 Clarins has presented a new autumn collection of makeup for 2018, the Joli Rouge and Noir Makeup Collection. The collection, in red and black tones, provides an accent for the lips as well as the eyes, which are distinguished by Clarins' range of eyeliners. The hit of the collection must be the two-colour lipsticks, Joli Rouge Gradation, issued in three bright colours.
801 Coral Gradation (coral-orange)
802 Red Gradation (rouge-red)
803 Plum Gradation (plum-red)
– Supra Volume Mascara gives eyelashes volume and density.
01 Intense Black – rich black
– Waterproof gel eyeliner retains its durability on the eyes for up to 12 hours, always giving the look, depth and intensity desired.
01 Intense Black – rich black
New Pro-Collagen Rose Cleansing Balm from ELEMIS
Possibly one of the most luxurious Anti-Ageing cleansers in the beauty industry.
This beautiful new Pro-Collagen Rose Cleansing Balm from ELEMIS is a limited edition in support of Breast Cancer Care foundation. It is formulated with rare extracts from various roses. Hand-harvested in the British countryside, English Roses are carefully selected from over seventeen varieties known for their complexity of fragrance as well as the classic scent of old English Rose.
Their extracts are steeped in omega-rich Safflower Oil, helping to sooth and nourish dry skin. To enhance the rose scent, Rose Damascena petals are picked before sunrise each morning to capture their fresh, dewy aroma. ELEMIS has collaborated with iconic British Fashion House, Lily and Lionel on the exclusive design of the box and jar.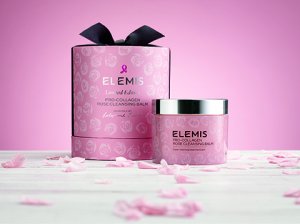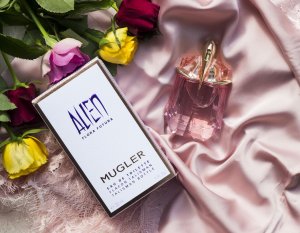 Alien Flora Futura is a new fragrance that combines the freshness of greenery, a sensual floral chord and the enveloping softness of sandalwood. Its crisp freshness comes from green, juicy notes of the citron "Buddha's Hand" and expressive, crispy notes from the leaves of the clover. The flower of the future is epiphyllum, known as the "Queen of the Night", which blooms only under the cover of night, exuding a sweet vanilla flavour that enhances the fragrance brilliantly. The creamy tenderness, derived from white amber and subtle notes of sandalwood, rounds out this fabulous, aromatic offering.