M. I. All Organic – A Pantry of Health
03/01/2021

Premiere Magazine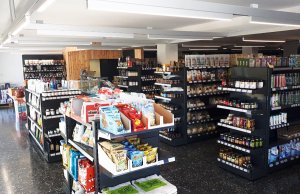 The direct influence of diet on health was considered as far back as antiquity: the phrase of the ancient Greek healer Hippocrates "You are what you eat" became winged. Hippocrates lived and worked in the 5th century BC – as we can see, healthy, mindful eating has not gone out of fashion for many years since.
Modern food corporations are introducing more and more chemical components into their production – from the process of growing vegetables and fruits, to finished products. Similarly rising, however, is the number of those who choose environmentally friendly food, which not only does not harm the body, but, on the contrary, supplies it with the necessary vitamins and micro-elements.
Eco-products do not contain GMOs, synthetic preservatives, artificial flavor enhancers, colorings and flavourings. Raw materials for them are grown without the use of hormones, antibiotics, synthetic fertilizers, toxic chemicals and pesticides. The use of aggressive processing methods and changes in the initial properties of raw materials are not allowed. Fruits and vegetables grown on organic materials are much tastier and healthier than ordinary ones, and they contain about 50% more nutrients.
Eco-friendly food has already outgrown the stage of just a fashion trend – it has turned into a way of life for those who care about their health and their children. Suppliers of organic products are guarding the interests of such consumers.
The leader of the Cypriot market for organic products is M. I. All Organic Market, a chain of boutiques, on the shelves of which all the best natural food, goods for children and cosmetics for home and health are collected.
History
I. All Organic Market, a leading supplier of organic products to the Cypriot market, began operations in January 2012 as a small family business. Since then, it has successfully expanded its range of high quality products at the most affordable prices. To date, over 6,000 certified organic products are presented in its two food boutiques in Limassol.
In the stores of the "All Organic" chain, you can buy everything in order to discover new colors of life for yourself and your loved ones, to get in good physical shape and great health, to fill your body with new vital energy.  As a bonus – transform yourself without any danger to your health – with our organic bio-cosmetics from the world's leading manufacturers, which are presented in our stores.
I. All Organic Market supports local farmers and partners with the best organic suppliers both at home and abroad. In this way, the company contributes to the improvement of the ecosystem, protecting the world that will go to our descendants.
Every time you choose All Organic Market, you are choosing a healthier future for our children.
The owner Yiannis Makriyannis told us, how exactly did the idea of creating M. I. All Organic Market come about:
"As a child, I was always close to nature. I liked helping my father grow his own fruits and vegetables in the family fields. In my study years, I was treating the vineyards with pesticides, got sick and went to the hospital, where I learned that I was poisoned as a result of contact with chemicals. This had an effect on me, becoming the beginning of my path to organic agriculture: I could not stop thinking that we are poisoning the soil and people using pesticides. After graduation, I began to wonder how quickly our world is changing and how it will affect future generations. I decided that I wanted to do something to protect the planet, and began to move in that direction.
Today, decades later, M. I. All Organic Market is a dream come true. The diverse assortment of organic products from all over the world on our shelves is the best proof of this. " 
Philosophy
The philosophy of M. I. All Organic Market: everyone should have access to quality organic food. Based on this, the company offers its customers a wide range of various certified organic products and takes care to ensure constant replenishment.
People are increasingly monitoring the quality of their menus – and All Organic Market will always provide them with the best nutritional options available. Quoting Hippocrates again: "Let food be your medicine and medicine be your food." It is an ancient but timeless lifestyle slogan that is offered to those whose choice is organic products.
What's more, an understanding of different cultures and different lifestyles allows All Organic to offer food that is suitable for the types of diets that people around the world follow.
Mission
All Organic's mission is to be the first choice of customers. The company achieves this by offering a combination of excellent service, best prices and superior product quality. Plus, customers can not only eat tasty and healthy, but also support the production of organic products through reasonable consumption, protecting both their own health and the environment.
Stay healthy!
Адреса магазинов:
Ул. Колонакиу 16, Линопетра, Лимассол — 25 58 76 70
Проспект Пафу 22, Агиос Иоаннис, Лимассол — 25 76 22 42