Kypwell – "Kypros Wellbeing"
17/01/2021

Premiere Magazine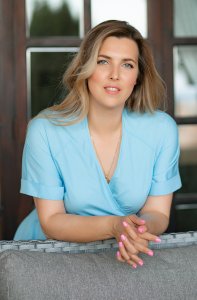 Inna Orlova is a successful businesswoman, cofounder of Kypwell – unique wellness & beauty brand from Cyprus. It's been only 5 year but Kypwell is already known and recognized with 19 International awards including best eco-packaging, best quality products and Best Day Spa in Europe. Today Kypwell organic and vegan skincare & teas are sold in UK, USA, Europe, Hong Kong, Russia.  We asked Inna Orlova the cofounder of Kypwell about the company philosophy, products and story behind the brand.
Inna Orlova, Kypwell cofounder and Chairman of the Board of Directors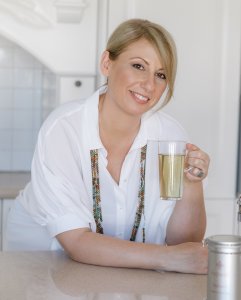 How was Kypwell created?
We found Kypwell (Kypros+wellbeing) five years ago with my close university friend from Cyprus Elena Elraie. Each of us came up with the idea of creating Kypwell in our own way.
Elena, who was top manager in Cypurs IT companies at that time, came to the understanding that every woman needs to dedicate quality time to herself and enjoy what is called "me time" – "my time".  This crucial wellbeing habit can help women stay healthy both mentally and physically.  Elena believed that drinking organic herbal teas from Cyprus medicinal herbal is a crucial part of Cyprus wellbeing heritage which should be shared with the world.
The medicinal herbs of Cyprus – are ones of the best in the world in terms of quality and potency. The high concentration of essential oil makes them ideal for use in therapeutic teas and cosmetic products. The unique sunny climate, fertile volcanic soil, the absence of harmful toxic production on the island – all of these factors create a unique microclimate for growing best quality plants and herbs, including unique endemics which grow in the Troodos mountains and are protected by the state.
My story is connected with my mother. At that time, I had already left large corporations where I was managing marketing and communications, and I was mostly engaged in charity work. It was then that my mother fell ill with cancer. We underwent treatment in Israel, then there was a relapse … and I got a clear understanding that I needed to do something different in my life and help women to be healthier and prevent cancer.
I began my research in the field of integrative medicine – in particular, studying the influence of lifestyle and nutrition on the development of oncology – communicating a lot with Israeli doctors on the topic of cancer prevention. As a result, four main pillars of health have formed:
Non-toxic eating – a balanced nutrition that does not contain toxins (preservatives, GMOs, sugars, which literally feed the cancer cells).
Active lifestyle – when people don't exercise their circulation of blood and lymph become poor which can lead to inflammation in the body, one of the prerequisites for the development of cancer.
Stress control – of course, stress cannot completely disappear from our life, but we need to learn how to control it well.
Non-toxic skincare – natural and organic. Whatever we use on our skin, our largest organ, we literally eat. The skincare is just another form of nutrition so we need to watch it just like food.
We decided with Elena to merge our ideas with a mission to inspire people lead natural, healthy lifestyle and be kind to themselves. This is how Kypwell was born – natural organic skincare and herbal teas based on the wellbeing philosophy and medicinal herbs of Cyprus.
How did the idea for the brand name come about?
Kypwell, derived from the idea of herbs and balanced life – the heritage of Cyprus approach to wellbeing – "Kypros wellbeing", of course the sound of the name also has a meaning "keep well".  Longevity is a well-known fact in Cyprus this is due to the philosophy of natural wellbeing, Mediterranean nutrition and a very positive and slow approach to life. And this became a philosophy of our company.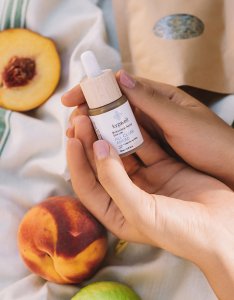 How did you take your first steps? After all, creating a wellness & cosmetic brand is probably a huge and hard work.
The main task for us was to find great international team of formulators and partners with whom we could grow herbs and control the entire process of creating a product: from a seed to skin. Kypwell therapeutic skincare is formulated with unique plant bioactives that harness the healing properties of the Mediterranean sun and soil.  Our formulas are highly concentrated with more than 30 plant bioactives per product on average (60% of the product). We only use flower and herb distilled waters. Our herbs are grown in the fields that are certified BIO organic by the Lacon International Institute.
It was a great team work that created a safe, high-quality and, most importantly, result-driven products that are now sold in Spas and premium retail shops in Russia, UK, Europe, America, Hong Kong, we are actively negotiating with China.
Who develops the Kypwell product line?
As in any organization, there should always be opinion from marketing, R&D, and the clients – and they should all coexist in harmony. As a person in charge of marketing, I constantly study market trends, attend seminars, conferences, and I am a member of many professional organizations. Over the past few years, we have received 19 International awards for our products and packaging. We recently won the award for the best Day Spa in Europe.
How were the "beauty formulas" of your cosmetics created?
Kypwell skincare and herbal teas are based on the idea of Mediterranean nutrition. Our products are made up of certified organic herbal extracts as well as fruits, vegetables, grains and oils. The formulas are created so that natural ingredients support the body's natural functioning – helping the skin to produce own collagen and hyaluronic acid.  All our products are PETA Certified as Vegan, cruelty-free and not tested on animals. Our products are safe for people and the environment, they do not contain parabens, SLS, mineral oils, GMO, PEGs, or harsh chemicals.  All our formulas are based on the heritage of Cypriot monks who have been healing people since ancient times but we enriched the formulations with latest advanced technologies in cosmetics.
In old times, monks were the doctors on the island, people went to the monastery, prayed, fasted, received medicinal remedies. This holistic approach ultimately produced a healing result. Each monastery had its own medicinal herbal garden and books on herbalism. The most famous book in Cyprus was written at the Mahera Monastery
This year you opened a new Face Wellness Studio on the Limassol seafront. Tell us about its concept.
The idea came to me a couple of years ago when I noticed a new trend in facial care that came from California – the homeland of most of the world's beauty trends. Gwyneth Paltrow, Cindy Crawford, Cameron Diaz, Megan Markel and many other celebrities began to actively promote the natural rejuvenation, face sculpting massages and face exercise.
The essence of the trend is to actively take care of your face in a healthy way. Nowadays the "fake" is not trendy anymore: lips enlargement, fillers, threads, Botox – all of these harsh methods are becoming kind of a relic of the old fashion, because such interventions are not just toxic and unpredictable in terms of results, but they create additional stress for the body and mind.
Modern cosmetology is going through a new stage of development. Women have already realized that the cream by itself will not tighten the oval of the face, and injections against fat deposits will not make a perfect chin. That is why the holistic approach seems to be the most effective and truly a long-term strategy.
We believe in the concept of healthy beauty and our specialists have developed their own method, which we called "Face Wellness" based on trends from California, London, New York.
Face Wellness method is built on three main pillars: feeding the skin with Mediterranean skin nutrition, regular sculpting massages, face exercises using various natural tools such as volcanic stones, Gua Sha, rollers and anti-stress therapy.
In our Face Wellness Studio, a coach is assigned to each client. He diagnoses the genetic skin type, currents skin and muscle conditions, collects a general lifestyle information and clients face goals. Based on the results obtained, the client is offered an individual program to achieve specific personal results.
Are there any flagship products that you could highlight?
Most of our products are international multi award winners, but carob mask is definitely the one that is absolutely unique. Both British and Russian Vogue have recognized it among the best skincare products.  Carob has long been known for its unique qualities – to the extent that Cyprus once supplied it to the USSR as a component for moisturizing lipsticks. We have created a highly concentrated mask – it heals, regenerates, moisturizes, its perfect after laser treatment and other types of peelings. The mask has a unique anti-aging effect and perfectly nourishes the skin, as it contains a lot of magnesium and vitamins. Carob is a superfood that has long been used in nutritional medicine, but in cosmetology, it is used for the first time in the form of such a highly concentrated mask.
Carob, or carob tree, is a plant in the legume family. It has long been cultivated in the Mediterranean. The carob fruit is used for food. The juice squeezed out of the fruit is used as a sweet syrup. Similarly, alcohol is also obtained from it.
What would you like to wish our readers in the coming year?
I wish everyone to achieve calm energy and life balance and little bit of a of patience with all what is happening in the world nowadays.
Kypwell skincare and teas can be ordered from the online shop www.kypwell.com Face Wellness Studio located at: or at partner Spas and retail locations.