Archi DANIELIAN:"IT IS TIME TO BE, NOT TO PRETEND"
17/01/2021

Premiere Magazine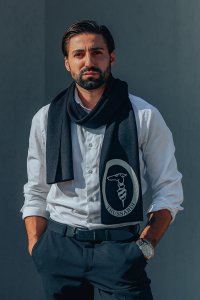 Archi, exactly a year ago we interviewed you for our magazine on the topic of style – and now we will talk about blogging as a way of life. In six months, you have amassed more than 20,000 followers on TikTok and a few thousand more on Instagram. How did you manage to become so recognisable on the island in such a short time?
You promised me this interview if I achieved some tangible results during this time. The answer is simple: I worked a lot, everywhere, in completely different areas, and even if it might seem to someone from my posts and stories that I had a rest, that was also part of my work. I took on everything I could do – in particular, running events.
Still, my journalistic education and experience as a presenter were not in vain and they continue to help me a lot, including gaining recognition in completely different circles and increasing my audience. These are people who have known me for many years and follow my life, and those who do not know me but want to know, as well as my clients in the beauty industry and those who know me as a host of events.
Why do you think people are interested in your account? And what makes users follow this or that person?
I believe that it is the versatility that attracts different audiences. If you sit hiding in a corner, no one will ever know about you. Therefore, I use every opportunity to prove myself, both as a presenter and as a stylist in the beauty industry. The ability to work for the public definitely helps when creating content.
More often than not, when I'm in a good mood, I just want to share it with people. Or, when I am working on some interesting project, people are curious to watch it, because they see me as real and alive. I do not play and do not pretend to be a positive person if I feel bad.
Many people, looking at your accounts, perceive you as a comedian. Are you comfortable in this role?
I tried it myself and would like to move on to more serious content. The audience is attracted by the fact that you are cool and funny, but when you take on a real job, it starts to get in the way: many people think that the person playing the clown cannot be a professional.
If at some point you realise that in life you are beginning to be associated with one of your images, whether it be a clown or a vulgar person, you should expand the framework and show yourself from another side.
Let's talk about advertising opportunities as a result of proper account promotion. How often do you receive advertising offers and do you have any experience of cooperation with advertisers?
I do not accept all advertising offers, because I personally do not like some products or services and do not want to mislead people. I believe that you need to advertise what you yourself are sure of. I recently became the face of the Trussardi brand – I agreed, because this brand suits me, I like it and I am pleased to advertise it.
Also, you cannot put ads in a stream – people instantly get tired of this.
Do you have any haters and how do you feel about this phenomenon?
Now I have started to deal with them much more calmly and to separate critics from haters.
Haters are those who do not care what you do and how you do it: they just pour negativity on your page, because they have such a lifestyle. In all my practice, there were a few of them, and even if they are active on my pages, I never delete them. In Cyprus, haters are, as a rule, your competitors who try to earn more points for themselves at the expense of your humiliation.
Critics try to notice any flaw, but at the same time they can be correct, loyal and want to contribute to the quality of your image or content. They definitely help you to grow.
Do you use hype to attract an audience?
People love dirt and hype mainly because things like that are realistic and provocative. I had a period where I was doing some pretty vulgar content. At first, creating it, I often joked below the belt and shot a lot of videos in this vein, which is why I got the label of a womaniser and even an escort. By the way, I would like to take this opportunity to refute these rumours. Therefore, when producing content, remember that every joke can then turn against you, and the image formed as a result will need time to wash off.
Have you ever participated in any online charity events?
During the quarantine period, while everyone was sitting at home and drinking wine, I was saving the life of a child – we did a live broadcast to raise funds. The decisive moment happened when, thanks to our campaign on social media, one of the oligarchs heard about the problem – and the girl was saved.
I would like to gather such a large and loyal audience so that I can periodically participate in similar campaigns and give the opportunity to successful people to also have a hand in a good cause, to help people – I sincerely want this.
What would you suggest to someone who wants to be a successful blogger, and where would you advise to get ideas for content?
Blogging is a real job, and not an easy one. I do not consider myself a blogger as such. I just run social networks, have good viewing figures, and on the basis of this I can evaluate what attracts people to my pages.
You don't have to pretend to be someone – you have to be real. If I wanted to create an artificial image for myself and stick to it, I probably would have created an image in the spirit of Christian Gray, but I want to be myself – that's all I am. Each photo or video post is a real moment of my life and work. Therefore, my advice would be this: shoot what you like to do, develop in your favourite business, draw inspiration and ideas from it and share all this with the audience. Radiate positivity, be different. To be in the same style and to dictate monotonously how everyone should live is dull and boring.
I'd be lying if I say that I don't promote my image for a specific purpose. I have projects that have not yet been implemented, and thanks to social media, I am building an audience for them. So any person who wants to take the path of blogging should understand why someone is doing it.
Now the era of video content has arrived, so the number of views of stories is much higher than that of a static post. But don't create long, boring stories – nobody likes them. There is no need to shoot everything and go overboard with content, be stable and predictable in a good way for the audience if you want to stay afloat. You will always be interesting if your life is a beautiful picture, if you travel the world: people love to look at it.