19/12/2017

Premiere Magazine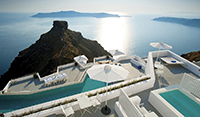 Santorini is not only famous for breathtaking views, sunsets and the picturesque villages of Oia and Fira, but also for its fantastic luxury boutique hotels, with swimming pools at the edge of cliffs, stunning views and some of the most amazing balconies in the world! Most of these hotels are in Fira (the island's capital), Firostefani (Fira's neighbour), Imerovigli and Oia.
In our estimation, Fira has the most restaurants and the most active nightlife. It also has great views. Firostefani tends to be quiet and is an easy walk to Fira, also with great views. Imerovigli is very quiet and only a bus or taxi ride from Fira and Oia. It has, arguably, the best views on the island and a half-dozen wonderful restaurants. Finally, Oia has many restaurants, but little nightlife. It is romantic and has those great views you have come to expect. Here are five 'top of the line, best luxury and boutique hotels' that stand out from the crowd and have the 'wow' factor in Santorini.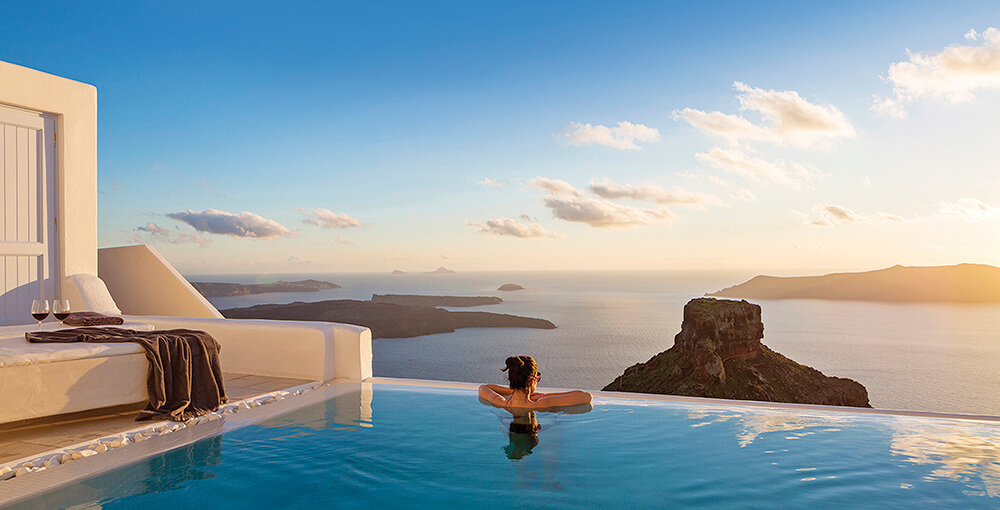 Astra Suites (Imerovigli) 5*
+30 2286 024763, www.astrasuites.com
Many magazines have called Astra Suites the best hotel in Greece. It is located on the cliffs of Imerovigli and offers breathtaking panoramic views of the mysterious caldera, a sleeping volcano and the endless blue Aegean Sea.
All of the suites are huge and have their own private terrace, where breakfast is brought to you every morning. Astra Suites is now listed in the Top 25 Hotels of the World, as chosen by TripAdvisor members. It was also chosen by Condé Nast Johansens as the Most Romantic Hotel for 2015 and as «Best Service» for 2016.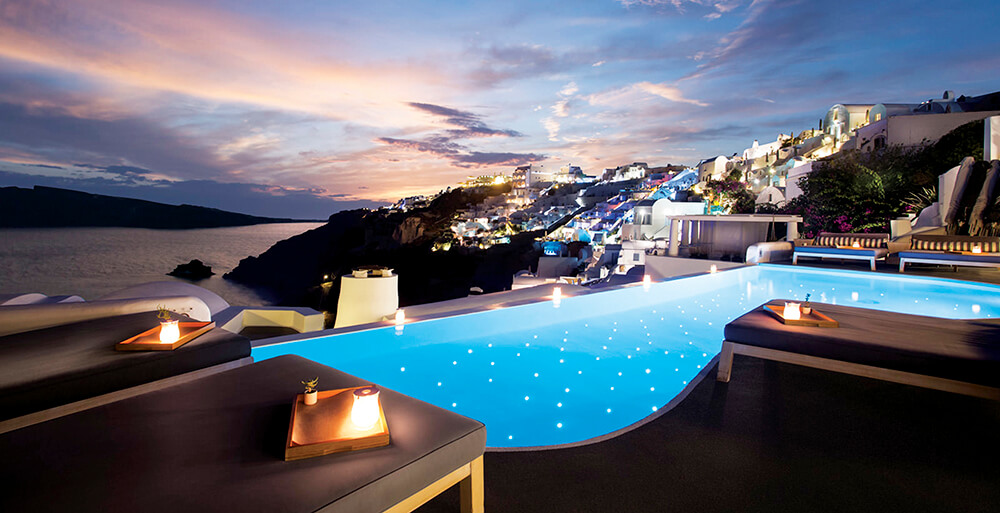 Hotel San Antonio (Imerovigli) 5*
+30 2286 024388 www.sanantonio-santorini.com
San Antonio is a distinctively impressive luxury 5-star hotel, with an unrivalled sea view of the azure Aegean Sea and the volcanic Caldera. Nestled in Santorini's delicate neck in the popular village of Imerovigli, this inimitable 5-star boutique hotel in Santorini, Greece offers sublime luxury in the most intense natural surroundings.
This hotel will offer you an amazing infinity pool and an impressive spa. The rooms are spacious with lots of privacy and there is definitely a luxury feeling everywhere you look around in the hotel. Definitely a very posh option!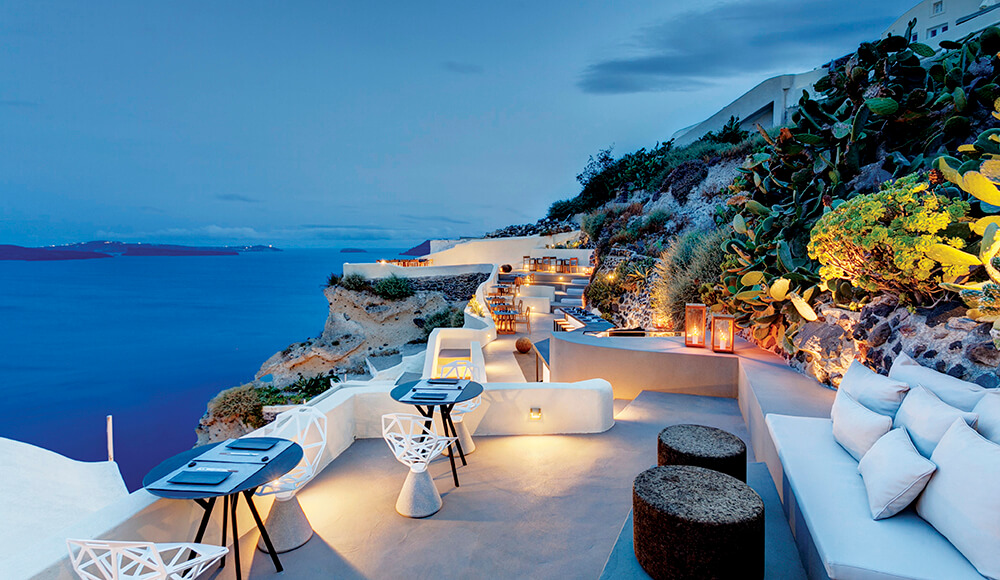 Katikies Hotel (Oia)
+30 2286 071401 www.katikieshotelsantorini.com
Katikies Hotel in Oia is the best hotel in Santorini. Inspiring deep emotions of enchantment and fascination, it is renowned for its unparallel services, warm atmosphere and sense of ro­­mance; uniquely combined in an exceptional setting and natural environment, inviting its guests to experience moments of pure luxury. The incredible rooftop terrace restaurant will definitely offer some memorable dinners. Some of the rooms have their own private veranda where you can have an amazing breakfast, offered by the hotel, served to you without compromise.
Grace Santorini (Imerovigli)
+30 2286 021300, www.gracehotels.com
Grace is one of the most talked about hotels on Santorini, given that it possesses one of the most amazing swimming pools in the world! It obviously offers the amazing views of the caldera and the volcano and looks out on the iconic Skaros Rock. You probably have to book veeeeery well in advance; probably more than a year before your arrival. We are talking about the ultimate luxury hotel on the island and one of the best in the world.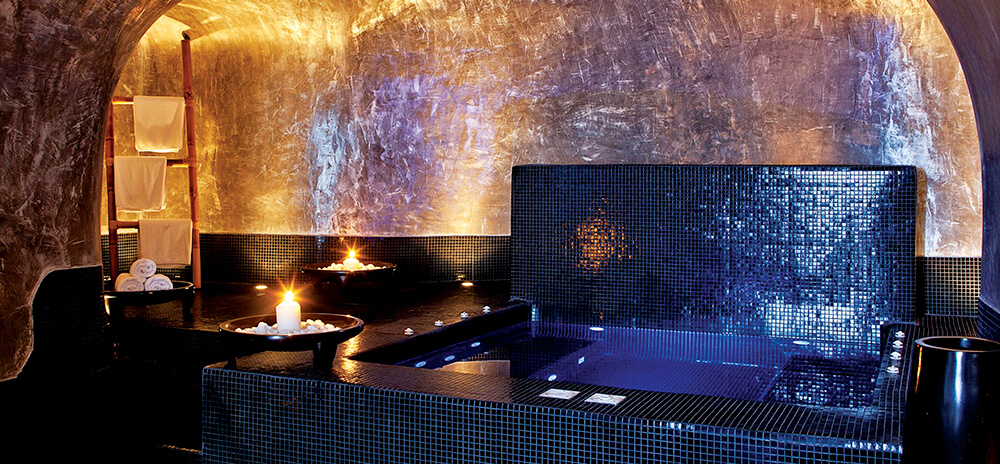 Mystique (Oia)
+30 2286 071114, www.mystique.gr
Mystique is one of the quieter hotels in Oia, yet still walking distance to the centre of town. Mystique is reserved for only the most discerning of travellers and is nothing but a pure, natural and exclusive retreat. Thirty-five suites and villas in a landscape of more than 2000 square meters, it provides a sensorial experience of Santorini in surroundings of understated elegance. The hotel is decorated by a famous interior decorator, Frank Lefebvre, and you can immediately tell that there is so much focus on detail in every corner of this amazing hotel. Rumours have it that the hotel's spa is one of the best in Santorini. With incredible views, great food and private terraces, there is nothing more to say.