23/11/2018

Premiere Magazine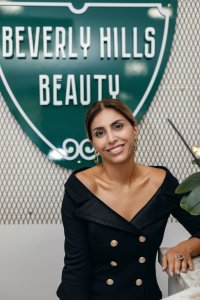 Probably the first thing that occurs in our thoughts at this time of year is the upcoming New Year! Holiday parties, corporate parties, endless meetings with friends, family and relatives, romantic winter travels – the beautiful half of humanity begins to prepare for such intense celebrations in advance, choosing New Year's outfits, stylish jewellery, fashion accessories, gifts and other trivial items of adornment. Every woman wants to look and feel especially stunning, charming and irresistible on New Year's Eve, feeling 100% and optimistic about the year to come. Thus, it is necessary to try to take care of every part of you, with a healthy dose of loving, maximum attention and care.
FACE
Facial cleansing and peeling should necessarily be carried out two or three weeks before the New Year arrives. During this time, any redness should definitely be dealt with so that the skin can shine with a healthy glow, acquiring a fresh, well-groomed appearance. Still, there is a limit to treatments. The rule is not to overburden the skin with aggressive procedures.
Salon cleansing perfectly aligns the texture of the face and should be supplemented with a programme of moisturizing masks for optimal regeneration. Components such as aloe, gold, snail slime or snake venom cream perfectly heal micro-trauma from cleansing, as well as accelerate the metabolism in the layers of the dermis. This means that the skin will recover faster and will be perfect by the desired date.
For those who want to look irresistible on December 31st, but, for some reason, do not have time to prepare for the holiday in advance, we recommend going through the Hydrofacial Red Carpet procedure at the Beverly Hills Beauty salon.
Do not forget, as well, about the weekly application of scrubs and masks. The first application rejuvenates the skin and the second deeply nourishes it. Consider the facial scrub from Iluma by Image Skincare – it will treat even the most sensitive skin gently. Also, on the topic of nourishing, there is Image Skincare Ageless Total Facial Cleanser and Image Skincare Ageless Total Resurfacing Cream Masque, which will return the face to freshness and elasticity and strengthen the skin at any time of the year. All of this can be purchased in the Beverly Hills Beauty salon.
The most important advice is to walk and sleep more! No mask can give you such a fresh face like a half-hour, measured walk in the mountains or near the sea.
BODY
Before trying on a New Year's outfit, wouldn't you like to get rid of a couple of unwanted centimetres around your hips? Effective LPG Alliance procedures, Starvac vacuum-roller massages, manual massages and Endosphères Therapy wrappings will help. If you adhere to proper nutrition and choose one of the indicated methods for body correction, the results will be amazing.
Two weeks before the New Year, you will need to pay attention to your diet. Even if there are no kilograms to lose, it would be nice to arrange two or three fasting days, so that your body will be able to cleanse a little, relax and shed any ''excess''. In addition, on the eve of the holiday, it is worth thinking about a correct drinking regime. On the big day, it will be necessary to consume a sufficient amount of pure, non-carbonated water, at a rate of 40 ml per kilogram of weight. However, in the winter, taking into account the seasonal peculiarities of human metabolism, it is enough to drink a total of 1 to 1.5 litres. Water helps to remove toxins and moisturizes the body from the inside, giving a feeling of freshness and vigour. The ideal option is to start the day with a glass of purified water on an empty stomach (you can add a few drops of lemon juice).
HAIR
For the hair, there is one golden rule – it loves a small dollop, as well as burdock, olive and avocado. Do not be afraid, before washing your hair, to use an oil mask for 30 minutes. If you do not have the time to prepare a healing composition of your own, experts at Beverly Hills Beauty can recommend the best hair care products, such as Care Vital Nutrition Mask (Keune International), Care Keratin Smooth Mask (Keune International), Wella Professionals Fusion Shampoo, Wella Professionals Oil Reflections, Milk_shake® Integrity Nourishing Muru-Muru Butter and Milk_shake® Glistening Argan Oil.
Of course, your holiday image would not be complete without a chic hairstyle. The masters at Beverly Hills Beauty salon will help to make your New Year's hairdo more stylish, unique and unforgettable. A haircut, colouring or simply a styling – entrust your appearance to professionals because only they can create real masterpieces. Experienced specialists will be able to see a person in a new image and create a style that suits him/her. Moreover, salon treatments will allow you to prepare your head of hair for the winter, making your hair stronger and healthier.
NAILS
Women's hands always attract special attention from others. To make your fingers and nails look well-groomed and beautiful on New Year's Eve, against the background of sparkling champagne in a glass, you need to have a manicure. The main rule here is accuracy, and then it all depends on personal preferences and tastes. You can do a classic and always current French manicure or you can dream up and paint something bright and original on your nails. For example, the Yellow Pig, the symbol of the coming year, favours gold in any form, from abstract pieces of foil to varnishes with golden glitters of various sizes.
An equally important role is given to traditional colours. In addition to the clear orange-yellow shades, the trends also included deep, but not juicy, green tones and a whole set of various versions of ripe fruit, reminiscent of the autumn that has just passed. On the fashionable shelf, you will find dark plum, ripe sweet cherry, burgundy aged wine and shades of late grapes of red and blue.
In the New Year, you should look irresistible, from the tips of your hair to your pedicure. It does not matter what kind of shoes you want to add to the festive look (closed or open), your feet should be well-groomed, even if you are the only one to see them. Ideally, in terms of colour solutions, a pedicure should have something in common with a manicure.
MIND
So, following our advice, by New Year's Eve, you will be a beautiful woman with a healthy blush, a beautiful body and a luxurious head of hair, but your thoughts are still not about fun. Instead, you are concerned, now, with finding gifts, organising entertainment and preparing a festive menu. Stop and take time to analyse everything you've accomplished over the past year. Praise yourself for what has been achieved and, most importantly, formulate the right intentions and goals for 2019. We suggest that you even write on a sheet of paper how you see yourself in a year – in great detail. It is very soothing and helps to prioritise. It is best to think about the future while lying in a bath, where no one sees you or bothers you, so that you can fully concentrate on your thoughts and dreams.
Fall in love! What else would give a woman such a fiery shine in her eyes, a radiant smile and such charm like falling in love – with her husband, boyfriend, new admirer, herself or the beautiful world around her? Fall in love – and become the real queen of New Year's Eve.
Silva Dayana, Beverly Hills Beauty salon