Classicism and Innovation
19/12/2017

Premiere Magazine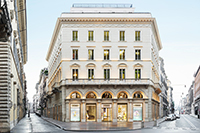 In the heart of Rome, a few steps from the Spanish Steps and the Trevi Fountain, just a short walk from Piazza Navona and the Vatican, the world of Fendi has opened its first hotel. The hotel is ideally located in the historic Palazzo, where, since 2005, the headquarters of Fendi has stood.
Initially, this luxurious palace of the XVII century belonged to a noble aristocratic family, Boncompagni Ludovisi, and is a magnificent architectural counterweight to the luxury of the church of Trinita dei Monti at the top of the Spanish Steps. The building was restored accurately, including the decor of the walls and doors.
Consisting of only seven impeccably decorated suites, ranging from 36 to 60 square metres, the hotel embodies the highest degree of elegance and exclusivity. Here, you will feel the history and traditions of the Roman aristocracy, combined with a sophisticated contemporary design presented by famous designers such as Humberto Campana, Fernando Campana, Fritz Hansen and Gio Ponti.
In addition to a boutique hotel, Fendi Private Suites, in the Palazzo Fendi, are private apartments. You will find the Palazzo Privé for VIP-guests, where the main decoration materials used are leather, glass, metal and wood.
The Palazzo Fendi flagship store comprises the fashion house, a made-to-order department, a fur company and, on the top floor, the restaurant Zuma — the first known Japanese restaurant network in Italy.