Brighten your Smile. Let Your Smile Shine!
15/01/2018

Premiere Magazine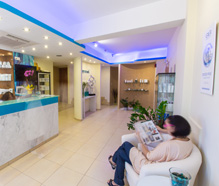 Shining, white and a sincere smile are the main features of attraction. Today, everyone knows that straight, white teeth are the best visiting card and an indicator of the status of a person.
Cosmetic dentistry is aimed at the successful resolution of various external defects due to an entire complex of special procedures and recovery techniques.
The main reasons for going to the dentist or an orthodontist are:
Chips with mechanical damage
Darkened enamel after removal of the nerve
Plaque build-up from smoking or drinking coffee or tea
Partial or complete destruction of teeth
In aesthetic dentistry, they use a variety of techniques to restore teeth, depending on the extent of damage, distinguishing between removable and fixed prosthetics.
Non-removable types of dentures include:
Installation of crowns or bridges
Installation of inlays
Veneers
Dental implants.
Veneers
Veneers are very thin (less than 1 mm) plates made of porcelain or composite materials that are installed on the front part of the tooth. Veneers can, in the shortest time, restore the teeth, even if some of them have been destroyed to the level of the gums. They are easy to install and operate and do not require complex or special care.
Veneers are made from ceramics, having a variety of shades. They allow the dentist/orthodontist to choose the colour suitable for consistency with your natural teeth and are attached with specialised fixings of cement, corresponding to the colour of tooth enamel.
There are several types of veneers that differ in the material from which they are made:
Ceramic veneers – thin ceramic plates are attached to the outside of the teeth. The main advantage of this kind of option is that they do not change colour when drinking coffee, tea or other products that contain dyes. They are also extremely strong and durable.
Porcelain veneers – made from medical porcelain, as well as ceramic. After the patient's original teeth, these veneers offer the most accurate life-like cast.
Ceramic and porcelain veneers have a long service life, are easy to care for and rarely change in appearance.
Composite veneers are made of composite (filling) material. These types of veneers are installed in one visit, on site, unlike the previous two types of veneers. In fact, therapeutic veneers of composite materials form the front surface of the tooth of the patient. The restoration process is similar to filling a tooth. The tooth is first sanded (with anaesthesia) and then layer after layer of material is applied and dried with a special lamp. The cost of these veneers is low, but they, like any seal over time, change colour and require regular polishing.
Crowns and Bridge Prostheses
This is one of the most common forms of removable prosthetics. A crown can restore a damaged tooth, protect a weakened or cracked tooth from further damage (when this cannot be achieved with the help of sealing), correct the irregular shape and colour of a broken tooth or offer support for dentures.
Crowns are made of zirconium metals and their alloys (including steel and gold), porcelain or a combination of acrylic and composite polymers (zirconium crown, all-ceramic crown or metal-ceramic crown).
In recent times, the more common choice is a zirconium crown. They are made from zirconium oxide, a heavy-duty material, and are characterised by complete biocompatibility with oral tissues, durability, usability and high aesthetics.
Metal-ceramic crowns are also very popular. These crowns are metal framed and covered with a thin layer of ceramic paste. Ceramic crowns have a high aesthetic quality, but they are more fragile compared to zirconium and have a fairly wide range of contraindications.
Installing a crown is a fairly straightforward and is a very reliable prosthetic. Properly installed crowns, with proper care, can last up to 20 years.
Bridge
A bridge is a fixed prosthetic design, resembling a bridge, which is mounted on teeth with crowns. Installing a bridge-like prosthesis is possible only if, on either side of the missing tooth, there are still other teeth that can act as anchors. These abutments are stitched in and then they set the crown, which then attaches to the prosthesis.
Implantation
Implantation is implanting a special titanium structure in the bone tissue of the patient. Later on, this design is fixed to a metal crown. An artificial tooth is not different in appearance from the existing teeth. This is the newest technology in the field of removable prosthetics.
In Vitadent Clinic, the doctors use the most up-to-date treatments and prosthetics. Occupational therapists will advise you and suggest the best way to make your smile healthy and attractive. The clinic uses only the best materials and the latest generation of dental products. Brighten your smile and experience the satisfaction of impeccable luxury!