Beauty tips and new life of your favourite DIOR skin products
11/01/2018

Premiere Magazine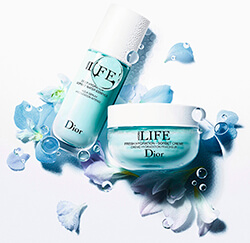 The world is changing. So, Dior created Dior Life, a pure concentrate of naturality. A celadon blue sorbet creme, masks with jelly, balm and pink clay textures for new sensations…. Incredibly sensorial and vibrant, Dior Life skincare strengthens the skin barrier every day.
Natural beauty begins with makeup removal
Cleanse / Purify — Lotion To Foam — Fresh Cleanser
Every morning enjoy the purifying effectiveness of a foam and the invi­gorating freshness of a lotion. Enriched with white tea and natural cleansing agents, its watery texture transforms into a creamy foam for a complete cleanse.
Gentle Makeup Removal — Micellar Water — No Rinse Cleanser
This new-generation formula is uniquely gentle with a subtle fragrance for instantly removing eye and face makeup. At the heart of its composition is the antioxi­dant power of natural Echinacea Flower extract and natural moisturizing agents.
Stubborn Makeup Expert — Oil To Milk Makeup Removing Cleanser
Rich in ultra-nourishing sweet almond, this luscious oil transforms upon contact with water into a delightful milky emulsion. Effective on waterproof makeup.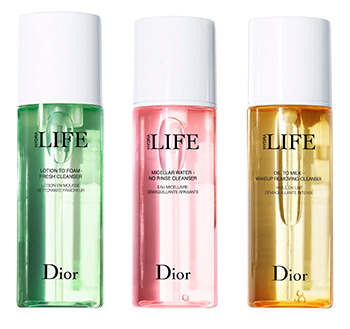 Fresh Hydration Sorbet Creme
Experience sorbet hydration with this celadon blue gel creme that delivers stunning freshness.
Deep Hydration Sorbet Water Essence
Enjoy three actions in one exceptional for­mula: the ultra-concentrated hydration of a se­­rum, the toning effect of a lotion and the radiance boost of a gentle peel. Spoil your skin with the mask twice a week
Glow Better — Fresh Jelly Mask
This mask works in two steps for energized skin, in just 3 mi­nutes: a gentle peel with fruit acids (lemon, orange, maple and blueberry); a mechanical scrub with crushed apricot kernel micro-grains.
Pores Away — Pink Clay Mask
Its formula refines the complexion, minimizes the appearance of pores, and mattifies the skin. The natural mi­nerals and Jojoba extract help to reba­lance the skin for purified, energized and pro­tective flora.
Extra Plump — Smooth Balm Mask
A superfood cocktail for the skin. This blend of White Pine oil and plumping botanical ingredients distils its ingredients to nourish and firm the epidermis.