Yury Shevchuk: "To reach the hearts…"
04/01/2018

Premiere Magazine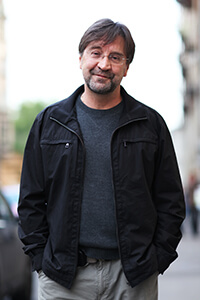 In the framework of the European tour of the legendary rock group "DDT", its permanent leader, Yuri Shevchuk, will perform in Cyprus with a new solo program called "Acoustics". It is not wit­hout promotion that, in addition to all of the famous and favourite songs, DDT's Yuri Yulianovich will present something from his new repertoire. Yuri Shevchuk kindly told our magazine about his plans and upcoming events.
Please tell us about your new program, "Acoustics", which you are bringing to Cyprus?
In the group DDT, as in a good repertory theatre, several different programs exist, developing, call it what you want, concerts or music performances, which we play from time to time. Now, the new program, "History of Sound" is travelling around the country and Europe. This show, a rock concert, is played on large sites, like palaces of sports and stadiums.
Chamber music, which we played last spring, is travelling from Germany, Fran­ce and Switzerland to the United States and Canada.
I like them both because there is a lot mo­re of that rock-n-roll drive, powerful sound and light effects then in the "Acous­tics" program ,which we will bring to Cyp­rus. There are more words, poems, intelligent reflection and a gentle sound, though, of course, rock songs will also be in the "lite" version. I love both of them! They're just different.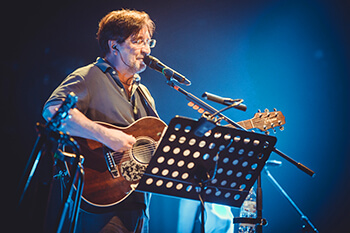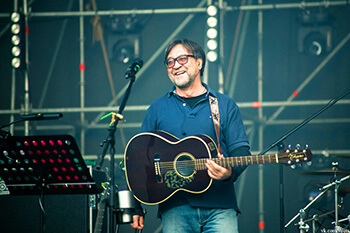 Have you ever visited our island?
On tour, I did not have a chance to visit Cyprus. I wonder how our songs are going to sound on this land. Under this sky, how they will dance in your eyes.
What do you expect from the mee­ting with local audiences?
I expect good conversation, a dialogue with the audience about our lives and what­ surrounds it. I expect empathy and of hu­manization of all-existing. I am anticipating total optimism and a heavy sadness about what is happening, now, in the world and in our country. Then, wait for the rock-n-roll of the fraternity and the exciting love for it, which never dies!
As far as I know, you sometimes paint. This is a slightly different creative outlet than your songs. What inspires you? Do you ever expose them to a wide audience?
I have been professionally involved in fine art and exhibited, but the music and the songs win out for me. When this all started, there was not enough time for painting. In order to achieve something, you need to do it everyday, not spread out over different days. I draw, of course, but very rarely.
The program "Acoustics" is about a love of life. As a woman, on planet Earth, what lies in the word "love" for you personally?
Love, for me, is everything, with all of its consequences. It is sometimes heavy, but the most interesting path that we can choose in life.
Tell us a little about what you plan in the near future.
In the near future, we hope to attend the birth of the new album 'DDT'. God bless us that all that we are thinking of will be done!