Irina Sigitova: "You can only get rid of fear by staring it in the face»
24/02/2020

Premiere Magazine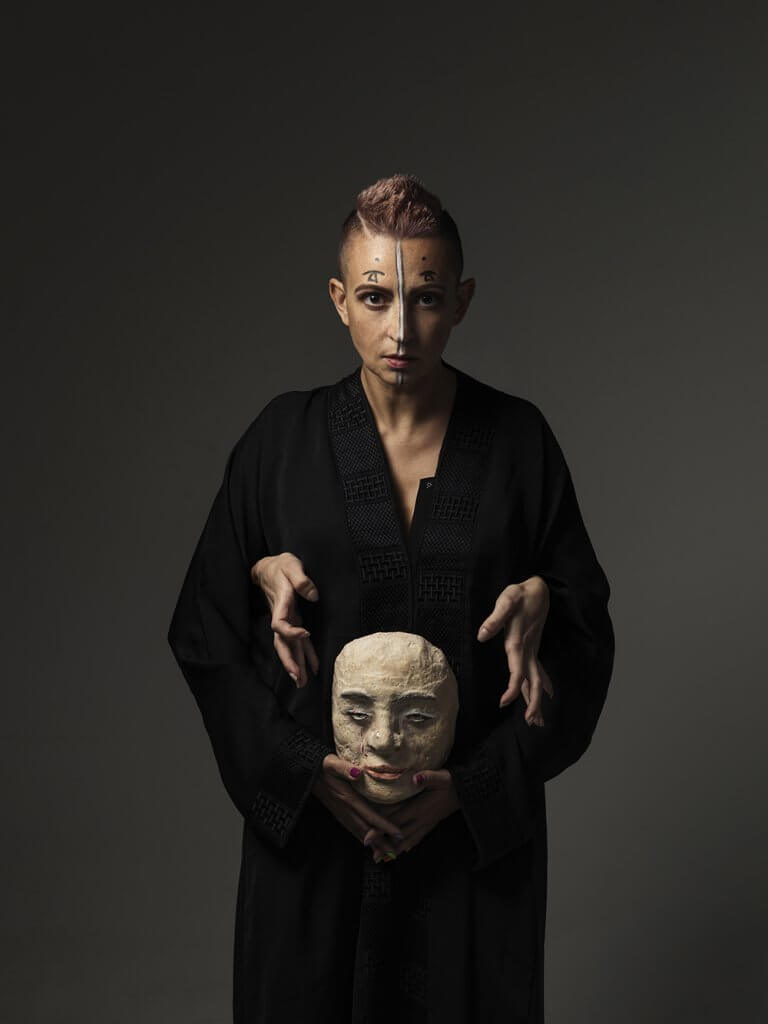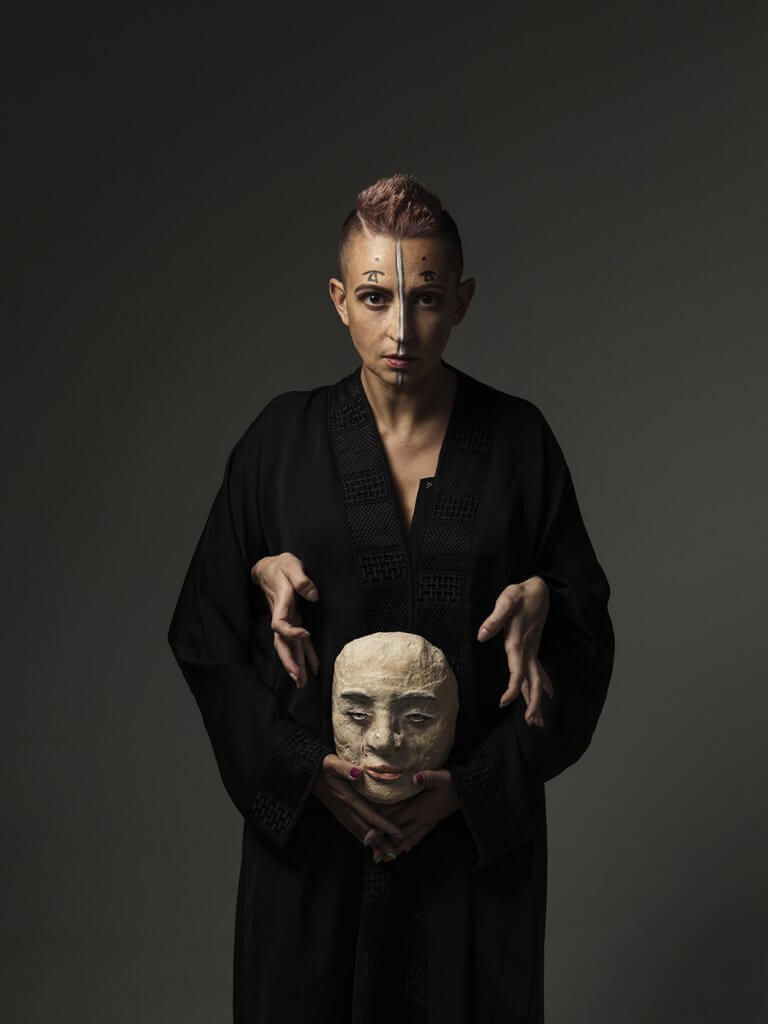 Irina Sigitova is an artist, teacher and a woman in love with art and people. She designed the dress that actress and author Marianne Rosset wore on the red carpet at the Cannes Film Festival which made it into The Times' Top 10 list of most original outfits. Sigitova is often referred to as the Cypriot Marina Abramovic, and with good reason.
Irina, how would you describe yourself? What is the first thing you would single out about yourself?
Humans are multifaceted, like a crystal. On the one hand, a mother, on the other, a mistress, on the third side, an artist, teacher, saint, sinner and so on. It depends where you turn.
I am not very impressed by the role of teacher. I even say to children that I'm not a teacher, and instruct them to feel free and creative. Although the very word "teacher" evokes a positive feeling inside me, like someone who has achieved enlightenment, I just don't feel that I can call myself that yet. I just convey what I know. I share my understanding and love for contemporary art.
How did you discover this love for art?
Once I came across a survey on the internet which asked: "What would you do if you had a lot of money? And what if you didn't have any means of income and had to live on the streets?" And I realized that, in either case, I would still draw. I was 28 then. I was already drawing and had previously held exhibitions. I have had performances since I was 18 years old. Life is a continuous performance (laughs).
How did my love for art begin? With goosebumps. You just face the picture and that's it.
For example, (Hieronymus) Bosch – I remember, I stood for an hour and a half in front of one of his works at the Prado Museum in Madrid and realized that nothing could be learned about Bosch just from his books until you see his work in person. Or Rene Magritte, (Egon) Schiele – it's not even goosebumps, these are elephant bumps! Broken fingers, but also stunning bodies – the body is like a soul. And (Edvard) Munch just kills it energetically.
Art affects you. This is something that cannot be described in words. As a philosophy we think: "Why does a person need art?" Well, as [Joseph] Brodsky said: "This is the goal of our species." Animals do not go to museums, but we need it. Although not everyone, I guess.
Returning to education and teaching. Can this be taught?
I graduated from the Academy of Fine Arts and Architecture (NAOMA) in Kiev. In Cyprus, [I graduated] from the Cyprus Academy of Art – where I remained as a teacher and led a children's art school – and the Cyprus Institute of Marketing. I do not like to sit at home: I worked, and then studied in the evening. Or vice versa – in the morning I would study, and then work. But one thing I can say is this: education teaches you to learn. Nothing more. The artist needs to learn from a practicing master and, in institutes, as a rule, losers remain to teach, who themselves are no longer artists.
You have your own art school for children in Cyprus, but it's not very traditional.
"Traditional" is not my word at all. I came up with a technique by which we go through the history of art – from cave painting to modern trends, and drawing in the style of each artist. In the first lesson, we, as primitive people, make paint from plants, coal and chalk. I build something for the children like a cave, and they create on its walls. When we study Michelangelo, children draw lying down and imagine that they are painting the ceiling of the Sistine Chapel. And in the lesson on (Friedensreich) Hundertwasser, I bring live snails to the lesson. Or I buy a wild bird from a pet store so that I can release it with my children, as Leonardo da Vinci did. In general, every time I come up with some kind of "trick", the children will remember the information better, and I don't get bored! And at one of the last lessons, when Banksy passed and talked about street art, my children and I made skeleton stencils, armed with spray cans and painted on asphalt. And then they posted photos on social media with the caption: "Do not throw cigarette butts into my soul!" Now I'm waiting for a fine from the municipality for vandalism (laughs).
In what genres do you realize yourself?
I do a lot of portraits – I draw using both oil and acrylic. I love quilling – this technique was invented by monks in the 14th century. Cutting off the gilded edges of the books, they wrapped them on the tips of bird feathers. In quilling, instead of paints, twisted modules of colored paper are used to lay out the image – a three-dimensional mosaic is formed. This technique fascinates me as you never know what the result will be.
But what interests me the most is the person – I like to draw faces. I can say that I love people.
Are you a believer?
I am agnostic. But I would like to know why we are born, why we are here. Well, [the purpose is to] live in harmony with your conscience. For some reason, they gave us this feeling, someone invested it in us.
Why, do you think?
To improve the structure of DNA, of course! We meet people who are the opposite to us and fall in love – to change and exchange at the molecular level. Love is needed to improve the other person and yourself. In general, love is now officially recognized as a mental illness, assigning him a number – F28. We all get sick sometimes. Love comes when you miss something. When you have harmony, you do not need anyone. When you are absolutely busy, all your energy goes towards creativity, or performances, for example.
Speaking of performances. How did it happen that you became a director?
The director of the Russian House in Limassol, Roman Vavilov, invited me to do something interesting. I went to the Russian House and looked around- there are many rooms, but there is no scene. And I remembered about the immersive theater – this is such a new direction in art, when there are no spectators, and each person is a participant. Marina Abramovic is called the "grandmother of performance art" in the world – I love her madly and use her as a reference. So I tried to do the first immersive performance in Cyprus. Not a theater.
Could you explain what that was, for those who did not get to the performance in Limassol and did not see its continuation in Nicosia?
These are such "live pictures" united by one idea, which you cannot only observe, but also participate in them.
In Limassol, the performance was called "Russian Dreams". You could watch them in parallel in different rooms – at any moment, a person could enter, leave, return again – each time diving into its sensations. The design was in the style of Russian fairytales. At the entrance, we put up a sign, like the famous turning stone: "If you go to the right, you lose your mind. If you go to the left, you will find a horse…" etc. By the way, we had a live pony. A whole team of creative people worked with me in Limassol – artist Andrei Zhokhov, choreographer and master of sports in sports ballroom dancing Ariana Belof, yoga teacher and pole dancer Irina Yugay and Emil Galiaoutdinov, our beautiful young man from Garoza, dressed in a woman's dress, and experimented with DJ and composer Sergey Rush.
In our productions, there is no beginning and development of the plot – there are only sensations and immersion in your subconscious. Fears and the subconscious are interconnected things, since the former grow out of the latter. And quite often, our fears negate the joy of life.
And was this the performance that led to accusations that Irina Sigitova was into Satanism?
This was after the performance at 1010 Hall in Nicosia, Irina Trifon was involved in its organization. There were not only Russian-speaking guests, but also Cypriots, British, people with different mentality and culture. We knew about this and almost left out the text focusing on common fears. The fear of darkness and ignorance was performed by Anna Balaeva, a teacher at the Loft Dance school and participant in the "Dancing on TNT" project. The fear of old age and death was portrayed by Denis Vdovin, who was turning into a bloody mummy before our eyes (in fact, it was wine that was soaked through bandages). For us, this was a reflection of the current situation when people inject Botox and undergo plastic surgery for fear of aging – thanks to the idea of Timur Khairullin.
During the performance, people wrote down on a piece of paper what they would like to get rid of – their fears, resentments, pain. At the end of the evening, all this was burned.
And the word "Satanism"' and similar associations may have arisen after a girl, Diana Chebotareva, was "crucified" on the cross in one of our paintings. She was dressed in white clothes, and each cut off a piece of the dress. In the end, the girl remained almost naked, but with body painting in the style of body art. The woman on the cross is symbolic. It seems to me that in our society women are still "crucified" more than men.
And what was that fear?
Fear of sin. All people sin, but they are afraid. In fact, there are only commandments in the Bible. And the sins were invented by the people themselves.
I have my own position regarding sins. We once talked about this with the writer Marianne Rosset. She said a brilliant phrase: "Envy is a vector that shows a person what they need to do in life." For example, if you envy the artist, it means that you need to urgently draw, if you envy the writer, sit down and write your novel. And if you are jealous of other people's money, do business and self-realization. In short – find priorities, listen to yourself, and turn around to face yourself.
By the way, some artists also personified and illustrated certain sins with their creativity and life. For example, greed is [Pablo] Picasso, whose granddaughter would faint because he did not give her money for treatment, even though he was insanely rich. The sin of despondency is [Albrecht] Dürer, he worked only in melancholy. In general, an artist cannot create without despondency — at least light sadness and blues are needed.
We forget that art should not amuse. This is not an entertainment area. In general, the whole performance is for people to try to get away from everyday life, routine, and the eternal Groundhog Day. They were able to think, go deep into themselves and honestly ask: "What do I want? What am I afraid of?" And you can only get rid of fear by staring it in the face.
In the coming year, I wish myself and everyone only one thing: to not be afraid! Fear paralyzes and prevents progress. Try everything you want, without regard to authority. In any case, include passion. Most successful people began with a gamble – and remained in history forever. Everyone just needs to find their own way.
Interviewed by Julia Vertova