Vera Glagoleva. According to its Rules
19/11/2016

Premiere Magazine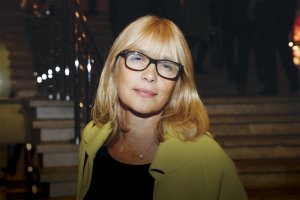 Visiting Premiere is the honoured People's Artist of the Russian Federation, director, screenwriter and producer, Vera Glagoleva. We will talk about the recent London premiere of her film, Vera's director's work, women's directing in general, the personal secret of beauty and plans for the future.
Recently, there was the premiere of the film «Two Women» in London. This is a pretty significant event because Russian films rarely make it into the clip of viewed films abroad. What do you think is the secret of the fact that it came to the attention of distributors?
I believe that, first of all and of course, the merit of the marvellous world-class actor Ralph Fiennes, who played a Russian man in the film. I think if there was not Fiennes in the role of Rakitin, we would never have got to the European rental market.
Was Ralph Fiennes invited into the role of Rakitin as an attempt to attract the attention of the international audience to classical works?
Not at all and, at first, I did not think that this would be possible. Initially, it was a dream. What if we took this actor in the title role? I had watched all of his work and he liked me as an actor, so it worked out and this dream was launched. At first, I could not believe it. Then, I believed when he came to shoot for six weeks early and started to learn the Russian language, or rather, to be engaged, as he began to learn Russian a long time ago. Even during the filming in St. Petersburg, he took a serious approach to the process. The press gave us very good reviews after the premiere and the reception was also very warm in London, so I hope for a successful movie rental market.
You are one of the few female movie directors in our country and abroad. Do you think it is hard to work with you on the set?
I probably do not agree with the statement that, nowadays, there are few women directors. I would say there are too many. Recently, there was a festival of young cinema, where almost all of the directors were young girls. As for directing as a whole, it is now actively becoming more female. On «Kinotavr», by the last show, almost all of the pictures had women directors. Life changes, with changes related to direction and related to cinema as a profession and everything becomes much easier.
Of course, the young filmmakers in movies cannot be compared with those who worked in the mid-20th century. Then, we worked with very talented and very important people and every film became an event. Alexandrov and Eisenstein are two great names, but now everything is different and unique challenges exist to making each new movie. Such an attitude to the cinema as aspiration no longer exists and a movie can be shot by anyone. Therefore, a woman coming to the cinema dictates the rules of the game.
The fate of your life has been quite favourable to you. Do you believe in fate and that everything is predetermined?
Yes, I think that, still, there is someone who guides us through life — something that can be called fate. But, on the other hand, if you are a fatalist and if you believe it is not a coincidence, that everything is predetermined, then you can do nothing at all, but just go with the flow. So, I think that it is still in the fate, but so much depends on you.
Who can you call your idol; the person from whom you have learned the most?
Joseph Heifetz, who once filmed «The Lady with the Dog». Andron Konchalovsky was absolutely wonderful when he made his classic films, such as «Uncle Vanya» and «Noble Nest». All paintings of Leo Kulidzhanov.
You look amazing. Tell us, what is your secret?
Well, firstly, I do not think of the year and, secondly, I do not do anything for this look because when I'm working, I'm all up to whatever I am doing. The work on the set is always very hard and there is not enough time for everything. In the morning, you go to the site and come back at night. You forget about everything, even to eat and almost a month in this mode, well, it may be with one or two days off. I believe if you are doing something, there is no time to think about age. All of life must pass this test.
What do you expect from the future?
If we talk about some global things, I, first of all, want peace because now everything is somehow on the verge. There is always something difficult in our time, so I just want peace. If we talk about myself, I would like new and interesting projects. Honestly, I tell you that I do not live in the past and do not live in the future. I live in the present.
What are your creative plans? What are you working on now?
There is a very interesting project about Pauline Viardot and Turgenev, entitled «Turgenev and Viardot: 40 years of love». It is a history of feeling that he carried throughout his life. He died in her arms. This is an amazing story.  We had the presentation in Cannes. It is too early to talk about it because everything is in preparation now.
I wish you good rental of your film «Two Women» in the UK and success with your new project.
Thank you! Let's hope that the movie will be liked by the viewers.