Ludmila Budanova. I'm Happy that I Live Here
18/05/2017

Premiere Magazine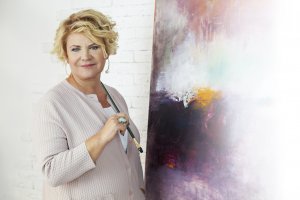 It so happened that my life was inextricably linked with 5 countries. Born in Russia, studied in Estonia and wor­ked in Latvia and Germany. Now, for 16 years, I have been living and working on the welcoming island of Cyprus. I graduated from the Acade­my of Music and Theatre in Tallinn. I always loved to draw. I graduated from the School of Landscape Design in Moscow and, for many years, studied the masters of painting in Russia and Ger­many. One day, I wanted to draw in a way that could pass on their "condition"; their view of the world, which is filled with joy and happiness. It turned out that this is called "abstraction"; a style that developed throughout the twentieth century in many countries around the world by forming specific directions and types. Finally, it was recognized as an independent art form.
Every artist sees the world differently and abstract style allows him / her to write uniquely. Painting in this style is impossible to copy. Expressive composition combined with the power of light and colour; that is what I am doing in my work. I am working with rich co­lours, superimposing layers upon layers so that it looks like the light is flowing from the inside of the picture.
I think that there is no need to explain what a picture is; you either love it or you do not. Sometimes, of course, it can be recognised as a certain thing, as I love the water: seas, rivers, waterfalls and rain. Water often appears in my paintings. One of my favouri­te settings is a lake or waterfall and, of cour­­se, there are flowers. My good angels, who help and support me in my creativity, are my darling daughter and my beloved friend. To them, I send photos of the fi­nished work to hear their opinion. Here, for example, are my friend's words about
one picture: "It's like a frozen bundle of energy. It attracts my attention and makes me think. The circling, almost dissolving, gives the opportunity to live to all living things, adding a drop of strength".
I happily part with my works. This is happiness, when people are with you on the same wave; when they admire something that you have created by your imagination. There are more and more professional collectors who buy my paintings. It is, of course, inspiring. I can be proud of the fact that my works decorate many houses in Cyprus and in other countries. I think that abstract paintings are very good for modern interiors.
I am happy to participate in art exhibitions and proud to be a member of a group of 20 abstract artists of St. Petersburg. Our group exhibition will be held in the gallery "Gor.Artist" this summer (Vasilyevsky Island, a Large p-kt. d. 92), on 25- 26 August 2017. I will also participate in the international exhibition in Amsterdam "Beurs van Berlage", where 400 artists from around the world will showcase their work.
And, finally, our favourite: Limassol. I invite everyone, on the 20th of April, to the "Thiseas Art Gallery", to my personal exhibition. A year ago, at the opening of the same exhibition in the same gallery, the father of the project "Creative World", Vyacheslav Zarenkov, said that he had been watching my work and noted that it was very fast, bright and modern. He invited me to participate in one of the exhibitions in Saint-Petersburg.
Landscape Design
The work of the landscape designer is similar to the artist's work. First, you see the building plot as a blank sheet and your imagination is already drawing the future picture of the gardens. It is extremely creative work because each garden is created individually. I prefer to create landscaped gardens in Mediterranean style, using olive trees, cypresses, oleanders and albizzia. I love to play with colours. Cool coloured plants should not be mixed with warm. I love the olives, as they have unique trees. They can reach the age of 3000 years, not to mention their benefits and beauty. When the Japanese, guests of our island, saw an ancient olive tree, they were surprised that we were so fond of bonsai, as they think that olive is much "cooler"! My credo in landscape is to stick with plant groups and not to use a lot of different types of plants in the same garden. Otherwise, it will be a "salad".
This year, I have been working on an unusually interesting, meaningful and creative project. Near Nicosia, in the metropolis of Tamassos and Orini, our compatriot, Vyacheslav Zarenkov, has laid the building of the Russian Orthodox Church of the Apostle Andrew and of all Russian saints. The task was difficult. It was necessary to combine the building of the Metropolis of the Cypriot Orthodox Church, Romanian churches and the Russian Church in one complex, given that it should remain a large area for all festivals, weddings and celebrations. As well, it should serve as a children's playground, a stage and have other facilities. Mr. Zarenkov wanted people to come not only to church, but to spend time in the gazebo and pavilions and to relax in the shady alleys of the park, while admiring the many mosaics on religious themes. They could walk with their children on the grounds or attend weddings and concerts. In the metropolis of Tamassos, Bishop Isaiah wanted people attending church who could learn more about Cypriot and Russian saints. I want to say that both men were, in good meaning, obsessed with the idea of creating something extraordinary, necessary, important and unique. I'm sure that they succeeded.
I was presented the idea of this landscape complex and it was approved. I started a big job, especially because the customer gave us a very tight time frame. The whole complex of works was completed in record time; in little more than a year. All the plants were more than a thousand and were imported from Italy. They were tall and selected. It will take quite some time for them to take root and then the park will delight us with its blooms and the Avenue of the Saints will invite us into its shaded coolness.
They say a garden is never finished and indeed it is not. Now, for example, there is a new trend: vertical gardens, which are living green walls of plants that can be placed inside the home or outside. I'm happy to introduce this new product that we have in Cyprus: both from the living and artificial plants. I work with a talented architect, who is a graduate of the Moscow Institute of Architecture, Natalia Savchenko. Now, we are participating in the non-profit project to change the centre of Feeney village, at the request of an enthusiastic dreamer and a dweller of the village. Of course, we have a lot of ideas. This village, for 400 years, has been famous for the production of clay pots. In our opinion, the sculpture Women of the Potter's Wheel would be great to put in the square. Sparky decided to put the plan to the discussion of villagers and to see what happens.
By the way, in this beautiful mountain village, in the summer season, I live and write in a house that is 200 years old. It is, at the same time, the Museum of Ethnography and, now, my workshop, where I invite you. Ask anyone in the village and they will show you. The morning begins with the singing of nightingales and the evening ends with the frog chorus. The river, the waterfall and the silence are mesmerising. The locals are very friendly and, of course, they are wondering what kind of artist is this Russian. Once, I brought in a lady; a professor-critic and a relative of one of the residents. She looked at the painting and I carefully asked her: "What are you seeing he­re?" She explained that this is an abstract painting and some­thing else in Greek and, in the end, she told me: "I see that you write with soul. Are you happy with your creativity?"
I would say that I am very happy that I live on this island. I love people, nature, the sea, mountains, picturesque mountain villages, passionate Greek dances (especially Zembekiko) swimming in the sea in winter and in the summer, swimming in waterfalls and doing yoga. All of this probably fills my "creative well" from which I draw inspiration!
My websites:
www.cyprusecogarden.com, www.alisa.online
alisa-online.jimdo.com
E-mail: [email protected]
Tel: +357 99486976
"Three sketches of Lucian Freud" by Francis Bacon
Francis Bacon was an English expressionist painter and a master of figurative painting. His triptych, in 2013, became the most expensive work of art in the world. "Three sketches of Lucian Freud" was sold at Christie's auction for a record sum of 142 million dollars.
The triptych, created by the artist in 1969, was auctioned for the first time at a pre-sale estimate of 85 million dollars. Bidding lasted only six minutes and the auction house did not disclose the identity of the buyer. Each part of the triptych has the same size of 198×147.5 cm. Each canvas depicts Lucien Freud in different poses, while seated on a chair is the artist Lucien Freud. The background is orange-brown, which is brighter than normal for the works of Bacon.
"Number 5" by Jackson Pollock
"Number 5" was completed in 1948 and utilised the technique of spraying, which is the corporate style of the artist. The picture size is 243.8×121.9 cm and is mounted on fibreboard (hardboard).
In 2006, at an auction organised by the auction house Sotheby's, it was sold for 140 million dollars. It is believed that the hype surrounding this painting was created artificially. All of the paintings of Jackson Pollock were presented in museums and sold freely. Yet, "Number 5" was hidden and shown only when all of the other artworks were sold.
Consequently, the price of the painting went up to the heavens and broke many records. The original painting was in a private collection and was then exhibited in the Museum of Modern Art in New York. It then became the property of producer David Geffen. Who sold it for $ 140 million? According to unconfirmed reports, it was a famous Mexican billionaire.