Katerina Mina: "Let us create, not imitate!"
08/01/2018

Premiere Magazine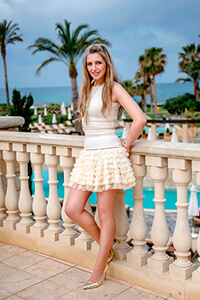 Katerina Mina — Opera Singer Soprano is a remarkable lady performing as a Soloist all over the world. She has won International singing competitions "Julian Gayarre" in Spain and "Musica Sacra" in Italy. She shares her story about the beginning and development of her career and about how she manages to still look great in a fast paced life.

Could you tell us a little about yourself, where were you born, where did you study, how did you choose this profession?
I was born in Limassol to a Cypriot mother and a Greek father and grew up in Nicosia. At the age of four I told my mother I wanted to start ballet lessons and when I was six, I asked if I could start learning the piano. I studied at Ethnikon Odeon Kyprou in Nicosia. When I was a teenager I joined the Odeon's Choir and began my tuition in classical singing at the age of sixteen. After graduating from the Acropolis Lyceum in Nicosia, I auditioned as a pianist in the main music conservatories in London and entered the Guildhall School of Music & Drama. My passion for singing eventually took over and I joined successfully the operatic singers during the third year of my studies.
What do you mean by "has made herself"?
For me, the "self-made" person is mainly the one who consciously guides him or herself during his development, who doesn't have conflicting internal thoughts of who he or she is and what he or she believes. In my case, despite the fact that I come from a family of non-musicians or singers, and from a country that has no real tradition in opera, I have managed to create my career and brand name, to establish and sustain myself in London and to be in demand as an opera singer, despite the stiff competition and the challenges that life has thrown at me along this journey.

Your schedule is very tight. Concerts in Germany, Russia, Italy, Spain etc. How do you manage to combine all?
I work very hard. I take one day at a time and deal with the huge amount of work in this way. I practice meditation and strive to have more patience when dealing with organisers and promoters. Sometimes, trips are so "back to back" that I don't have time to unpack my clothes and pack again for the next destination. Also, it is very rare that I have time to visit the cities I perform in, as I have to attend rehearsals and constantly keep on learning new repertoire while on these business trips. But this is the life I chose for myself and love most.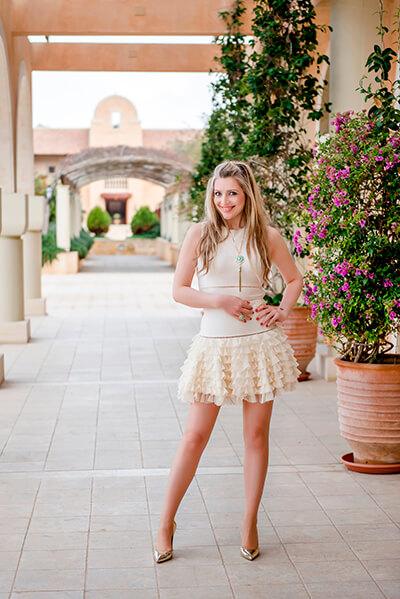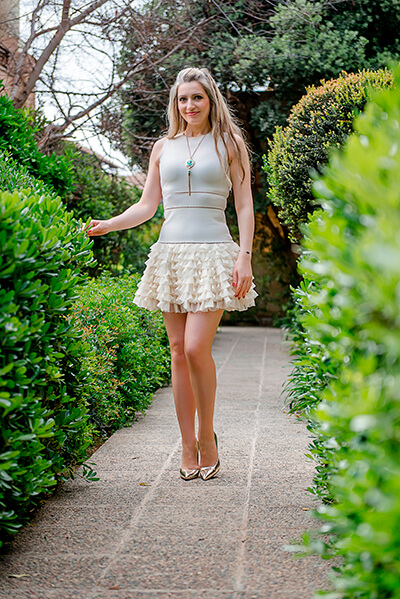 Do you have time for a personal life or a hobby (if any)?
I've learned during the last years to allow more time for pleasurable activities. I make more time to meet up with friends and with my parents and brother even though they're based in Cyprus and I'm based in London. Everything is possible when we approach life in a positive way and don't underestimate the importance of true friendship and strong family relations. Photography, writing and cooking are some of my hobbies that I find time for. I hope soon to be able to take on dancing too, as I really miss it!

There were a lot of victories in your life. What are the most significant for you?
Overcoming cancer at a very young age is the biggest victory in my life. From then on, every performance I give counts as another celebration for me. Some other significant achievements are the scholarships I received from the Corporation of London & the A.G. Leventis Foundation for my five year tuition at the Guildhall School of Music & Drama, the prizes I won at two International singing competitions in Spain and Italy, the Madam Figaro Singer of the Year Award, the recent Medal for "Peace and Friendship" of the Russian Federation, and performing at Starmus Festival during the same closing ceremony where Steven Hawking and Alexei Leonov presented speeches.
What, in your opinion, leads to success?
When preparation meets opportunity we have the possibility to be successful. Therefore, hard work, determination and the ability to recognise and grasp opportunities will lead us to success. Personal growth is also extremely vital in order to be successful, the ability to connect with our inner self and emotions, to forgive and forget, to love and appreciate life, to be humble and grateful, to be honest and true to ourselves.
You took part in a significant event, where the main words were creativity and women. How does creativity help in the career for both women and men?
In today's modern society the need for creativity is absolutely necessary. Be it a man or a woman, we need to produce and use more original and unusual ideas in order to develop our careers further. Let us perceive the world in new ways by turning new and imaginative ideas into reality. Let's create and not imitate!

In general, your repertoire is classical works. But as far as we know, you have the experience of playing with a rock star? What did this experience mean to you?
My God, what a joy it was for me to perform with Rick Wakeman, the main Keyboardist of the English Rock Band YES, one of the biggest legends of Progressive Rock, Orion Symphony Orchestra on the stage of the Queen Elizabeth Hall in London. I cherish the true friendship I now have with Rick Wakeman, and that is really what counts for me in collaborations.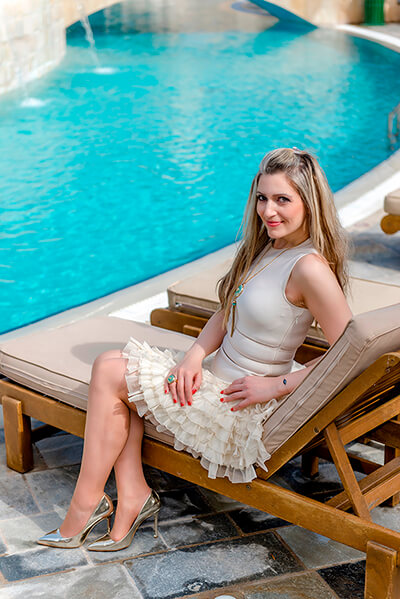 You are the owner of a medal from the Russian government. For what merits was it presented to you?
In 2015 I performed in Moscow four times. My last performance in Moscow, on 22 December 2015, took place during a fantastic Art Auction called "Art without Borders". It was the biggest honour and happiness to find myself receiving the Russian Federation's Medal for "Peace and Friendship" given to me by Mr. Shakurov, the President of the Moscow Peace Foundation.
Do you pay much attention to charity; could you tell our readers more about it?
My personal experience with cancer led to my spiritual growth, which enabled me over the years to actively help and empower cancer patients. I am a member of the Board of Directors of PASYKAF, the charity that helped me when I was undergoing chemotherapy. Recently, I started collaborating also with the Stefanou Foundation in London, a charity that promotes the well being of the very young and very old, protecting those who are suffering or at risk, but are unable to tell others about it.
Please give advice to our readers how to achieve great success in a career and in such a beautiful way like you do?
I am so flattered by your last comment, thank you! I think that being positive helps me feel better, which makes me smile more and feel radiant inside. Also, I don't smoke, I drink in moderation, I eat lots of vegetables and fish and I walk on a daily basis. I'm pretty sure though that in my case, the singing is the main reason for feeling good with myself! As far as achieving great success in one's career, it is very important to be well focused on our own goal attainment and to be passionate about what we do. Long hours of work and compromises in our personal lives, discipline, determination, patience and decisiveness are necessary factors in order to be successful in today's competitive world.