Ivan Okhlobystin. ''I will squeeze reality like a wet rag''
31/12/2017

Premiere Magazine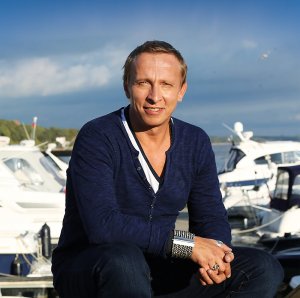 He is either loved or hated. You cannot treat him indifferently. It is both paradoxical and multifaceted. Actor, director, script writer and writer, priest (temporarily banned from church) and multi-children father. All of this makes up one Ivan Okhlobystin. Before his upcoming performance in Cyprus, we talked with Ivan about God, freedom and the meaning of life.
You are coming to Cyprus for the first time with your per­for­mance. The name of the play is ''New Russian Philosophy''. What is the play about?
In recent years, there have been many landmark events that have changed us. We just need to work out our attitude to these changes. For the most part, this is an internal process…and this is not a performance — it's a conversation…almost antiquity.
As you said once, you chose creativity as a profession capable of fulfilling dreams. Are your dreams fulfilled?
Is this not obvious? Another thing is that in the concept of creativity, I invest the whole spectrum of human capabilities, including my personal life. Each of us is a creator. In any case: a person can become capable of much.
''I'm not a rebel, I'm a loner, living by the principle ''you can breathe only by the wind''. This is something that you have previously said. It's the motto of being free from everyone and from everything. How does this relate to the fact that you have many children? Do you sometimes feel a lack of freedom?
Only a truly free person can afford true personal happiness. True love, an ability to sacrifice and many children; this can only be possible for a strong and, therefore, free person.
What was the most important thing that your family gave you?
The meaning of life. I know for whom I live. To live for myself is absurd.
Put your main priorities in life in order of importance.
''All is corruptible (nothing), except God and family!'' is my motto.
''Do not fear God, but inspire Mercy!'' is my prayer.
And on the question: ''How are you?'' I usually answer: ''Better than always, but always is brilliant!''
Who do you see yourself in 10 years from now?
I want a surprise…and to be honest, it's all the same. I know one thing: It will be awesome! As usual, I will squeeze reality out like a wet rag!
What are you most afraid of in life?
To lose my loved ones.
You were closer to God than the townsfolk at the time that you were ordained a priest. Have you thought about what you would tell Him to be in front of Him?
I'm not sure He needs my opinion. I will not say anything. I will listen.
What do you expect from the Cypriot vie­wer and wish to happen?
In both cases, I would like us to have fun…and to get it and share it.
"Three sketches of Lucian Freud" by Francis Bacon
Francis Bacon was an English expressionist painter and a master of figurative painting. His triptych, in 2013, became the most expensive work of art in the world. "Three sketches of Lucian Freud" was sold at Christie's auction for a record sum of 142 million dollars.
The triptych, created by the artist in 1969, was auctioned for the first time at a pre-sale estimate of 85 million dollars. Bidding lasted only six minutes and the auction house did not disclose the identity of the buyer. Each part of the triptych has the same size of 198×147.5 cm. Each canvas depicts Lucien Freud in different poses, while seated on a chair is the artist Lucien Freud. The background is orange-brown, which is brighter than normal for the works of Bacon.
"Number 5" by Jackson Pollock
"Number 5" was completed in 1948 and utilised the technique of spraying, which is the corporate style of the artist. The picture size is 243.8×121.9 cm and is mounted on fibreboard (hardboard).
In 2006, at an auction organised by the auction house Sotheby's, it was sold for 140 million dollars. It is believed that the hype surrounding this painting was created artificially. All of the paintings of Jackson Pollock were presented in museums and sold freely. Yet, "Number 5" was hidden and shown only when all of the other artworks were sold.
Consequently, the price of the painting went up to the heavens and broke many records. The original painting was in a private collection and was then exhibited in the Museum of Modern Art in New York. It then became the property of producer David Geffen. Who sold it for $ 140 million? According to unconfirmed reports, it was a famous Mexican billionaire.