Evelina Bledans. Shining in the glow of the spotlights
30/10/2017

Premiere Magazine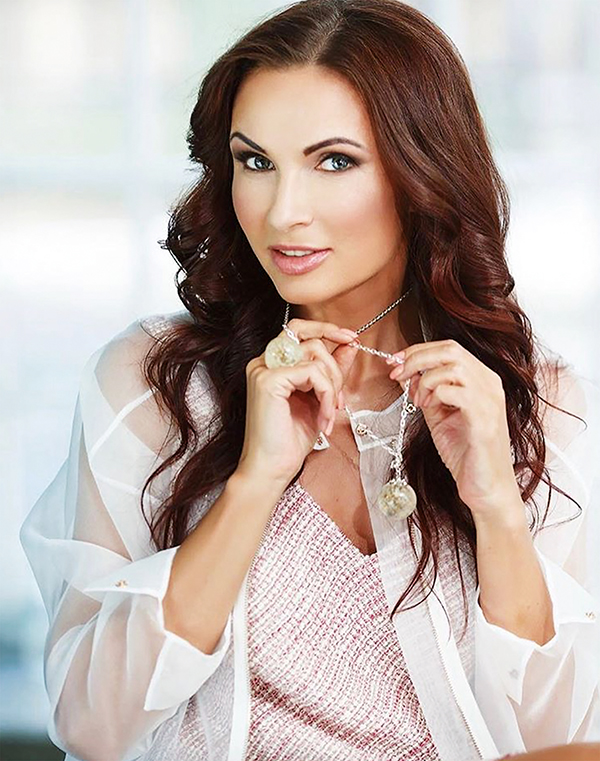 Charming, extravagant, talented, diverse… Evelina Bledans! She triumphantly broke into the world of cinema, causing undisguised enthusiasm from the audience, with the image of a sexual nurse in the comic series ''Masks Show''. Then came memorable roles in enterprises like ''Danae'', ''Treasures of Pelican Island'', ''Do Not Wake the Sleeping Dog'', ''The Decorator of Love'' and ''Decameron''. The creative personality of this actress required a variety of embodiments… She became a TV presenter in the projects ''On the Boulevard with Evelina Bledans'', ''Sexual Revolution with Evelina Bledans'', ''Everything is our Way'' and ''Everything will be Fine''.  Her vivid personality found its application in the reality show of the First Channel ''The Last Hero'', ''The Great Race'' and ''Cruel Games'' and the ''One-in-One'' show of reincarnations became very popular as well.
On the eve of the opening of the sixth theatrical season of the ''Magic World of Theatre'', which will be held on October 6, 2017 in Limassol, on the stage of the Rialto Theatre, we talk with the brilliant Evelina Bledans, the main actor in the comedy-drama ''Love in Italian''. With a powerful maelstrom of inevitable events, adventurous sketches, inconceivable paradoxes, romance, passion and black humor, there is something for everyone here. If this is not enough, the artists perform the arranged songs by Julia Kima live and the costumes of Evelina Bledans, made especially for this performance by the best Russian and foreign couturiers, delight in brilliance and variety, turning the show into a kind of fashion show.
Evelina, tell me, please, what will please the audience of Cyprus?
I will make you happy, amuse you, surprise you and I'll bewitch you…all at the same time. My wonderful partners, People's Artist of Russia, Semyon Strugachev, and Honoured Artist of Russia, Andrey Fedortsov, will present, to the court of the Cypriot public, the play of the Italian playwright, theatre and literary prize winner, Aldo Nikolai, who is famous for writing comedy plays.
Imagine a wonderful summer day. A person goes to the beach to take a dip and does not even realise that, having met there with a glamorous beauty, he will confront her (my) face with a blind and merciless rock…slightly modifying the plot of ''Divine Comedy'' by Dante. The author of the play creates a parody of the circles of hell, through which he will hold his hero. From the colourful beach to prison dungeons, from the trauma department of the clinic to a madhouse, a charming Beatrice, instead of the inspired guiding star (for which the hero went to the underworld), will appear in the image of a predator, requiring complete dissolution in her and her desires.
Why is the genre of the performance ''defi­ling comedy''?
''Love in Italian'' — The performance has a long tradition. Semyon Strugachev, director and performer of the main male role, has been playing it for 20 years and I appeared in it quite recently, about 2 years ago. Other actresses were talented, but I would not be satisfied if I did not bring something new into the play. If my predecessors changed their costume once in the first act and a second time in the second act, then I came up with the idea that my Eva, like a real woman, would change costumes 13 times for a performance! Of course, this is quite difficult to perform tech­nically because my heroine is constantly on the stage (and the outfits are com­pletely different  in mood and image), but I manage to change clothes in a matter of a split second. This gives the performance originality and it was with my coming into the project that it received the prefix ''performancedefile''.
Who created the costumes for the play? Is this your part?
For dresses, I have a huge dressing room, as well as a garage with spare suits, which can be useful for shooting and performances. Therefore, there were no difficulties in providing 13 pieces for this performance. Along with my heroine, her clothes (shoes, handbags, hats, accessories and ornaments) are one full and equal character in the play. Some costumes, namely the snakes, were bought by my husband, Sasha. The snakes (I have a dress and a headdress, and my son, Semochka, a suit of a snake) were something specially sewed for this performance. The final dress, which should be the most vivid and catchy, was handcut by the handicraftsmen. Things were created by my own brand of clothes, ''Bledans'', which I have now launched into production. With ''the world on a string'', I collected the costumes for the play.
You always look refined and elegant. Who is involved in creating your image?
In fact, no one is involved. Basically, it's always just my personal desires and preferences. If earlier I was preparing for some significant event or shooting for a couple of days or at least for the evening, now I'm going to go right into the morning. The idea is born intuitively and momentarily, depending on whether the sun is shining outside the window or  the rain is falling. On trips or on tours, I am always accompanied by a suitcase, or at least two different sets of clothes. Even if I only wear shorts and a T-shirt, I have to be sure that there is everything on hand for a sudden hurricane or an evening exit into the ''lights''.
Your life is always diverse and satu­rated. Tell me, which style do you pre­fer at the moment?
I do not give preference to any particular style because I'm interested in every­thing. I love to mix. I change different cities, different companies and different types of activities. I cannot sit in one place. I just spent two weeks in Crimea, at the children's film festival ''Scarlet Sails'' in Artek and I'm returning to Moscow, where I will be shooting. Then, I'll go to the festival of visual creativity, ''Virtual Reality through Dali's Eyes''. Still in plans are performances with Peter in the Baltics, then off to Spain on the sea and, on October, 6th, to Cyprus with performances of ''Love in Italian''.
Evelina, what is the secret of your inex­haustible energy, femininity and beauty?
Now, I am in Crimea, this place of my strength, as I was born here. It is here that I am charged with energy. The sun, the sea, the purest air, the fruit, the kindness and sympathy of people, my close friends…all this gives me the right energy. I am sure that I will get my emotion from Cyprus because I am a very impressionable and grateful person.
Tell me how do you feel about existing diets and what does a healthy way of life means for you?
I do not count calories. I eat when I want and as much as I want… and I want to often and a lot. So, you have to move, swim and walk a lot. Now, I have a new ''trick'' — I'm jumping on the trampoline with Semochka. It revives me, along with having a yoga trainer and the gym. Swimming with dolphins is also excellent. When you hold on to its fin, your hands work well. You can just walk with the dog for an hour at a fast pace and also get the necessary workout. My motto is: ''Eat when you need and move as much as you can!''
In the press, you are named as a person breaking the recognised stereotypes. What are your vital values?
I am a woman like everyone else and, for me; the most valuable thing in life is the birth of my children! Making everyone happy who is near me (family, relatives, friends, spectators), this is my HAPPINESS!