08/01/2018

Premiere Magazine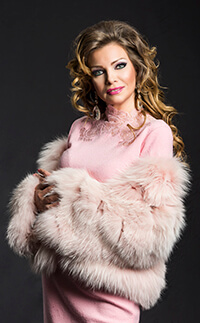 This cute and very beautiful little woman, with such a loving and subtle sense of the world around her, is the consummate artist, loving and beloved mother and the face of an association of artists, "Limassol Palette". She kindly agreed to give us an interview and to talk about love, art and mysticism…
"I believe there are no coincidences. Each meeting is significant for me. In my life, I've met the best and most brilliant people".
You are from an art family from Ufa. Please tell us about your family. What was their creative path and how are their experiences reflected in the formation of your ways?
I was born in an artistic family. My mom was an opera singer and my father is a famous artist (Honoured Artist of Russia and the Bashkir Republic).
I grew up on the stage and in the studio of my father, so I was a child absorbed by music and painting.
At 4 years, I painted my first painting and participated in art exhibitions. I tried to study ballet, but I believe that I took my father's genes and my path was predetermined.
Living in this atmosphere of creativity, I simply did not see themselves in the future in other professions and, therefore, I enrolled in art school in Ufa.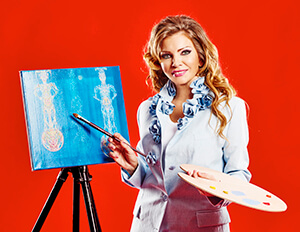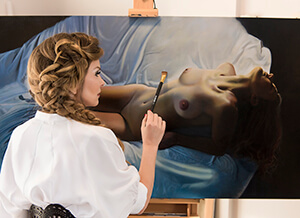 You have finished the Ufa College of Arts. How far is the genre of Bashkir folk art reflected in your work?
Of course, Bashkir works with very bright colours, as it is very decorative. In my paintings, there is decorative brightness. I have always admired the folk art of Bashkortostan and now it is reflected in my mystical works.
How did you create your style as an artist?
I created from what I felt and all that I saw and I eventually formed my technique, which is the essence of my thoughts, meditation, self-absorption, my inner world and my dreams.
What led you to Cyprus?
Has anything changed in your life and work after moving here? What has particularly attracted you to living in Cyprus?
Cyprus is the place for me, with a strong spiritual force. This is a wonderful island, where a lot of temples exist. There are wonderful people and the climate, tranquillity and harmony promotes the disclosure of all talents.
Here in Cyprus, I met with my teacher, the famous Cypriot artist Vassilis, and mastered the complicated techniques of the old masters such as Rembrandt and Caravaggio. It is a high art of hand compilation components for paintings, coatings and paints. Over time, here in Cyprus, I calmed down internally and my stress disappeared. Such a break gave me my creativity.
What inspires you to paint the pictures?
On this beautiful, mysterious island of love, a long search for myself and me as an artist has taken place through spiritual practices, yoga, dreams and reality, realism and mysticism. They are closely intertwined and are reflected in my work.
I forget everything when I paint my paintings. I can work the whole night, as there is some divine flow. I always pray before I start to work. God is always there.
I want people to feel purified looking at my paintings, to love and experience the brightest emotions and to be kind to themselves and to each other. I give to the people my love through my work.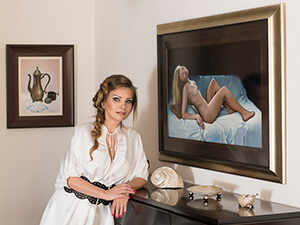 You are a member and a sponsor of the organisation "Limassol palette". For what purpose was it created? How does it function?
What is your role in it?
Limassol 20 artists came together to create a society "Limassol palette" for their exhibitions.
For the solo exhibition, you must present at least fifteen works. Not every artist can afford a solo exhibition and, through this association, they can carry their art to the people.
I am a face and the sponsor of the "Limassol palette", which is a very honourable position for me.
What are your creative plans for the future and are they connected with the island of Aphrodite?
Of course they are associated. I am planning to organize a personal exhibition and I hope I will succeed.
Good luck to you in organising your project and success!