08/01/2018

Premiere Magazine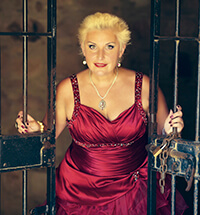 Anna, meeting you at many business conferences and economic forums, many people know you as the organiser of the charity art exhibitions and other art projects. What are you; a businesswoman or an artist?
I think I, primarily, am a good organiser.

What is your background (education)? Where did you study?
I was born into a diplomatic family. I lived and studied in Vienna, received a Russian diploma in the field of mathematics and then an American Master's degree in business management. In parallel, I finished courses in art history and contemporary painting, economics, taxation and yachting. I remember the most, about myself, that I never sat idle because, all the time, there is something new to learn or to try to apply in practice.
Yachting? You are able to control these vessels?
Of course, although I'm afraid to stand on night watch — I don't trust the devices.
Tell us about yourself as a businesswoman.
Like any woman, I don't want to share my age, but for more than 25 years, I have been working in finance. I started as an auditor in one of the "big four" and, in parallel, I lectured at my private consulting company.
In Cyprus, I passed the European certification of the Ministry of Finance, led a large investment company, advised clients and also put financial resources in various business projects. For so many years, I have accumulated a lot of business contacts and relationships, so I cannot imagine myself out of business.
How do you find time for charity art projects?
To be honest, I never thought about it until, one day, when I received a letter from the Russian Embassy with the request to support the annual Cypriot-Russian festival, organized by Vestnik Kipra. Thus was born the idea of the project "Russian Business-Ladies in Fine Art". I collected my friends who were businesswomen and who were also fond of painting. Then, I found sponsors, an exhibition hall and held a charity exhibition. We raised enough funds to even help organisations working on issues of children with autism (it turned out that, in Cyprus, there are many).
Briefly, for the second year, this project is supported by the President of Cyprus, under the auspices of which we hold exhibitions. I would, also, like to thank the Municipality of Limassol and, mostly, the mayor, Mr. Andreas Christou, who, despite his busy schedule, personally arrived at the opening ceremony. Each time, we try to raise funds for different organisations because there are many needy individuals. We do not want to make anybody ineligible for help. For example, funds raised from the exhibition in December will go to the Cyprus organization PASYKAF Cancer Patients. Cancer Patients.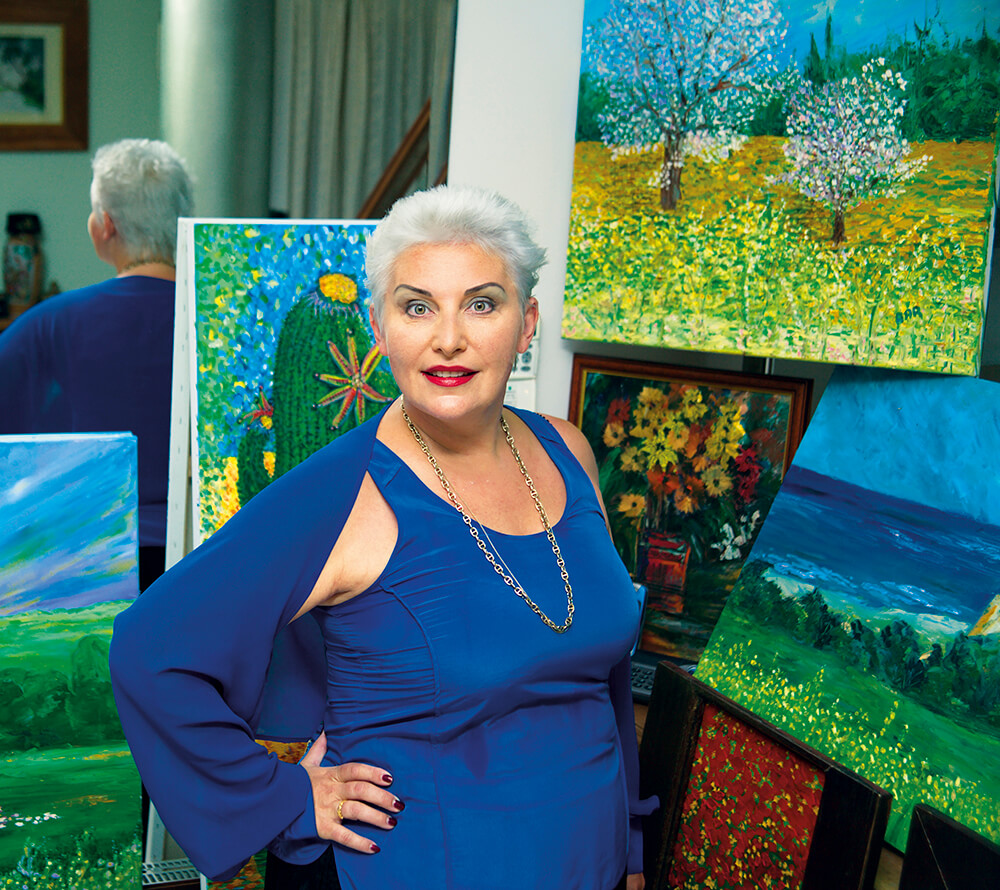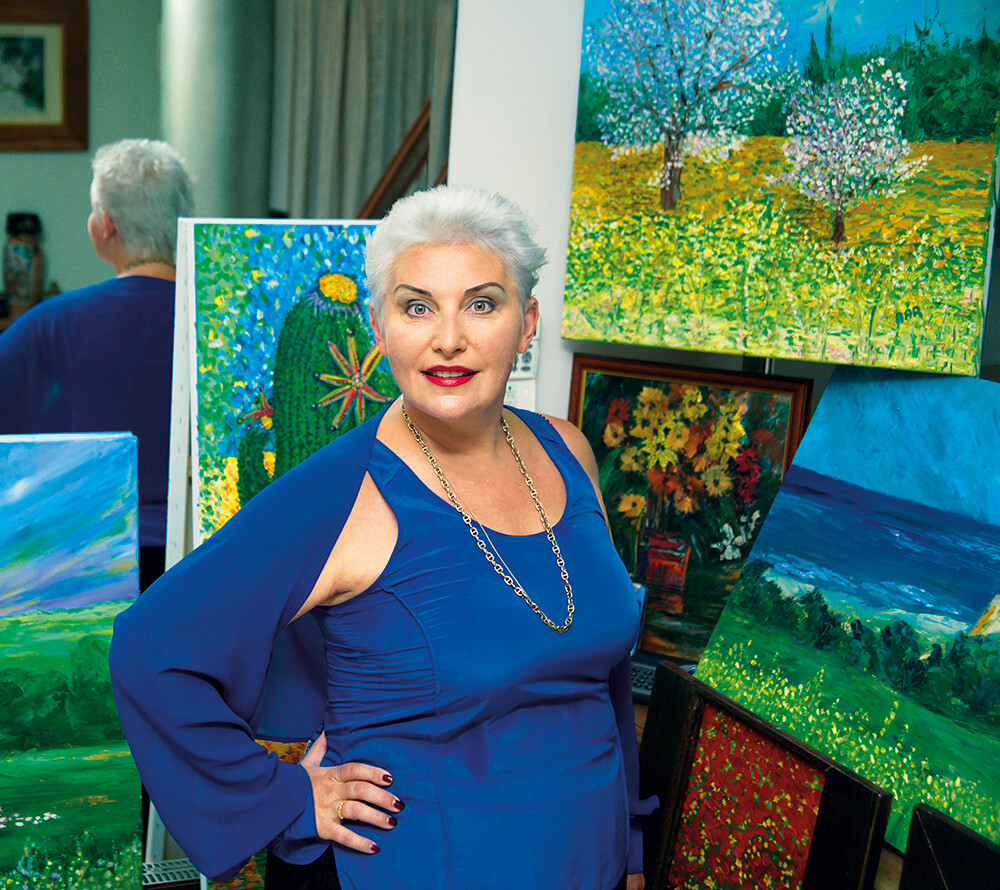 Tell me; is this your only project in the field of painting?
Fortunately, or unfortunately, no. I'm a Virgo, so I will try any initiative to bring it to a logical end. My fellow artists chose me as the Deputy Chairman of the "Society of the Limassol Palette", uniting artists of Limassol. In parallel came the idea of the organisation called "The Non-Profit Union of Artists" to include not just colleagues from our city.

What kind of union it is?
What are the aims?
First of all, I want to say that the idea of its creation is not mine. It belongs to the wonderful artist who, I think, it is necessary to present to your readers — Miho Ebanoidze. He raised more than one generation of children who have been admitted to the most prestigious art universities in the world.
We were supported by the local authorities because there is not such a union in Cyprus. Part of the founders included not only artists, but also businessmen and politicians. The idea of the "Union" is to include not only Cypriot or Russian artists, but also artists from other regions.

Have you already held any exhibitions under the "Union"?
The Union is still very young and part of the procedures is still under coordination with state authorities. You know that, in Cyprus, all is "Siga-Siga" prefecture, but, despite this, work is in full swing. We held an exhibition at the annual festival of Germasoyia; a wonderful exhibition at the exhibition centre of Aphrodite in September. It was held in a picturesque place on the seaside. On the 4th of November, in "The Russian Centre of Science and Culture", on the Day of Accord and Reconciliation, the Ambassador of the Russian Federation, Mr. S. V. Osadchy, gave a speech.
Also, the exhibition was offered congratulations by the Deputy Director of The Russian Union of Artists, Mr. V., and Scooters, who came to Cyprus especially for the exhibition. About our "Union" (alliance), they are already writing about us in the local newspapers and talking about us on radio. I believe that, this year, we have already achieved much.
What are your future plans?
Relax and spend time with my family and friends. If we are talking about business, I plan to continue my financial/economic activities that, generally, are not as interesting and captivating as the public work. There are many social-welfare projects. My immediate goal is the charity exhibition, under the patronage of the First lady of Cyprus, entitled "Russian Business Ladies in the Fine Art". It will be opened on December 8th and will last for 3 days. I invite your readers to visit it at the Centre of Panos of Solomonides in Limassol and, if possible, buy something from the presented art. After all, derived from the sale of the funds will go money to help the society support PASYKAF Cancer Patients. We also have invitations to exhibitions in England, Austria, Italy and even Georgia! I think we will start with Georgia. I like aromatic wines, delicious food and the attention of men.
Where will you spend New Year's Eve?
In Cambodia, at the temple complex of Angkor. That is, if the long-necked women tribe where we are planning to be for two days beforehand will let us leave.

This issue of the magazine is the New Year Edition. What will you wish our readers in the coming year?
Live life to the fullest, take from it the entire palette of colours, don't be afraid to mix and experiment. Happy New Year! May it be easy, productive and happy!