Andrei Gavrilov. Talent in Contrary
30/10/2017

Premiere Magazine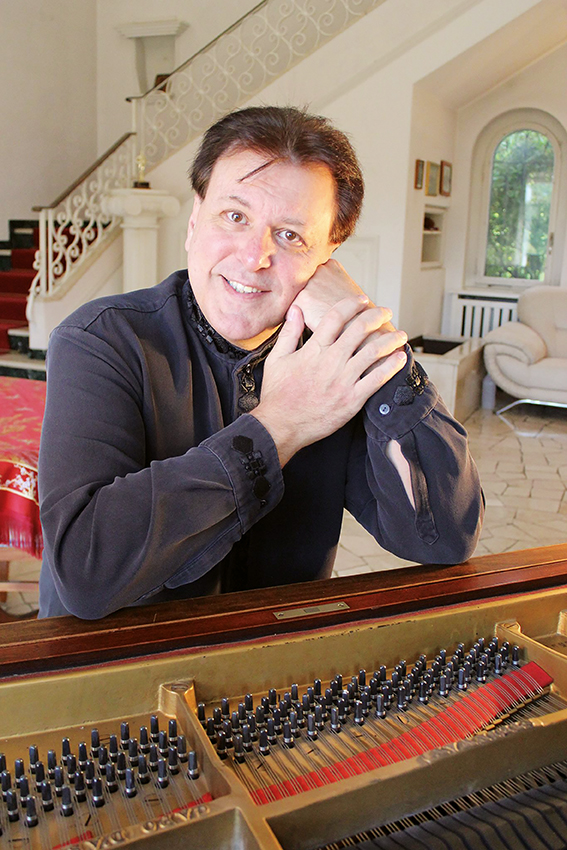 On September 23rd in Limassol, at the Pattihio Theater, they will host a concert of the famous pianist and conductor Andrei Gavrilov. The programme will include piano pieces by European and Russian composers, such as Chopin, and Prokofiev.
Andrei Gavrilov is surprising and delighting. The manner of performance is consonant with the life of the artist, in which there was success, persecution, a friendship with the great Richter, loneliness and recognition. The maestro — a former native Moscovite — now lives in Switzerland. For seventeen years of absence (1985-2001), Gavrilov fell out of sight of Russian music lovers, while the western audience followed his performances with constant interest. God kissed a child who was blessed with creative parents (father — a famous artist, mother — musician) when, at three years of age, he played by ear Mozart's Requiem. Then, there were home lessons, a music school and the Moscow Conservatory. The first-year student in piano, Andrei Gavrilov, first announced himself by receiving the Grand Prix at the Tchaikovsky International Competition (1974). After a brilliant performance (instead of the ill Svyatoslav Richter) at the festival in Salzburg, the participating young talents were showered with invitations from foreign conductors and famous concert venues. The London Royal Festival Hall first applauded Gavrilov, who played with the Bournemouth Symphony Orchestra in 1976. With no less success, European tours with the Berlin Philharmonic (1978) took place. A years later, performances with the best orchestras and conductors (Bernstein, Muti, Haitink, Abbado, Karajan, Tennettstedt, Rattl and Neville Mariner). Gavrilov performed and worked with recording studios (EMI, Deutsche Grammophon). His works by Chopin, Prokofiev, Bach and Grieg were awarded international prizes. The best was the collection ''Great Pianists of the 20th century''. Currently, Gavrilov is conducting active tours around the world. In Cyprus, Andrei Gavrilov will play for his first time.
On the eve of the upcoming performance, we conducted an exclusive interview with the maestro.
You are a citizen of several countries and the owner of many prestigious international awards. You have performed on the same stage with the greatest musicians of the world. Once, you said about your life: ''Fate plays me. It's a pity that it's mine''. Do not you consider yourself a darling of fate?
''Fate is playing me!'' exclaimed one of Shakespeare's heroes. I lamented that my fate is too kaleidoscopic. The dumbbell of fate is one of many clichés that humanity repeats without hesitation, but, in the world, everything is proportional. How much is given, as much is taken away. Each ''gift of fate'' is balanced by difficulties and adversities, so those who have received it better understand and experience it.
You took a long pause at the height of popularity. Were you over-satisfied with success? Or did you realize that you had reached the limit and there was nowhere else to grow?
I approached the point of no return, when I felt that I did not understand anything in music. At first, it is intuitive, then meaningful. Apparently, this was the starting point of a difficult and long way to a deep understanding of music.
How did this affect your inner world and you as a musician?
If one word is needed to answer the question, then it is ''growing up''. Becoming the path of conscious life, where phenomena and events are subject to intellect and will; where art is the philosophy of life. The final point of this path is the beginning of another life in the infinite space of music.
How would you comment on your words: «With women from the Christian civilization, I will not get anything — This explains my craving for eastern girls»?
I think the whole point is that the daughters of Confucius and Buddha have another life philosophy, another attitude to life, death, sex and everything that connects the two opposite sexes in a solid unity. The eastern outlook is closer to me. It does not create contradictions with my life priorities.
You somehow called the classical musicians a «degenerate caste of the stillborn» because they are not aristocrats of the spirit. Who is the «aristocrat of the spirit»? Do you consider yourself as such?
The aristocrat of the spirit is a man who lives in the world, but does not belong to it. It is a knight, serving good and love, while despising material values. I do not know if I managed to become one, but I have always strived and strive for spiritual aristocracy.
For the first time, you will perform in Cyprus. What will you present to the local public? What do you expect to receive in return?
I'll introduce live music. No expectations. There is hope for under­standing.