Zaha hadid diva of curves
04/01/2018

Premiere Magazine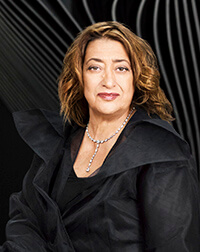 Shining or brilliant is the translation in Arabic of the name Zach. This is fully consistent with the wonderful Zaha Hadid.
Dame-Commander of the Order of the British Empire, Honorary Doctor of the University of America in Beirut, the first woman architect awarded the 2004 Pritzker Prize (Novebelevskoy Prize in Architecture) and author of "Suprematism".
Zaha Hadid is, in fact, a non-practicing Muslim who graduated from a Catholic convent school. One could label her as the consummate careerists, as she is without the traditional family or children. Still, there are no regrets on her part. Believing in the talents of women, her strength and independence has been a beacon for so many women who have trodden a similar path after her.
In her estimation, architecture has had the capacity to solve the civil and social issues that would not have been reconciled otherwise. Mad, angry, stubborn, persistent and obsessive, she has been labeled a diva often times. In spite of it all, the world of architecture has rejoiced in the contributions of the world renowned Zaha Hadid.
Not only an architect, Hadid is a mega-personality. Joining in projects with the likes of Lagerfeld, Lakos and Swarovski, she has created a theatrical scenery that is a testament to her talents; limitless and in demand in various fields.
Zaha has the status of a star. Her clients include world famous oligarchs, small oil-exporting countries and larger wealth producing countries. Standing on podiums reserved for world stars, she was commissioned to create a house for the then fiancé of Naomi Campbell (In August 2012, "Interview" magazine), Vladimir Doronin. It was a sort of house-spaceship, built on prestigious ruble near Moscow.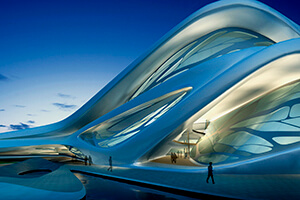 Zaha projects are very expensive, not only metaphorically, but also literally. For example, under construction at the moment is the stadium for the Olympic Games in Tokyo in 2020, estimated to cost $2 billion. There is also the Dongdoemum Design Plaza in Seoul costing $450,000,000 and the $250 million Heydar Aliyev Museum in Baku.
Her designs are, perhaps, unusual. Shapes are far from usual, with an organic use of space. There is fluidity in the lines, creating objects as if they were derived from liquid space.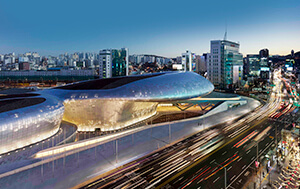 Disposing of bulkiness, there is an assured organic blend with the landscape. With the technological revolution, the emergence of new technologies and new materials, the creation of objects with absolutely no corners and seams has become possible; projecting no national identity.
Zahi have had every chance to stay a "paper" architect. Despite the recognition that she received at various competitions for nearly 15 years, many of her ideas escaped implementation. Customers did not need experiments. Still, she, in spite of a lack of orders, never departed from her ideas.
She never wanted to be an ordinary architect. Her only goal was to promote her new ideas. It was the project at the club "Rush" in 1983 that made a splash. Designed for a hill overlooking Hong Kong, it won a significant international competition, but has not been implemented because the customer went bankrupt.
Her first project was implemented by the company Vitra fire station in Weil am Rhein (Germany) in 1991-1993. Now, there is an exhibition hall.
Innovation is always done in protest and not many people manage to overcome its backlash. A fracture in her career was the project of the Opera House in the UK.
In 1994, Hadid won the tender for its construction. The conservative British society was strongly opposed. For almost one-and-a-half years, there was a constant harassment of her by the press. The customer, under pressure, withdrew from the project. She lost, but gained greater fame and, soon, customers appeared. When this happened, it had already been 44 years.
A breakthrough in her career was the acquisition in St. Petersburg of the Pritzker Prize in 2004. Her architectural firm became mega-popular. At the time of receiving the award, Zaha laid claim to only five modest facilities, but a year later, the number of projects had grown to 940, covering 44 countries. Now, her firm employs about 400 architects of various nationalities.
Zaha did not have a hard childhood. She was born in 1950 to a family of secured Iraqi industrialists. Her family lived in Baghdad in one of the first modernist buildings. After basic schooling, she went to study mathematics in Beirut and then to London. For nearly 40 years, she did not return to her home. In the UK, she enrolled in architecture school and studied with the famous Dutch architect Rem Koolhaas; a rebel who translated to her a love for the Russian avant-garde.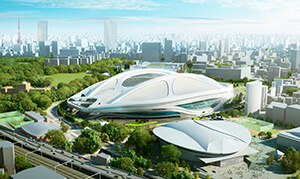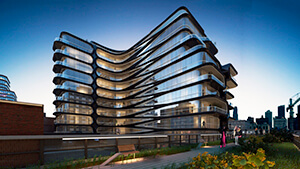 Soon, she created the project "Tecktonik Malevich". Her teacher described her as a brilliant pupil and "a planet in its own orbit." "She was always one step ahead", claimed one of her former classmates. Koolhaas, immediately after Zaha graduated from high school, took her on as a partner in his office. Three years later, she would take over and make it her own in her own inimitable style, as usual.
Of course, she dreams about the comfort of her own home near the water. She loves water. The house would be one of flexible spaces, with lots of light and comfort. The absence of her own home, family and children is the unquestionable cost of her success. Still, she does not regret anything. "Wanting to succeed, a woman has to do ten times better than the man. I just did not have all this time", Zach explains in one of her television interviews.
She is now in great demand and is building around the world. Sometimes, within two weeks, she has to visit 10 cities. She simply does not have time for a personal life. Her life is the projects. Her name is included in a list of the 100 most influential people in Europe. Her office will provide jobs for people for decades to come. What else could she ask for! They are her family and she has earned their respect, deference and love.