25/01/2018

Premiere Magazine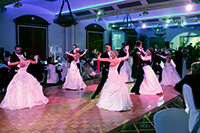 Who among us has not dreamed, as a girl, of, one day, becoming a princess and beginning to spin in a fast waltz, under the arches of an old building? In fact, this is quite feasible because the time has not passed on balls! Everyone has a chance to get in on the ball, even in the main dance world of Vienna. Still, it is not necessary to fly to the capital of Austria, as Vienna Balls are held in many cities around the world, including Nicosia.
What is the Viennese Ball?
This room is surrounded by flowers. It is a parade of luxury, with evening dresses, sophisticated hairstyles and gallantry. There are the best wines and champagnes, with a fantastic gala dinner by candlelight. There is a cultured orchestra, with the best opera voices and dancers. Popular and favourite dances are accompanied by workshops directly during the events for all of the guests. For more than 120 years, this magnificent and fashionable event has attracted thousands of people. The Viennese Ball has even been declared a UNESCO register of intangible assets.
There are specific criteria that must be confirmed in order for it to be recognised as a real Viennese Ball. Conditions are many. It must comply, for example, with the special protocol of a ballroom, with a necessary midnight performance and, in the morning, a closing ceremony. The hallmark of the Viennese Ball is the taking part of debutants — girls and boys, for whom this is the first real social event in their life. Traditionally, newcomers enter the hall to the sounds of Polonaise. After the Polonaise dance, their first waltz anticipates the grand opening…and the action begins!
Very soon, in early March, it will open its doors to all comers at the Charity Vienna Ball in Nicosia. It is a significant event in the cultural life of Cyprus. Every year, it attracts about four hundred guests from different cities and countries. This event is supported by the Russian Embassy in Cyprus. At a special meeting, we decided to ask a few questions to the organizer of the Vienna ball in Cyprus, who is also the choreographer, a ballet dancer and head of the School of "Fly-in-dance" (Nicosia), Tatyana Zenevich.
How did you get the idea to organize the ball?
Because it is a special occasion and it is a culture! It is a pastime for the beau monde and Cyprus is already a part of this. Yet, it still does not have its own culture and traditions.
Why Viennese Ball?
Ball: A waltz. Waltz: A Strauss, and Strauss is Vienna. Trendsetters of balls always advocate Vienna. I wanted to make something special, even for myself, my friends and loved ones. It was very important, at this point, to start moving; to find like-minded people who were passionate about their ideas and the need to move on and try to do what exists in dreams.
The first Vienna Ball was held in Cyprus in 2010 and it was more like a family ball. There were about 150 people. Those who regularly visit our balls always remember the very first as a special story. Austrian Ambassador in Cyprus at that time, Dr. Vasey, after the sophomore event, recommended to us to invite the mayor's office in Vienna for an official confirmation of the status of our event. We were pleasantly surprised and encouraged by the high praise and were honoured to be commended. Since then, representatives of the City Hall of Vienna, our regular guests and our sponsors have encouraged us every step of the way.
Are there any special traditions balls taking place on the island?
Like any organizer, we have our own little tradition. Given the great interest in dance on the floor in the master classes, often leading to breaking or losing heels, we always provide quick master shoe repair from our master shoemaker. At our ball, there is also a tradition called "White dance", when ladies invite gentlemen. Every year, it is tradition to choose a king and a queen. You may ask "on what criteria?" It is actually very democratic. They are judged on beautiful appearance, activity on the dance floor and, of course, good manners and mood.
Who are the most anticipated persons on the guest list this year?
Traditionally, it is the representatives of the City Hall and Vienna Ballroom Committee of Austria, a permanent guest of honour of the Ambassador of Austria in Cyprus, Dr. Mueller. Also in attendance are all of the consular department, diplomats from various embassies of Cyprus and businessmen from different countries. In the last two years, we have begun to see interest from Arab sheikhs. In the near future, it is planned to open the first Vienna Ball in Dubai, where I was honoured to be the main choreographer. Of course, every year is full of surprises!
For the ball, if skill is required to waltz, are all guests at the event capable?
If you know how to waltz, it is welcome, but, if not, then we, the organisers of the ball, provide and conduct master classes right at the ball. It's very funny when all these people are striding the basic steps of the waltz, polka and quadrille and everyone is in such a good mood, regardless of rank and position. They are drawn into the magical rhythm of the dance. After all, only a happy person can dance! We invite you to attend the 7th Charity Vienna Ball, which will be held on March 4, at the Hilton Hotel (Nicosia), with the support of the City Hall of Vienna and the Austrian Embassy in Cyprus. This year, all funds collected at the ball go to the following charities: "Fund of Children with Autism" and the "Foundation to Support Young Talented Artists"