Vyacheslav Zaitsev: "Fashion is born and dies — and the style remains"
28/02/2018

Premiere Magazine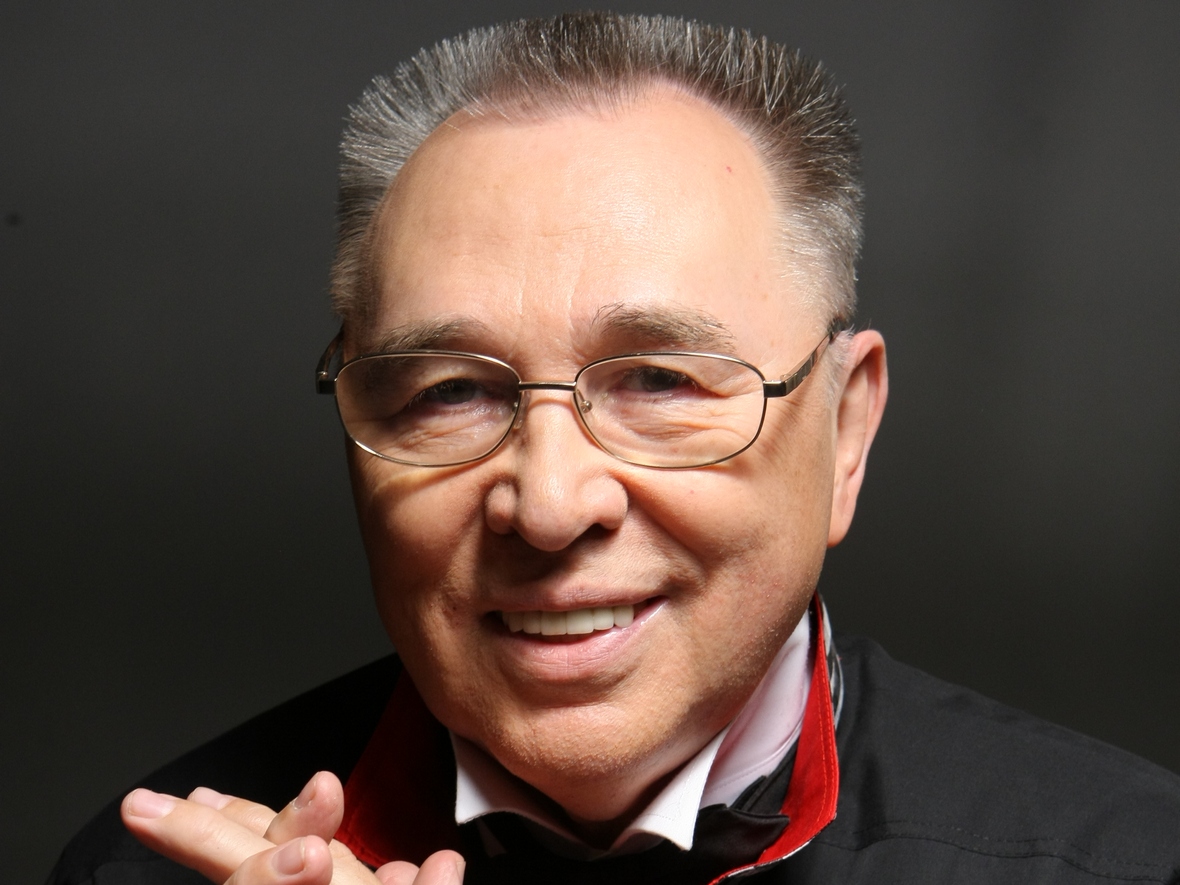 Vigorous, always bright and slightly outrageous, Vyacheslav Zaitsev is the first couturier in the USSR, known in the West as the ''Red Dior'' and the ''Soviet Pierre Cardin''. He is an honorary citizen of Paris and his hometown Ivanovo. It was thanks to his efforts that the whole world became open to a Russian style, with hats and other elements of the national costume, traditional patterns and motifs for embroidery, which have since been used in the collections of the best fashion designers of the world. We met with Vyacheslav Mikhailovich Zaitsev and he kindly agreed to talk with us about his journey in the world of fashion, loneliness, inspiration and about what should be present in the wardrobe of any stylish person, whether male or female. You had to go a long way from the bot­tom to success. What helped you to not give up?
I think that God has determined my pla­ce in life and that my mother taught me to lo­ve this life, nature and people. She taught me to be sincere and bene­volent and to work hard and well.
I was free in my creative expression. Another thing is that I was, initially, not allowed to translate what I knew that I wanted. Yes, to survive, working in this country and in this world, is quite difficult. I survived and, I assure you, it is only thanks to the uniqueness and huge love for the culture of Russia that I have and, also, thanks to my knowledge of the Russian mentality. All that I did in fashion, I did contrary to the circumstances, officials, rejection and, initially, the misunderstandings of the crowd. I do not regret anything, as Édith Piaf once sang. I am endowed with a special sense of beauty, which I have shared with my people all my life. Our people are very good, kind, beautiful and sympathetic to the beautiful. They respond positively to attempts to do something good for them and open themselves joyfully to this. This is enough for me.
Almost all your life you lived alone. Does loneliness help a person in the realisation of his plans?
I'm used to being alone. I'm comfortable with it. I'm very interested in life. There is always a lot of bright people around me; a lot of wonderful meetings and suggestions. There is a lot of work to do and it pleases me. Life is filled with frenetic activity, but maybe not always effective, Nevertheless, I'm happy…and I'm in demand.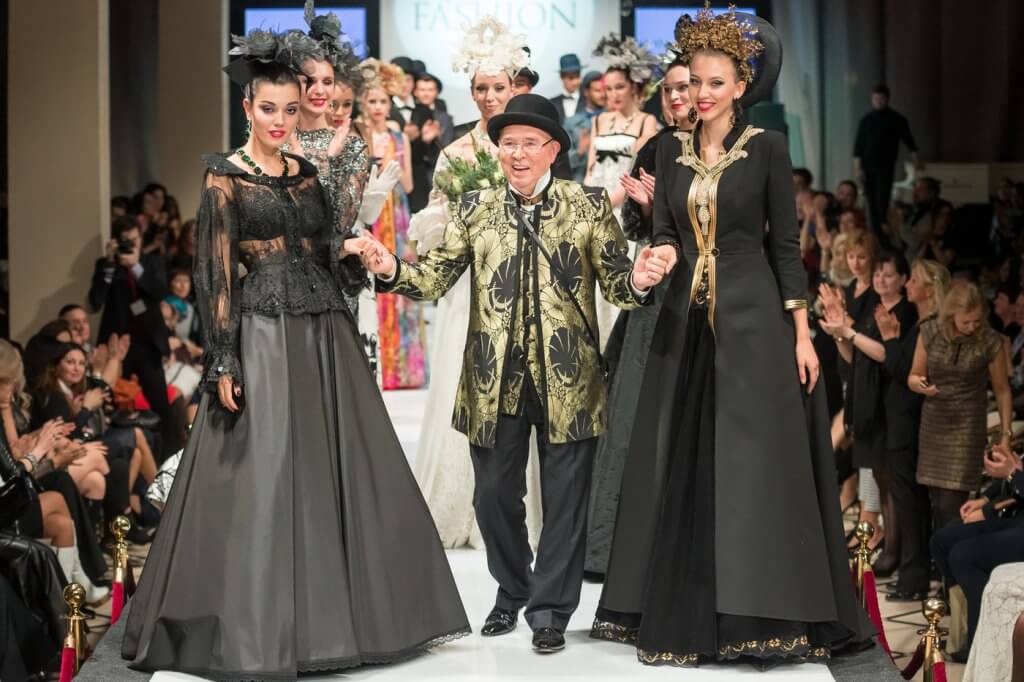 How do you relax from work?
I've never had a vacation. I've been living without it for more than thirty years. For me, a vacation is an opportunity not to work for at least two days, but to paint for the soul and to study painting and graphics. Still, it happens very rarely because I'm always obsessed with things and at meetings. It takes a very long time to find moments for pause. I have already stopped going to any presentations and exhibitions, especially since they usually happen in the evening and I cannot afford to waste time in traffic jams. I live outside of the city, in a mansion, which means that the drive takes two or three hours one way. A common misconception is that the artistdesigner, all day, only draws and communicates with muses. My day is filled with pressing problems of the Fashion House, including fittings with customers, meeting with journalists, business negotiations and solving administrative and economic tasks, from repairing elevators to relining pipes. On creativity, there are rare evening hours, often taken away from sleep.
What inspires you to new collections?
First of all, I think that life itself, with its surprising, at times unpredictable, events, is a phenomena that can dramatically change the established (as it were) rhythm of creative potentials and the needs of artistic and technological progress. The second inspiration is people, to whom I turn. Their passionate desire to penetrate into the mysteries of harmony and perfection, which are hidden in the pantry of the art of clothing, inspires me. The third is immersion in the astral, which does not always happen at my own will, but rather spontaneously, all of a sudden. This moment must be felt and be fullyarmed in time to fix it; to choose a spiritual idea worthy of embodiment in specific formations.
What should necessarily be in the wardrobe of a stylish woman and a stylish man?
I have been working with women and men for more than 40 years. Of course, it is preferable to deal with women, as they are much more mobile, more definite in their desires, slimmer and thinner in assessments and so on. It's very interesting to deal with them. Men are more difficult and still very conservative. It would not be very original for me to say that a man's morality and his clothes are in direct dependence. I am a supporter of the classics. For a woman, I would suggest a dress in a shirt style with a long sleeve on the cuff, a small, slightly raised collar with a lowlap fastener, a belt, black stockings and black shoes with a low steady heel. On the neck, you can tie a coloured neck scarf or put on bright beads. You must have a bracelet on your hand. The hair is combed straight back or gathered in a small bundle. A Russian woman should always have her face open. Makeup is neutral.
For men, I would suggest a highquality tweed suit or a large array of woven silk fabrics. Add to this a waistcoat, either from the same material or absolutely unexpected variants. A tartan jersey and light-knitted cardigan, both smooth, and with geometrical designs is recommended. Very important is the colour of shirts — classic white or colourful with patterns, stripes, shapes or flowers, both small and large. For solemn events, choose shirts with cuff links. I do not like it when a man with an open neck looks unkempt. You can wear a tie or neck scarf or ''butterfly'' bow tie. Ties with a wide knot or narrow, depending on desire, with a pattern, a large strip, a large shape or with a floraldecorative pattern.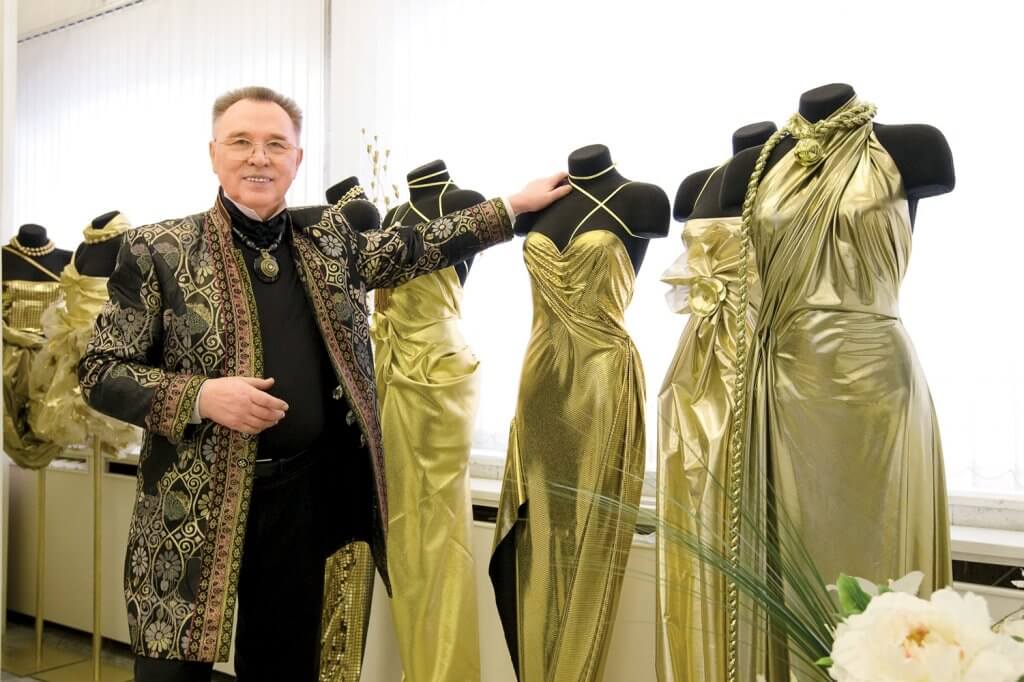 Who is the woman for whom you create your collections?
I mostly appreciate, in a woman, her personality and what she represents. For me, intellect is very important, which is in a worthy frame; when there is harmony between content and form, corresponding to the aesthetic trends of the time. In addition, it is important for me that a woman possesses all the derivatives of the word ''good'' — benevolence, virtue and integrity. It is very important that she is intelligent and wellread, so that it would be interesting to communicate with her. With a fool, the desire to interact disappears immediately, no matter how beautiful she is. Ugly, for me, is sometimes more interesting because a woman with imperfect facial features can always be stunningly decorated. Many external imperfections I can often forgive. A modern emasculated image, with all of these Barbie dolls painted — they are very annoying. Magical glamorous girls are simply trite and boring. You cannot see the woman, only the work of a stylist and makeup artist. A lot of magazines feature women of the same type, so monotonous and uninteresting, where beauty is shown so cold and detached.
Who is the ideal woman for you?
I will never forget my first work at the Moscow Art Theatre, where I saw a real aristocrat of thought and behaviour and an amazingly refined woman — Maria Babanova. Then, I worked, with great trepidation, with Lyubov Orlova and Klavdia Shulzhenko. My muses, to this day, include Elina Bystritskaya, Vera Vasilyeva, Marina Neelova and many others.
Who in our country is an icon of style, in your opinion?
It seems to me that there are no such women.
Which Western designers are close to you in spirit?
Dior, Cardin, Valentino, Armani. I observe that now fashion has become extremely heterogeneous. Fashionable is everything that comes into your head. Collections of different designers contradict each other, although even 15 years ago, they could trace a kind of common form. There is an element of fatigue, which gives such a mixture of styles. In addition, there are no big names that set the tonality in fashion. I think of Yves Saint-Laurent and Oscar de la Renta. Of course, Sonia Rykiel died and Valentino left the fashion industry. We'll write about this annoying change of generations among the fashion designers.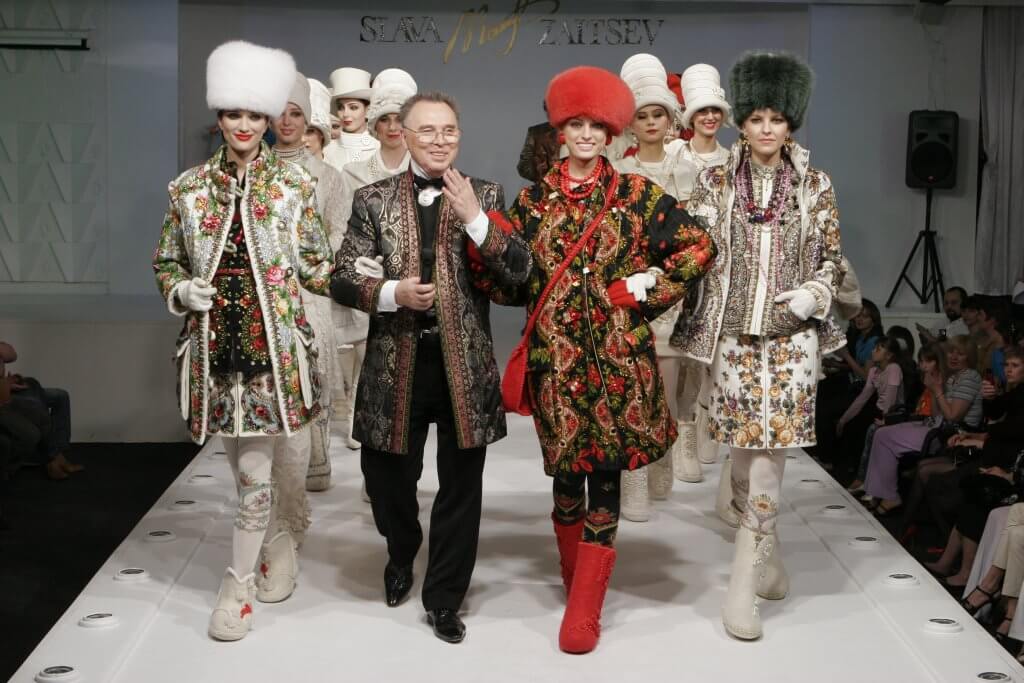 Who would you mention among Russian designers?
We live in an age of despotic humanism, when the freedom of personal expression is above alleverything is permissible. It is difficult for a young person to decide on his or her own scale of values, if it is not laid down by upbringing. Nevertheless, for the artist, this situation proves to be quite favourable, in the sense that he can express himself boldly. If there is financial support, then many issues of production and promotion of their models can be solved. Those who are commercially successful can be counted on one's fingers — Valentin Yudashkin, Igor Chapurin, Egor Zaitsev, Natasha Glazkova, Andrei Sharov and Yulia Dalakyan … But, I'm not saying that you do not need to try at all. You need to, or there will be no development. Now, large shopping networks have begun to show interest. They take small batches of models from local designers, which means there is hope that the young artist will be able to find some shelter.
With each new season, new collections repeat everything that has ever been in fashion before. Do not you think that a crisis has come into this sphere and that you will not see anything new?
Fashion is for people who are attracted to beauty. It's hard for a man to be ma­de to be fashionable. I believe that there is no man out of fashion. He is either oldfashioned or trendy or modern. The other is simply not possible. I have been in the industry for a long time and I see that the process of selfimprovement is constantly going on; the process of simplification, but towards elegance and clarity. Fashion exists for people, not just for the elite. High fashion haute couture, of course, is for professionals. This is the highest art, but, in the ''couture'', it is rather difficult to walk. When I create models, I add quite a lot of details, which can then be used separately. Someone will take a collar and can add some colour or a new composite compound. That is, high fashion should be very capacious. Therefore, I basically have quite complex sets. I believe that a person should live in harmony with himself and with the surrounding nature.
Harmony is the basis of any fashion, but fashion is momentary. It is born and dies — and the style remains. That's it and it is necessary to adhere to it always.
Fashion becomes more and more sex­less. In new collections, the lines between masculine and feminine are blurred. How do you see the future of fashion?
We can say that, today, there are no fashion legislators, as it was, say, 20 years ago. Androgyny, as a trend, began as early as Dior, when he scored the skinny boysmodels and began to make such refined clothes, very similar to the female form. For me, a man is the personification of a sports male body. I believe that a man should be a man; a defender, to bring joy to a woman. The correct attitude towards women, to style and to good manners — they too need to be formed. With today's youth, the men are good, but they are very bad with manners…and parents often cannot guide them because they, themselves, have not received the necessary education. Therefore, it is very important to get into an environment that could help a person to form properly.