THREE GRACES and GOLD of CYPRUS
19/05/2018

Premiere Magazine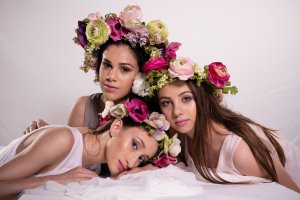 Where could three graces be born; three goddesses of grace; three assistants of Aphrodite? Of course, in Cyprus! Three very young girls: Diamanto Evripidou, Victoria Skittidi and Eleni Ellina, in stunning fashion, brought to Cyprus gold…sports gold. The Cyprus team in rhythmic gymnastics won team competitions at the Commonwealth Games, held in April 2018 in the Australian city of Gold Coast.
The victory of the young athletes was truly triumphant. Diamanto Evripidou won not one, but six medals! In the team score, the Cyprus team was among the top ten, despite the fact that the competition was performed by athletes from seventyone countries of the world. Such success, of course, is a result of daily, titanic work, but who dares to call these titans fragile graces? After all, rhythmic gymnastics is artistic and that is it, apart from physical mastery, plasticity, dance skills and a musical ear, which are all of great importance. Without proper coordination and the ability to work hard, gold medals cannot be won. Important: sports stubbornness, overcoming your limits and the will to win.
Each girl has her own journey, filled with ups and downs, as a sports life needs to be filled with dreams of future victories and new heights set. Of course, one thing unites them: a love of rhythmic gymnastics that was instilled and reinforced by trainers Chrystalleni Trikomiti and Lucia Trikomiti.
Oh, Sports! You are life!
Life and sport for Diamanto Evripidou are, indeed, inseparable. After all, a love for gymnastics Diamanto absorbed with her mother's milk; a coach in rhythmic gymnastics. In the small Cypriot village where the family of Diamanto lives, her mother organised a sports club in which she trained children. Diamanto came into the world of sports when she was only a year old. In the rustic gym, she grew up, watching her mother's classes with older girls. Once Diamanto, herself, repeated the most difficult exercise for the grownup girls, she began her journey. Since then, gymnastics has become, for Diamanto, the meaning of life. In hard living conditions, her character was shaped. Her ability to work, desire to win, ability to overcome and to always aim for first place; these are the characteristics of this notsofragile girl.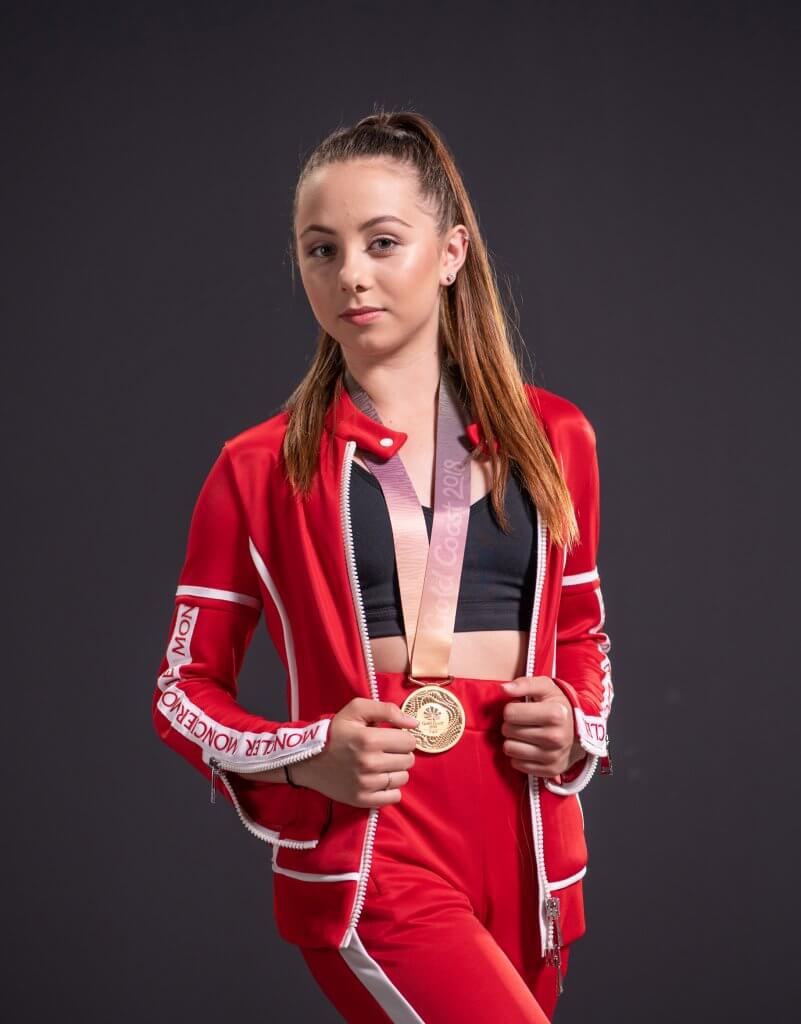 In 2016, Diamanto became carried away by ballet. In the ballet school, her new talents and talents as a dancer were revealed. However, Diamanto did not quit gymnastics. In parallel with the ballet, she continued to play sports…and here is the longawaited result. At the Commonwealth Games, she came in first! There are six medals in her ''bank'', four of which are gold!
The main thing  is  the greatness of the idea
On a sunny, bright day, around a pool with blue clear water, a small, slender girl is humming and dancing. A love of dancing first brought Victoria Skittidi to the school of classical ballet, and then, at the age of ten, she came to rhythmic gymnastics.
Today, we have an athlete who has achieved great results: Winner of international club tournaments, winner of championships and cups of Cyprus, participant in the World Cup and the Grand Prix since 2016 and finalist for the Deriugina Cup in 2018.
Sports achievements of Victoriaare inseparable from her personality. She speaks fluent Greek, English and Russian and studying French, as well. Victoria is already thinking about her future. The girl is going to study in England. She wants to become a lawyer and to craft her future with the International Olympic Committee. Additionally, Victoria draws beautifully, loves to dance and enjoys making music videos. In a few words, she is a beauty, an athlete and an excellent student! Good luck to you, Victoria!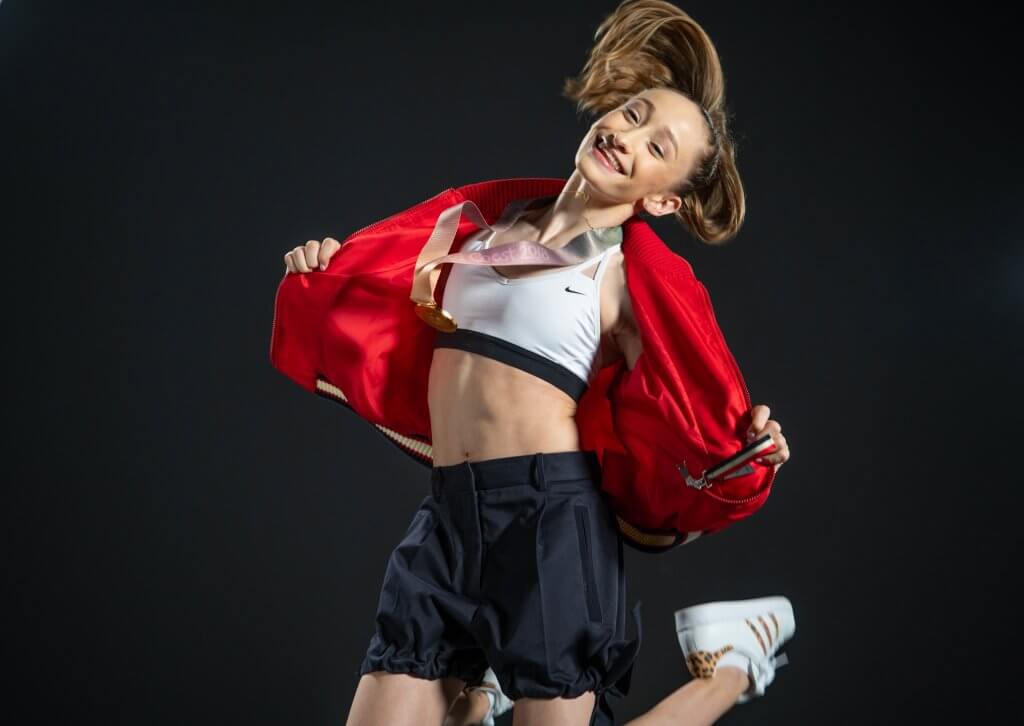 Through Hardship to the Stars!
When Eleni Ellina was four-years-old, her mot­her brought her daughter to a ballroom dance school. There, very soon, she was noticed as a talented girl and started to take part in international competitions in ballroom dancing. Despite her achievements in dance, at ten years of age, Eleni was carried away by rhythmic gymnastics, with her mom as coach. She helped her daughter not only to achieve results on the gymnastics carpet, but also to shape her character. Eleni is not childish, but, instead, mature, patient and calm. The ballroom dancing helped Eleni find her own artistic style in gymnastics, while sensitively understanding the music. All this perfectly complements her natural physical attributes. Over time, victories also came. For Eleni, now, sport is very serious. She has not yet decided on her future. There will be a sport or something else, of course. Only time will tell. Nonetheless, she is a winner!
We asked Diamanto Evripidou, Victoria Skittidi and Eleni Ellina to answer the same questions. It turned out to be a short manual for young champions.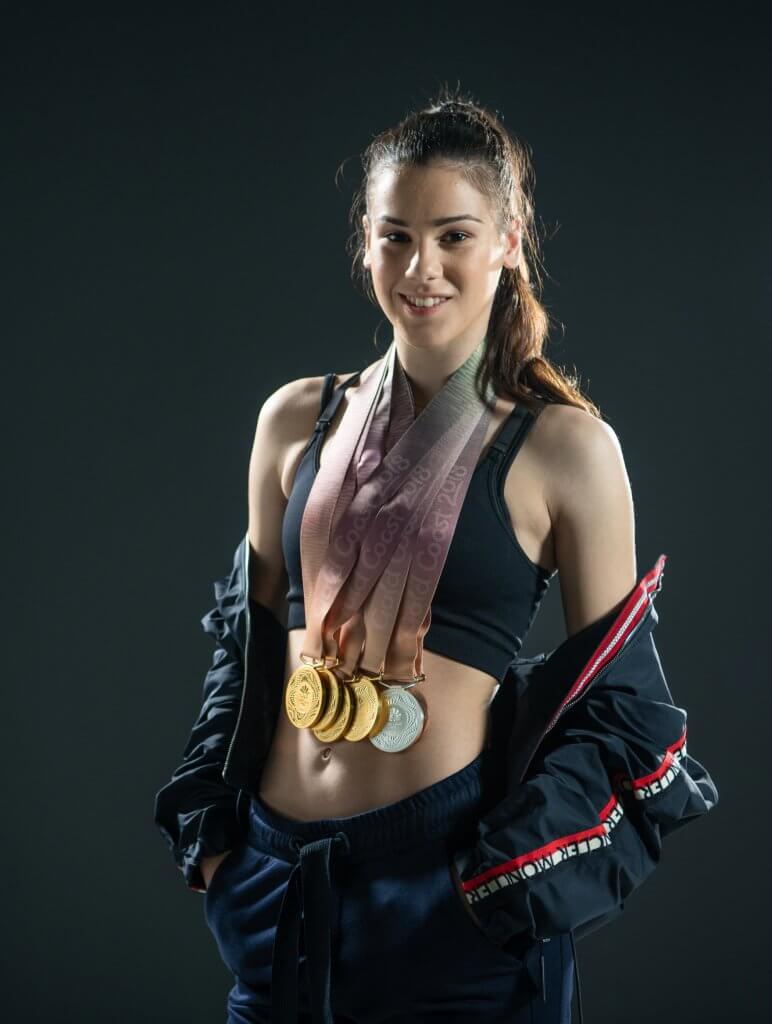 What is rhythmic gymnastics for you?
Victoria: This is the greatest pleasure and the heaviest burden.
Diamanto: The style of life.
Eleni: Since childhood, I have been doing rhythmic gymnastics. I like it. I'm interested. It is another life. I like the atmosphere of the competition. In addition, there is an opportunity to visit different countries and to get acquainted with people and with a different culture.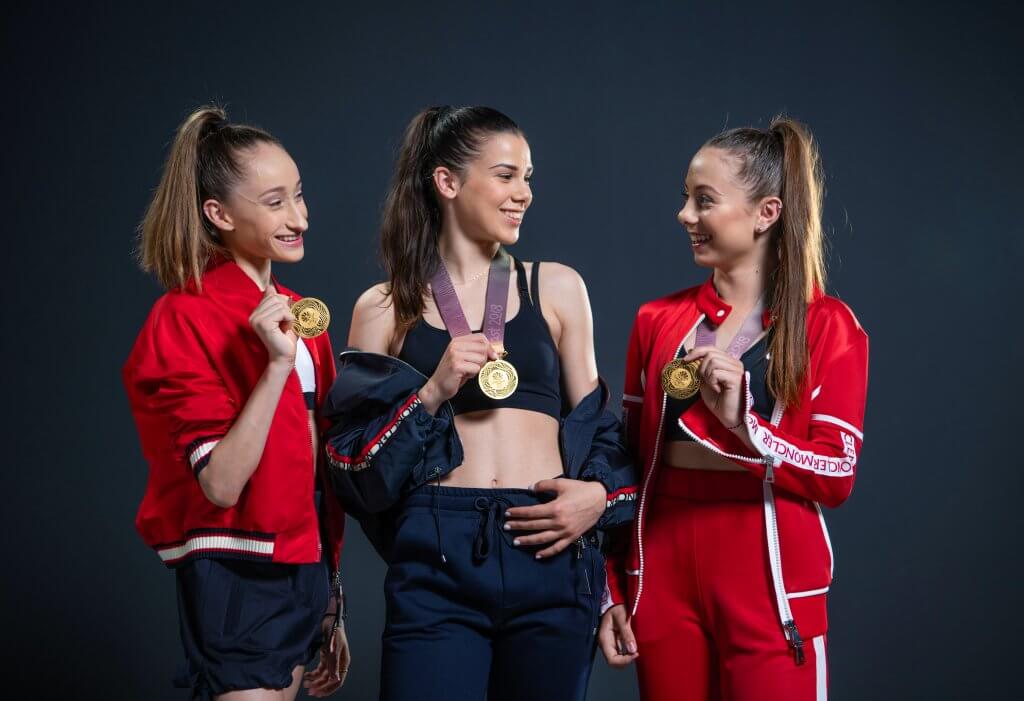 Is it difficult to combine the life of a teenager with the requirements of training?
Victoria: Impossible.
Diamanto: In my case, you need to sacrifice something. You have to choose.
Eleni: I think so. I love sports, I love artistic gymnastics. It brings up character and responsibility. Of course, I really want to meet more often with friends, go to a café or go for a walk, but you know that you have to get enough sleep and prepare. For this, of course, everything is complicated and difficult, but, if you do not go in for sports, you can turn into a lazy creature, capable only of walking and doing nothing.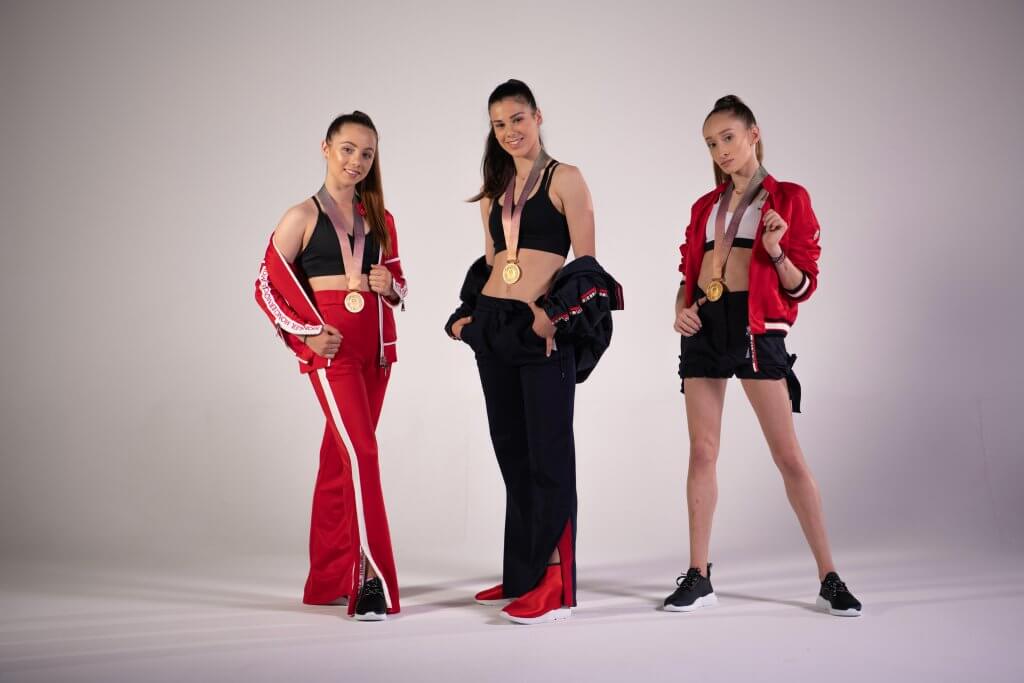 What qualities are needed to win?
Victoria: Patience, stamina, concentration of attention and the ability to fight with your weaknesses.
Diamanto: Perseverance and sporting anger.
Eleni: Concentration and confidence in what you are doing. It is very important to have the support of the coach and parents. Parents are even more picky and stricter than a coach.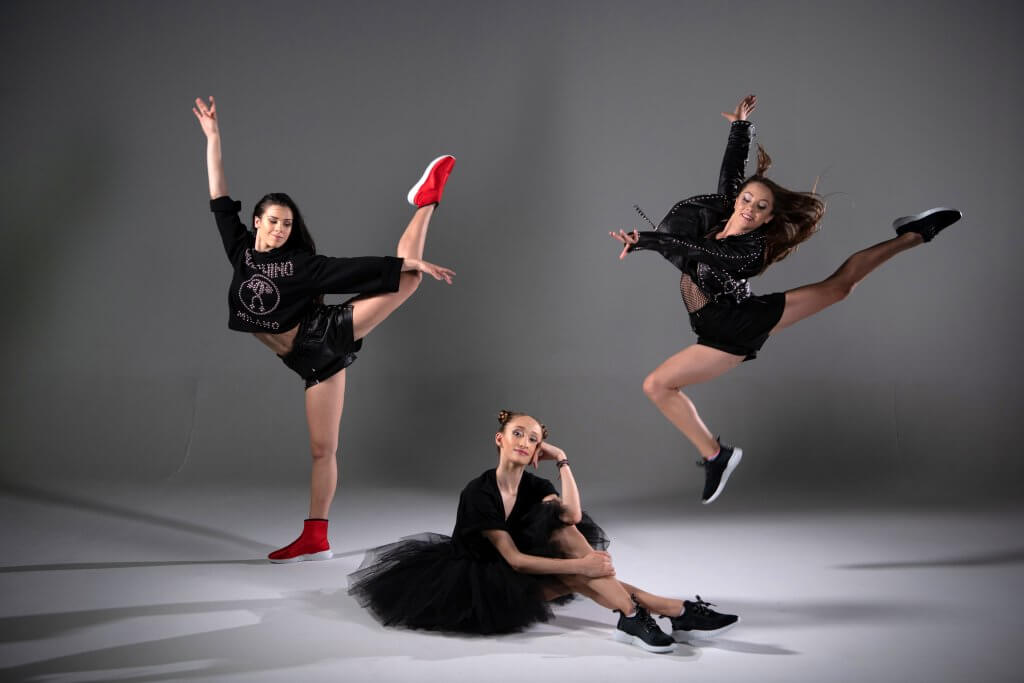 How to choose a costume for performances?
Victoria: I consult with the coach and my mom.
Diamanto: I'm guided by the fact that the sketches of the costume are drawn according to the nature and style of the music.
Eleni: Towards the suits is a reverent attitude. There are thematic swimsuits, specially made to take into account music and characteristic movements, which are selected according to colour and pattern. They must reflect the composition of the sports exercise…and sometimes it's easy. I ''saw, liked and bought''.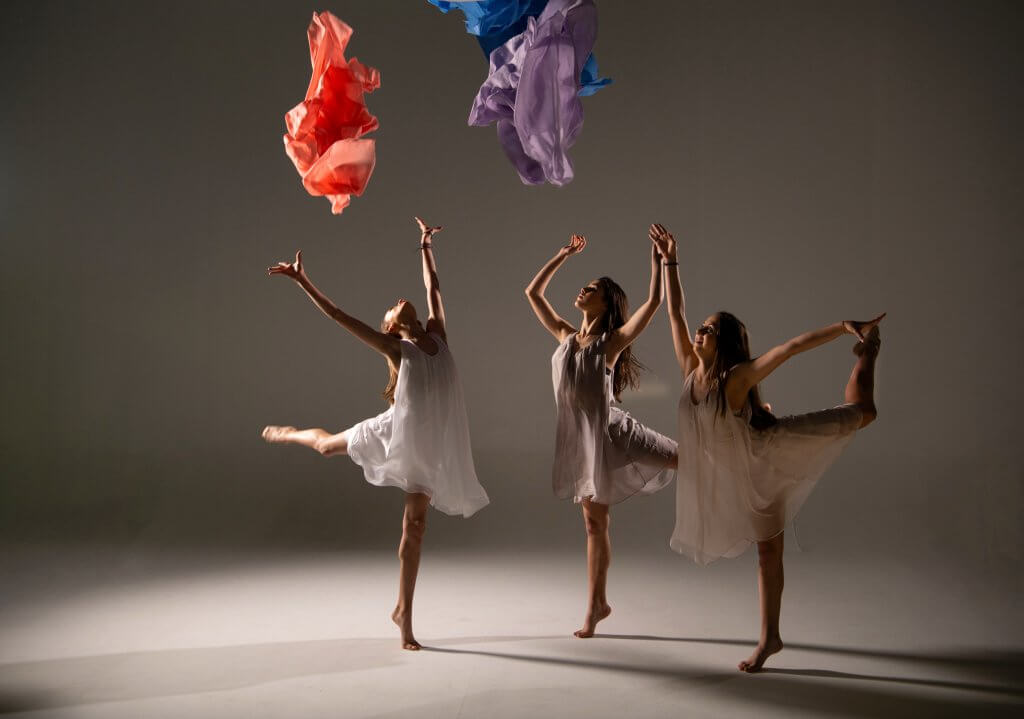 What are your favourite subjects for performances?
Victoria: Clubs.
Diamanto: I do not give preference to any apparatus. I like working with everything.
Eleni: I like all of the objects. They are all different. Each object creates its own technique of execution, character, style and pace. For each subject, music is individually selected. With each subject, you can fantasise and this is of huge interest for me.
For what mistakes in competitions is the biggest loss of points?
Victoria: The loss of the object.
Diamanto: Of course, the loss of the object.
Eleni: The bitter and often unforgivable mistake for a gymnast is the loss of the object. A worse thing does not happen. Such errors affect the final assessment.
Have there been unbelievable situations during performances?
Victoria: Yes, stopping the music, losing the object behind something or the need to suddenly take on a risky exercise.
Diamanto: Yes, it happened. In Brussels, for example, just before the exit, the mace was stuck in the ceiling, and there were no spare ones!
Eleni: There's nothing to boast about. Nothing incredible happened. With others, I did see something. It was both funny and scary. I just do not know for whom, for the gymnast or the judges! There was an exercise with maces. From the hand of a gymnast, one mace escaped and it flew towards the judges, which they managed to dodge. As former gymnasts, it was an instant reaction. So, gymnastics is useful in real life.
Clothes provided by Cara Boutique
LIMASSOL: 49 Promachon Eleftherias Str, 4103 Limassol, Cyprus//Tel: +357 25747655
NICOSIA: 28EZ Stasikratous Str, 1065 Nicosia, Cyprus//Tel: +357 22769610
Place: studio of Red Storm Films Ltd.
Vimeo: vimeo.com/redstormfilms
Facebook: facebook.com/redstormfilms
Тatyana Kasas art director of the project, photoartist
Artstudio 23
Nicos Avraamides Photographer
Anastacia Vanelli. Make-up artist
Andrey Sancevic videoproduction
Olga Andreou
Show group La Danzatotal