Tatiana Zenevich: "All to the Ball!"
21/02/2019

Premiere Magazine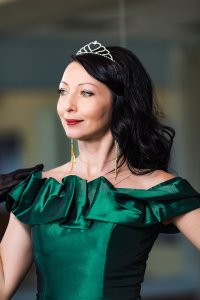 In March, the Vienna Ball will be held in Cyprus for the 9th time.
We interviewed the hostess of the ball, Tatiana Zenevich; the choreographer, the director of the Fly-in-Dance Professional Artistic School and the founder and organiser of the Vienna Ball in Cyprus, who told us a little about this event.
Tatiana, tell me, how did the word "ball" first appear?
The word "ball" comes from the German "Ball", and came into use around the XVIII century. Girls in German towns threw the ball and, thus, chose the men/grooms. This ritual was accompanied by dancing, socialising and compliments… and, little by little, the entire event came to be known as a "Ball".
In that era, balls were closely associated with marriage and the creation of a family.
Today, the ball is a collection of dances; a whole event in the field of classical culture. It has become a great place to justify having a pleasant experience and establishing new business contacts in a relaxed atmosphere.
How did you come up with the idea of organising the first Vienna Ball in Cyprus?
In 2010, after attending the first ball in my life, in Vienna, and having become acquainted with ballroom culture, I decided to try to transfer this wonderful event to Cyprus, to arrange a holiday for my friends and to unite people from different backgrounds. I admit, it was difficult because, nine-years-ago, very few people on the island understood what such a ball was, in general, and why female debutants were dressed in white dresses, like brides. I remember answering questions: Is this a wedding? Why so many brides? Many people, at that time, had no idea about the dress code and they could not even digest the concept of Viennese balls. At the time, the project for Cyprus seemed to be a failure. It seemed that high European culture, with beautiful manners and etiquette, was not for our island. But, year after year, I received interesting calls and positive letters asking for the date of the next Viennese Ball in Cyprus.
Tell us a little about the very culture of the Viennese ball.
A ball is a kind of theatre of life, with its own rules. At the ball, it is not necessary to speak loudly and gesticulate. It is customary for girls to compliment, smile and show beautiful manners. All this makes a huge impression. Well-noticed in the book of Pyotr Mukhanov, "Fees for the Ball": "You can not keep good manners in reserve. They must accompany the person constantly. Otherwise, they will leave him at a crucial moment."
Every year, your ball is attended by prominent cultural, political and business figures. Last year, the ball was opened by the Austrian Ambassador to Cyprus, Eva Maria Ziegler. Who is expected to attend this year's ball and who will open it?
Every year, the number of people wishing to visit the Vienna Ball in Cyprus increases and this is very pleasing. Guests from different countries come to the event: Sweden, Ireland, Germany, Austria, England, the United Arab Emirates and Russia.
Each ball is special for us and the guests and, every year, it has its own theme. This year, the 9th Viennese Ball coincides with International Women's Day, on March 8th. The Austrian Ambassador, Eva Maria Ziegler, will open it, just like a year earlier.
In 2012, guests from the Viennese parliament decided to visit the ball, praising its organization and respect for all ball canons and European traditions. Since then, Vienna has annually supported the event and graciously provides gifts from Swarovski  to every woman who arrives at the ball.
What advice can you give to those who have never been to the ball?
Buy a ticket and adhere to the dress code – for women, a formal dress and for men, a dress coat, tuxedo or elegant suit. Do not worry if you don't know how to dance, as master classes are held right at the ball. Just calmly plunge into the atmosphere of music, fun and beauty.
Everybody can visit the Vienna Ball in Cyprus. Tickets are provided at different prices, with different sets of possibilities – from a glass of champagne to a gala dinner by candlelight.
What distinguishes the Vienna Ball in Cyprus from the balls in Austria?
The size. In Cyprus, unfortunately, we can only accommodate up to 350 guests at the Hilton Cyprus Hotel.
What do those who do not have a flair for dancing do?
Do not worry. We also offer an opportunity to prepare for the event. For three months before the ball, young boys and girls are taught ballroom dancing and etiquette at the Fly-in-Dance School in Nicosia. As a rule, the dance floor should never be empty. I will say with joy that, every year, someone finds his/her soulmate at the Vienna Ball and we are always invited to the wedding. The most important meetings are always random and you never know where you will meet your love…and it is so romantic!
The 9th Vienna Ball in Cyprus will take place on March 8th, at the Hilton Cyprus Hotel in Nicosia. We invite everyone to visit this wonderful event and present an unforgettable gift to their loved one – an invitation to a real ball.
www.viennaball-cyprus.com