Stephen webster. A rebel at heart
25/01/2018

Premiere Magazine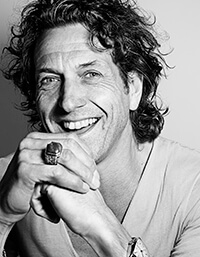 Stephen Webster — one of the most fashionable and original jewellers of the world, whose creations have decorated the rich and famous, including Christina Aguilera, Kate Moss, Jennifer Lopez, Pink, Cate Blanchett, Naomi Campbell, Nicolas Cage, Elton John, Jay-Z and Robbie Williams. Steven is a great fan of the talented. Pop diva Madonna, herself, has ordered his exclusive engagement rings for her own wedding. His flamboyant style, which is a mixture of rock and roll and gothic, is well-illustrated by one of his iconic motifs: a silhouette of a skull. In an exclusive interview with our magazine, Steven tells us about the magic stones, how glam-rock has become the basis of his collections and who is the most authoritative critic, in his opinion
Stephen, the style of your work cannot be confused with any other. How did this trend, as you once put it, of glam-rock become a part of your work?
Many years ago I knew that I was only interested in creative jewellery. Much of the industry is not particularly interested in creativity. For this reason, to establish a brand such as ours has been a struggle but against the odds we have achieved a lot without much compromise at all. The way people view jewellery now is in part due to designers such as ourselves who continued to push the boundaries of a very conservative business.
All of your collection is themed. What inspires you to create each collection?
All of my work is a reflection of my personality. I am fortunate that selfishly, I have pursued topics and inspirations from my life's experiences and translated them into our many collections. Within all of them there is vibrancy.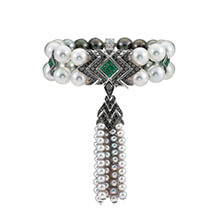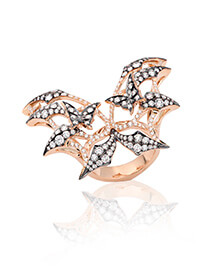 What have you dedicated your latest collection to?
Inspired by the age old notion that another's feelings can be predicted by natures ultimate game of chance, «Love Me, Love Me Not» features earrings, rings, pendants and bracelets in the form of bejewelled flowers of romance. This new collection takes the first step to providing the answer to the question every love struck being is dieing to know.
What materials do you like to work with the most?
Gold will always be my favourite material to work with. People love to explore a piece of jewellery, to discover detail and the telltale signs of fine craftsmanship of something that deserves to have been made out of precious metal and gems.
Do you believe in the power of stones? Have mystical things associated with the stones ever happened to you?
The ancient Greeks and Romans believed that amethyst could protect the wearer from alcoholism. When I lived in California I met a woman who slept with a large amethyst crystal under her pillow, she was taking no chances.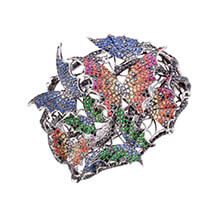 Who is your most respected critic, whose opinion is authoritative for you?
My colleagues, my friends, even my wife sometimes. As a creative person it can be difficult to take criticism sometimes but once I process the information I can usually see when they're right. I am a rebel at heart though.
In one of your interviews, you said: «I love the adrenaline and the sense of danger». Have you done some really crazy things in your life?
I think riding a motorbike since the age of 16 qualifies as having a sense of danger, other than that the amount of travelling I do might be considered crazy by some.
What in your life, other than work, draws your interest?
We have a house in Miami that we try and visit whenever we can and I love art. Each piece of art I own has either been bought or given to me for many different reasons; some emotional, some personal, some humorous and some just brighten up the room. I'm not an art dealer so I just look for things that I enjoy to look at and live with.
Have you visited Cyprus?
Yes I had a fantastic time, I thought the people were very hospitable, it's a beautiful place and next time I'd love to come back for a holiday rather than work.
It has been said that you are strongly inspired by the sea. Do you think that, perhaps, Cyprus will inspire you to create a new collection?
You never know about inspiration, I went to Baku few years ago and as a result our next collection was «Midnight Over the Caspian Sea».