Space of Unique Interiors
03/01/2018

Premiere Magazine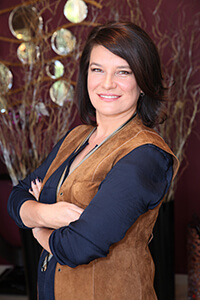 The interior design stu­dio of Elite Interiors and Furniture Boutique is conveniently located in the tourist area of Limassol. You need only access the Germa­soyia roundabout and go down Khristaki Cranou Street towards the sea. Here, you will find their showcases with a Golden purple sign to welcome you. We were met by a welcoming hostess of the company, Irina, and began our conversation over a cup of coffee. Irina Antropova is the founder and creative director of the company. As an interior designer, her experience in this field is already more than 20 years. After receiving her first order for the development of a restaurant in late 1996 in Moscow, within two years, Irina had opened her own design studio.
How is it that you now own the same business in Cyprus?
Cyprus was always my favourite destination. It is a visa-free, country where many people speak Russian. Eventually, it became my place of residence after meeting my future husband. One might even say that it is now my second home. I have been in Cyprus for about 14 years and, once settled, I realized that the role of a good little housewife and work of a designer "at a distance" did not suit me. At first, I tried to work remotely, but it is just not possible because personal presence is a must. So, I got the idea to do the same thing in Cyprus. However, I had to start all over again and to meet new partners and customers.
You stayed in your profession. How did it all begin for you?
(Laughs) It all started at the age of 2-years-old when I painted the walls in the apartment of my parents and my dad's thesis. Of course, I was severely scolded. Then, I figured out that it was better to paint under the seats of the chairs, as it wasn't so noticeable. Then there was an art school and the diploma in fine arts on landscape painting. I was ready to apply to the Union of the Artists of Russia but suddenly I was offered to decorate the restaurant in Moscow, "Khlestakov-Traktir"; a sort of area of the 19th century. I remember how the whole project was drawn by hand. We were doing a huge sweep on the sheet of paper. Subsequently, there were other notable orders, including: "Intourist", Rublevsky Shopping Center, restaurants, cafes, the building of "Gosstandart of Russia", Institute "Epidemiology" and other interesting private commissions.
Irina, if your customers will gravitate to what is a no win-win decision and insist on it, will you try to convince them otherwise?
Yes. I insist up to a certain point; trying to explain why it is necessary to do so and not otherwise. With experience comes more persistence. Otherwise, why would we need experts? You need to insist! You don't go to the doctor and begin to teach him how to treat you. Still, the final decision is always with the client. Since they live there, they should be as comfortable as possible. I always listen to their opinion.
What is your most unique project in Cyprus?
At the moment, 'Santa Barbara' remains such a project. It was like the explosion of a 'bomb' in 2012 and it still remains. To decide on such a project, you need to be a very brave customer. This is a complex and ambitious project covering an area of more than 3200 metres. The project was conceived as a corporate house to meet serious partners in international business.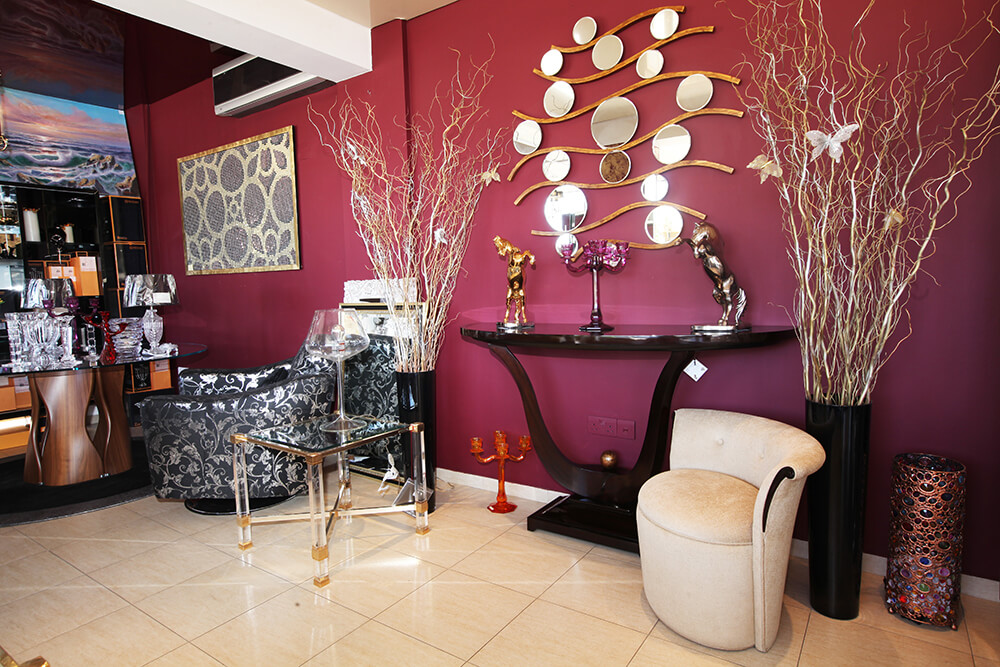 Surprisingly, the name of the building came from the nearby church of Agia Varvara. The local surrounding area around it is called Santa Barbara. This is consonant with the name and not in reference to any location in America. It is pleasant to note that a lot of interesting objects have begun to appear on the island. Moving forward is tremendous and it would be very good if this trend continues to be realised.
You are also not standing still?
We are constantly visiting all of the leading furniture exhibitions and getting acquainted with all new innovations, while exploring fashion trends. Even in the classics, if there are some things that are more popular and others less in demand, it is necessary to know.
What, in your opinion, is your "highlight" as a professional?
Perhaps, the fact that, despite a certain commercial interest, it is still more important for me to find personal fulfilment and maximum customer satisfaction. The benefit is not in the formal approach to success, but the reward that I receive by putting my heart and soul into my work; but customers feel and respond to it.
In the name of the shop, there is a French word 'boutique'. Is it connected to something else?
This word is, indeed, borrowed from the French, but it has already become an international symbol of a small, cozy shop offering exclusive products that, I think, are fully consistent with the concept of our salon. Next year, our store will be 10-years-old and this is our first serious anniversary. Over the years, we have managed to implement a number of interesting projects that won prestigious international awards.
I can guarantee you that the boutique offers stylish, functional and durable furniture from known brands from Europe, which will last for many years. We are not limited to only the selection of furniture. The interior may require the integral contributions of attributes and accessories for completion. We have a great selection of lamps, plumbing, unique finishing materials, accessories, decorative leather, products made of fine porcelain, bronze, luxury items using semiprecious stones and more.
It is probably hard to choose from your extensive collections. What items of interior design do you present at the salon?
That's really hard. If you try to place all that would be desirable, a three-storey shopping mall would not be enough (joking Irina). I'm trying to create an atmosphere in a small area devoted to different interior styles, including classical, art deco and modern style, combining many favourite items from our Italian factory partners. We want our customers to sit, to touch and to experience. At the moment, our facilities are 80% finished, with our supplies on display.

Which of the styles is most familiar to you?
It's like asking me which is my favourite colour. I will not be able to answer this question. I can only identify what style is most unloved at this specific moment. I'm sure the attraction to a particular style is formed and changes with age.
Probably, my house in Cyprus is decorated in a modern style, which could illustrate my passion, but… I created it 10 years ago and, now, I would prefer a more classical design. I love colours, but realised myself in many colourful interiors, my house is decorated in neutral colours.
By the way, maroon colour is the signature colour of our salon and we have not moved away from it for 12 years.
You, as a woman, have your own business. How do you manage to combine work and family?
To be honest, it is difficult. I have two already adult sons, 10 and 18 years, and it turned out that the birth of a child was, for me, even more inspiration and incentive to continue in my job. Now, my sons are more independent, but there were times that I was late to pick them up from school or from the pool. I really love my work, although, of course, I get tired. Sometimes, you have the weekend to move a meeting and, instead of a lunch break, you work at constantly generating new ideas or open discussions with colleagues or walk on dirty, dusty, cold and hot construction sites. Despite these "working" moments, my work makes me really happy because I sell myself through beautiful projects and have contact with interesting people. This makes me a happy mom and wife, just like, I think, what makes you happy and your family. A lot falls on the shoulders of my husband, who takes on many responsibilities in the family, but is engaged in the administration of our business. I am very grateful to him for understanding and supporting me in my work. This I was lacking in my previous marriage. My husband initiated my participation, in 2013, in Cyprus in the contest for business women called "Russian Business Women", where I was among the finalists. Having the support of someone close to me gives me confidence in everything that I do.
Between work and family, do you have time for yourself?
A panacea for a sedentary lifestyle for me for the past three years has been yoga, which is an exercise for the body and soul. I enjoy diving and have over 100 dives. I also do underwater photography, alpine skiing and I love to travel and to spend time outdoors with family, taking long walks or rafting. I love all kinds of spas and retreats and a vacation can even be sitting outside and working with a paint brush. I like to paint my favourite landscapes from nature.
Please, wish something to our readers for the New Year.
I come up with some global thoughts in connection with the situation in the world. I would like to wish all prosperity, care, empathy, creativity, because harmony and peace in the soul of each individual bring peace on a more global scale!
To see projects and products: