26/01/2018

Premiere Magazine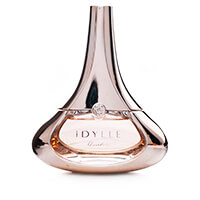 Appearance can tell you a lot about one's character and way of life. Some people emphasise their individuality using exclusive clothes and some with expensive watches, but what is irrefutable is that each person can tell its flavour, especially if it is truly a valuable collector's item. A fragrance, though, will emphasise femininity or masculinity and will create a mood for the day or night; becoming a hallmark of its owner. For fans of luxury living, we present the top three most expensive to date in the world of spirits.
DKNY Golden Delicious Million Dollar Fragrance: 1 000 000$
The most expensive ever sold in the world of spirits are the spirits of company Golden Delicious Donna Karan, issued in an exclusive bottle valued at one million dollars. The bottle is made by famous jeweller Martin Katz with white and yellow gold and is encrusted with 183 yellow sapphires, white diamonds, a 1.6-carat turquoise Paraiba tourmaline, 7.18-carat sapphire cabochon and a variety of precious stones from Brazil, Australia, South Africa and Sri Lanka. In the production of this bottle, it took 1,500 hours. It was designed specifically for sale to one lover of luxury items and the money went to fund the fight against hunger through Action Against Hunger. The aroma is a blend of orange, plum, red apple, rose, lily of the valley, white lilies and orchids.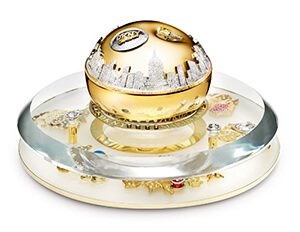 Guerlain Idylle Baccarat — Lux Edition: 40 000$
The new fragrance from the old French perfume house was created by Thierry Wasser, the successor of Jean-Paul Guerlain. In honour of the name of the fragrance, "Tear of Love", famous studio Ora Ito developed a unique bottle in the form of tears, covered with 18-carat gold and placed in a crystal bubble, created by craftsmen from Baccarat. In a dizzying mix of feminine floral notes of flavour, one can discern notes of rose, lychee, raspberry, patchouli, white musk, lily, peony, freesia and jasmine.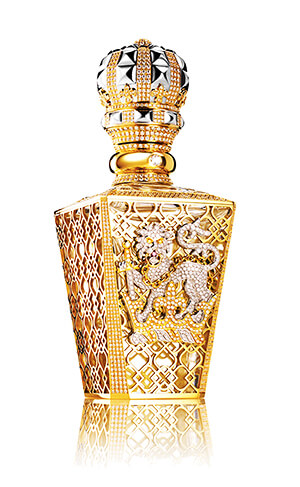 Clive Christian Imperial Majesty: 215 000 $
These spirits of the British perfumer, Clive Christian, are listed in the Guinness Book of Records as the most expensive perfumes in the world.
In fact, it's the perfume Clive Christian No. 1 which is packaged in a luxurious bottle by Baccarat, decorated with a 5-carat diamond and 18-carat gold.
Throughout the world, only 10 bottles of Imperial Majesty were released. Among the owners of this perfume are celebrities like Katie Holmes and Sir Elton John. The composition of these spirits includes hundreds of rare natural ingredients.
Women — bergamot, white peach, sandalwood and Indian jasmine;
Men — mandarin, cardamom, cedar and tonka bean.
The price includes delivery of the perfume to its owner in a Bentley.