25/01/2018

Premiere Magazine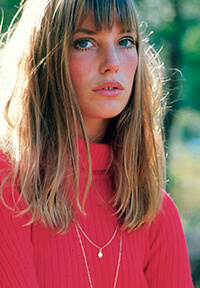 As you know, the most popular bag in the world is called Birkin, in honour of the well-known model and actress Jane Birkin. According to legend, Jane Birkin went around with a basket, which carried her belongings.
One day, Jane sat in with the head of the "Hermes", Jean-Louis Dumas, and scattered papers, documents and all of her cosmetics. Seeing this, Jean-Louis Dumas, the president of Hermes, said: For you, we will create a special bag that will accommodate all! In 1984, Hermes began selling the first purse and Jane Birkin became the muse and an inspiration for Hermes House.
Since then, the Birkin Bag has become the visiting card of Hermes, with prices increasing every year. The cheapest handbag, these days, costs about €7000. The most expensive comes to €100,000, depending on the material, size, and its manufacture. Thus, the desired model must be ordered in advance and the customer must wait for up to two years. For a special version, the wait is up to six years! It may be possible that Hermes actually runs a deficit on this product in order to make the Birkin Bag more attractive. The fact that the buyer will have to wait a few years for this bag is probably a good public relations strategy. The legendary 'queue' for the bag is the main reason, in addition to the price. This is why Hermes Birkin is among the most elite and coveted symbols of status in the world. However, this story is not without a spoon of controversy.
For the manufacture of bags, the company uses the skin of alligators, caiman and crocodiles. Usually, the most prized are made from alligator and crocodile. To produce one bag, they need the skin of 2 or 3 crocodiles and crocodile farms are not known for their humane methods.
The organization 'People for the Ethical Treatment of Animals' (PETA) conducted an investigation into the workplaces of alligator hides and the process of construction for bags. They even filmed the process of crocodile skin 'harvesting'. After watching this video, Jane Birkin asked Hermes to no longer associate her name with these bags, Birkin Croco, until the animals began to be treated humanely. The management of Hermes assured Jane that they would conduct their own investigation and correct any violations, if they were present. How this will all end, only time will tell.
Despite the high cost, Birkin entered into the realm of top-selling luxury handbags and got 'it-bag' status, defining this iconic model. Male celebrities, such as F. Williams, M. Jacobs and David Beckham gladly go out with this handy handbag. At the same time, Jane Birkin, who has not lost her beauty with age, still walks about with easy baskets. It is simply her style.